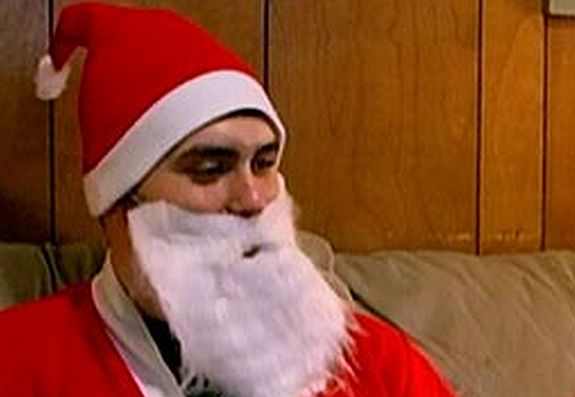 The holidays are here! It's that special time of year where you find yourself scampering off to Walgreens on Christmas Eve, prowling the aisles for something you can buy for your random friend who you forgot to buy a gift for. (Would she like bug spray? A first aid kit? Dandruff shampoo?)
Well, The Ashley is here to help you find the perfect gift for everyone on your list! Since we have over a week until Christmas, there's still time to shop from the comfort of your home. Why not give your friends and family what they really want– like a Kieffa Rieffa Candle, or a Farrah Abraham shower curtain!
Once again, The Ashley has scoured The Interwebs to find the funniest, most amazing (and sometimes downright creepy) Teen Mom OG and Teen Mom 2 products! These amazing selections will make the perfect gift for the MTV reality TV fan in your life!
Kieffah Reefah Candle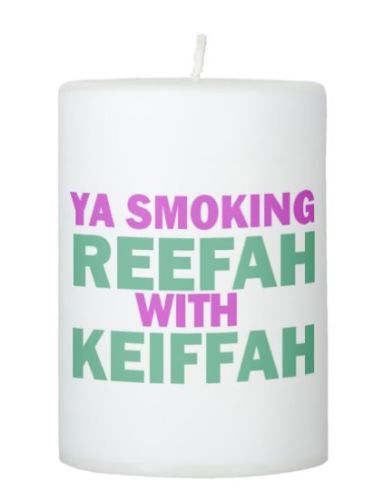 Cannabis is now legal in many states, so it's likely that you have a pal who is HIGH! HIGH! more often than ever before. Why not gift them this delectable candle, so that they can smoke "the weed" and then hide the scent? (Technically, this candle comes unscented but…) The candle proudly states that "Ya Smoking Reefah with Kieffah!"
Buy the Kieffa Reefah Candle here!
Teen Momster Coloring & Activity Book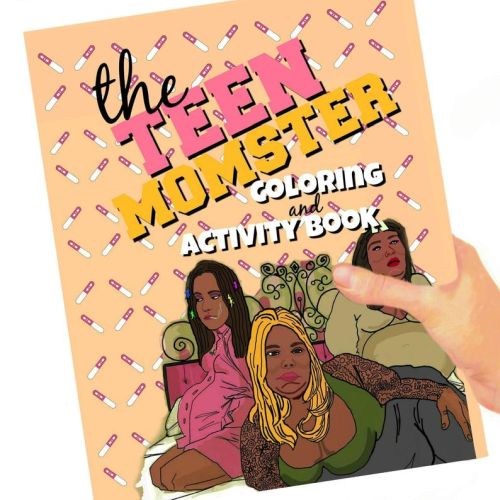 This wacky collection of 'Teen Mom'-themed activities, games and coloring pages is perhaps The Ashley's favorite 'Teen Mom' product of the year! (She owns one herself!) Created by Splendor in the Trash, "The Teen Momster Coloring & Activity Book" is a must-have for any 'Teen Mom' fan! It includes a 'Teen Mom' game board (where you can make a "Plastic Surgery Pit Stop," take a dip in the Loser Lagoon with Adam Lind and David Eason, or be banished to The Land and lose the game!) Also included? Butch Paper Dolls (!!!) and a Pin-the-Extensions on Chelsea game!
Buy the Teen Momster Coloring & Activity Book here!
An Authentic Debz OG Song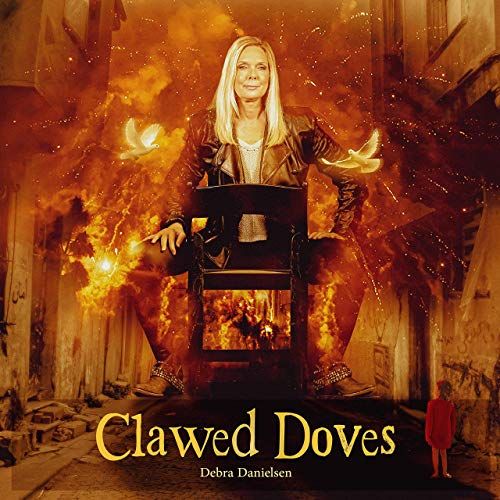 Why not give your loved ones the gift of music…music by Debz OG, that is?! Yes, Farrah Abraham's mom Debra Danielsen recently bestowed upon us even more musical wonders. Her newest work, "Clawed Dove," may be about her relationship with Farrah, and is certain to take you auto-tuning into the New Year! Of course, if you prefer to go "OG" with your Debz OG tunes, you can always purchase her original "Debz OG" rap song as well!
Buy your Debz OG music here!
Ke$ha Concert Belt Buckle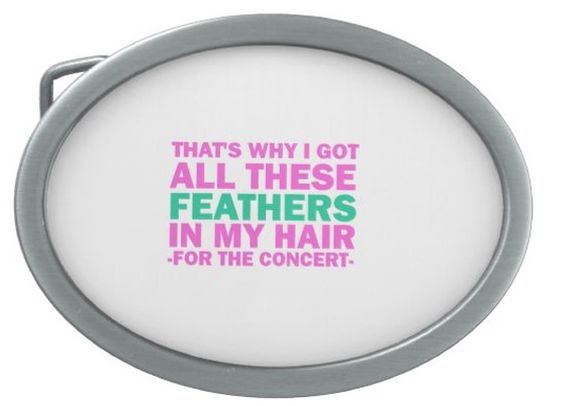 Did you already get all those feathers in your hair because you're planning to go to a Ke$ha concert in 2020? (Wait…are there still going to be Ke$ha concerts in 2020? Is Ke$ha still a thing?) Anyway, even if you've got a dome full of feathers, you're still not properly accessorized without this fashionable belt buckle! Available in both rectangular or oval shapes (oooh! ahhh!) these belt buckles let everyone know "That's Why I Got All These Feathers in My Hair- For the Concert!" Your dad or husband will be the envy of all the men in the Ke$ha concert beer line if he's sporting one of these babies!
Buy your Ke$ha Concert Belt Buckle here!
Truly Terrifying Farrah & Sophia Shower Curtain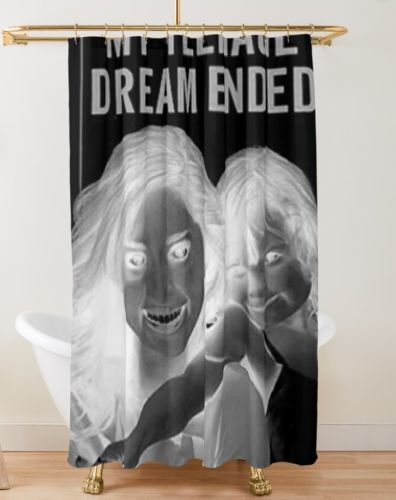 All the body wash in the world won't scrub the horror out of your eyes if you buy this terrifying Farrah and Sophia Shower Curtain! (Bonus: this will be a great addition to your Halloween bathroom decor!) For some reason, some truly sick person decided to take the photo of Farrah and Sophia used on the cover of Farrah's literary masterpiece, My Teenage Dream Ended, flip it to negative form and slap it on a shower curtain! This horrorfest is also available as a throw pillow, poster or photo print, and is guaranteed to haunt your nightmares all year long!
Buy your Farrah and Sophia Shower Curtain here!
Nathan Griffith "Stop It!" Pillow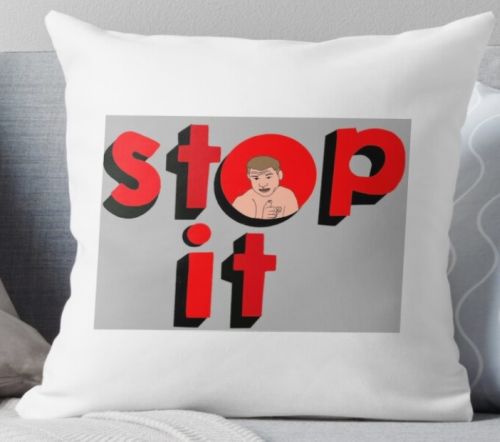 What better way to decorate the couch of someone you love than with a cartoon version of Nathan Griffith's face?! This throw pillow captures that special moment in 'Teen Mom 2′ time in which Jenelle Evans' then-fiance Nathan overheard her talking crap about him on the phone, and came around the corner and told Jenelle to… "Stop it!" Now that moment can be yours (or your mom's, or sister's, or boyfriend's) in pillow form!
Buy your Nathan Griffith "Stop It!" Pillow here!
Barb Boxer Shorts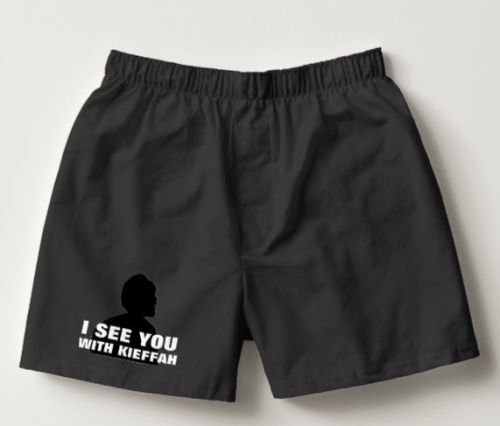 Looking for that perfect gift for that special man in your life? Might The Ashley suggest a pair of Barbara-Evans-themed boxer shorts?! These high-quality chonies feature the profile of our gal Babs, along with one of her all-time best sayings: "I See You With Kieffah!" They can be worn as underwear or PJ shorts and are available in both black and white! Why not order a pair for every day of the week?!
Order your Barb Boxer Shorts here!
I (Heart) Maci Shirt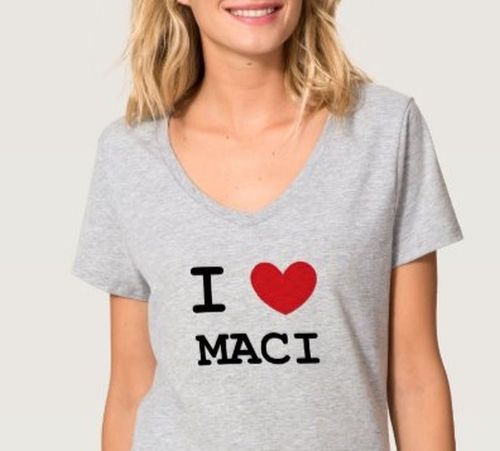 If Maci's your favorite 'Teen Mom' star, you can now proclaim it to the world, thanks to this I (Heart) Maci T-shirt! Give your Things That Matter leather-pocketed shirts the day off and truly show your love for the 'Teen Mom OG' star! The shirt is available in various colors and sizes!
(Something tells The Ashley that Maci's ex Ryan Edwards and his wife Mackenzie will not ordering one of these shirts for themselves!)
Order your I (Heart) Maci Shirt here!
Jesus God Leah Portrait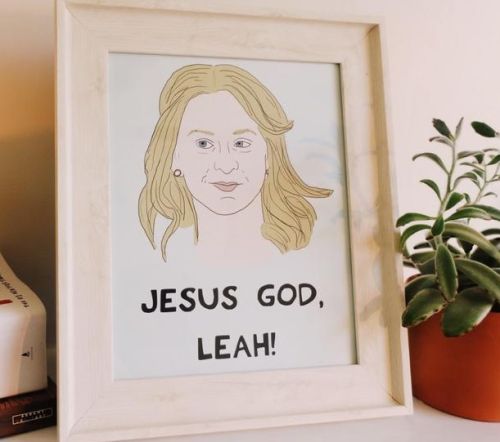 What a time to be alive where you can give someone the gift of Leah Messer's smug mug! Not only is this Leah cartoon easy to get your witch-nailed claws on (it's a digital download!) but it also includes Corey Simms' famous saying "Jesus God Leah!" What a treat for Granny this will be!
Order your Jesus God Leah Portrait here!
Jenelle Mugshot Mug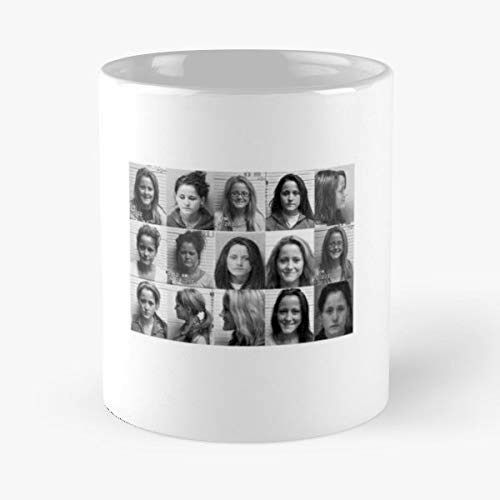 Wake up and smell the coffee— and the misdemeanors! This beautiful coffee mug features the complete Jenelle Evans Mugshot Collection! All fifteen of Jenelle's mugs are featured on this mug, which is great for the 'Teen Mom 2' fan— or general criminal– in your life! You'll feel "more classier" as you admire the ever-changing looks of Jenelle in the mugshot collection as you eat your morning toast!
Order your Jenelle Mugshot Mug here!
To see The Ashley's list of Weird 'Teen Mom'-themed Gifts for 2018, click here!
(Photos: MTV; Etsy; Amazon; Redbubble)