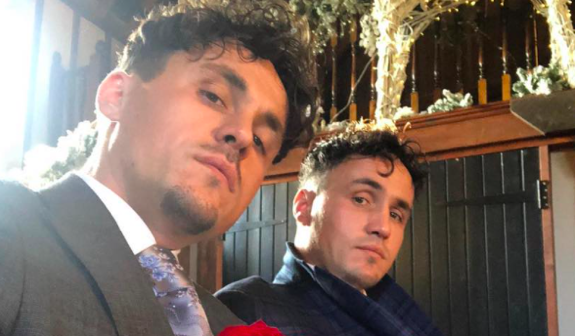 Two stars of the TLC show My Big Fat Gypsy Wedding have died in what is rumored to have been a joint suicide.
TMZ reports that twin brothers Joey and Billy Smith were tragically found hanging in a tree in Sevenoaks, England, on Saturday morning, according to law enforcement.
The 32-year-old brothers, who were featured on Season 3 of 'My Big Fat Gypsy Wedding,' had been battling depression, according to The Sun, prior to their uncle finding their bodies.
While the twin's cousin Phoebe Charleen Smith revealed that Joey had previously been diagnosed with cancer, she said he had been given a clean bill of health prior to he and his brother's suicide.
"He was waiting for a letter to see if it had come back or if he had the all clear," Phoebe said. "They told the family it was all clear but they thought maybe he was lying to not hurt them. They have since found the letter and he did have the all clear. No one can get their heads around it. There's questions that are never going to be answered. It's torment."
Phoebe told The Telegraph that Billy and Joey left a note for family members.
"They went missing and Joey's phone was turned off. Then we found a note," she said. "It said they wanted it like this and we would find them in the woods where they played with the family years ago. My uncle ran up there and found them."
Phoebe said her cousins were "loved by everyone" and the two "couldn't live without each other."
In the wake of the twins' death, Billy's girlfriend Kristina Delaney posted a tribute to the brothers on Facebook, calling the day the hardest of her life.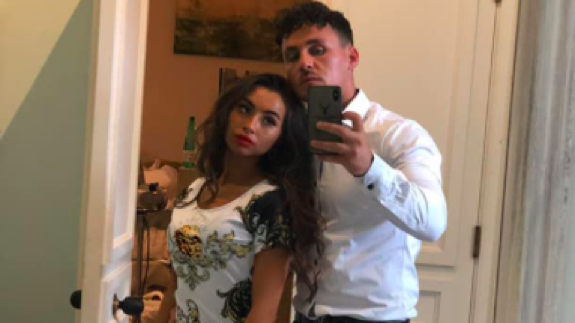 "… Joe, I tried telling you (during) our phone calls many times; I said to you just wait for time to heal you. I wish I could have done more for you both," she wrote.
"May you both get the best beds in heaven. Bill please please please be happy now. I'm just persuading myself you're happier. I know you wouldn't [want] me to cry but I am and I cry because I'm in pain. You hated when I cried, but also said how loved you felt."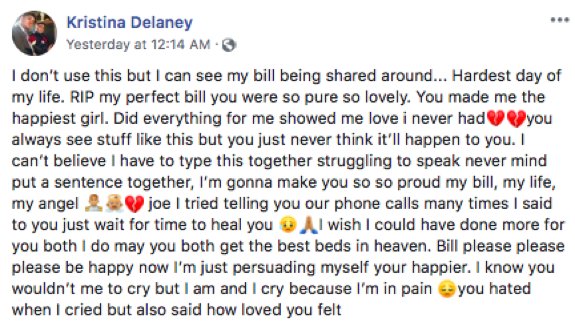 Paddy Doherty, who also appeared on Season 3 of 'My Big Fat Gypsy Wedding' (as well as Celebrity Big Brother) commented on the news Saturday on Facebook with a photo of Billy and Joey captioned, "RIP PLEASE PRAY FOR THESE TWO DEAR SOULS God rest them in peace."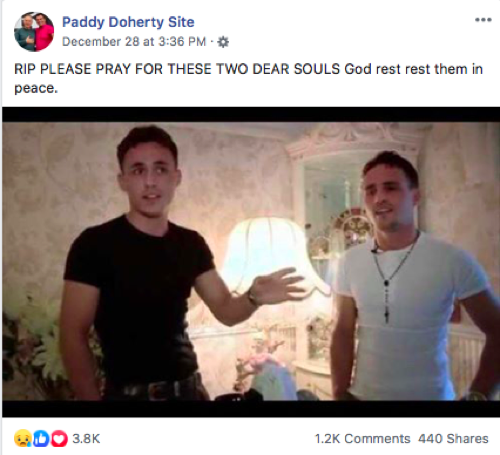 Paddy followed up his original post with more photos of the brothers, along with a video in which he claimed "one brother found the other brother dead, hung, and he hung himself to be with his brother"—these particular details conflict with the ones being reported among news outlets.
A spokesman for the Kent Police said the circumstances around the brothers' deaths are "ongoing but they are not currently being treated as suspicious."
In the years following their 'My Big Fat Gypsy Wedding' days, Billy and Joey had set up a landscape gardening business together.
RELATED STORY: In Memoriam: Reality TV Stars Who Died in 2019
(Photos: Facebook)