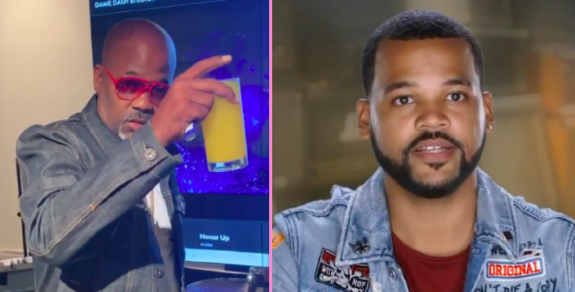 WeTV is getting some heat for allegedly making at least one of its Growing Up Hip Hop stars consume some liquid courage while filming.
According to a lawsuit obtained by TMZ, Damon Dash is suing the network for requiring his 28-year-old son Damon "Boogie" Dash to drink alcohol on the show, despite promising his father they wouldn't.
Damon, who co-founded Roc-A-Fella Records along with Jay-Z and Kareem Burke, is claiming in his lawsuit that the Dash family suffered emotional distress as a result of WeTV's insistence that Boogie drink on the show. Boogie's addiction has been a main topic of discussion for the much of the show's run, with Damon even trying to get Boogie off of 'Growing Up Hip Hop' at one point so he wouldn't have money for drugs or alcohol.
Damon is also claiming that the network owes him some money for work he did on the show, admitting in the documents that there is a court order directing the network to divert all money to his creditors. Damon said WeTV shouldn't be withholding the cash in this case, however, because it is owed to his third-party company, Poppington.
Back in November, Damon allegedly fell on some hard times financially, according to TMZ, claiming that he was unable to pay off a $2,400 debt. The site reports that as of December 2019, he owed approximately $950,000 in back child support, though a $5 million settlement between himself and Lee Daniels reached last month is reportedly covering that debt.
In addition to Boogie, Damon has three other children and is currently expecting another child with his fiancé, Raquel Horn.
WEtv has yet to publicly comment on the lawsuit.
RELATED STORY: EXCLUSIVE! Irv Got & His Kids Angie & JJ Talk About Their Experience on 'Growing Up Hip Hop: New York'; Say They'd Be Open to Doing Their Own Spin-Off Show
(Photos: Instagram; WeTV)