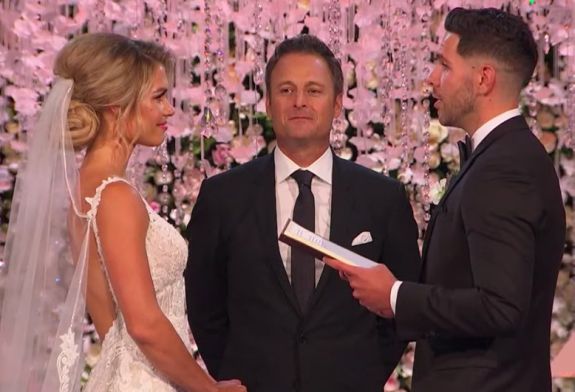 A week after sharing via a joint statement that she and husband Chris Randone have decided to separate, Krystal Nielson is thanking fans for their support and revealing details about the timing of the couple's announcement.
As The Ashley told you last week, the Bachelor in Paradise couple —- who met and eventually became engaged during Season 5 in 2018 and ultimately wed in 2019 during Season 6 —- shared with fans on Valentine's Day that after less than eight months of marriage, they were calling it quits.
https://www.instagram.com/p/B5bMcnlpuY3/?utm_source=ig_web_copy_link
After making the shocking joint announcement to fans, Krystal released her own statement, stating that she and Chris have remained on good terms. She also wrote in the comment section of her post that she and Chris aren't sure if they'll get back together.
"Honestly we don't know yet, but we are working through it together and supporting and loving one another," Krystal told one fan.
In the post, she thanked her fans for being supportive since she and Chris announced their split.
"Thank you to everyone for your support as Chris and I navigate this new chapter," Krystal wrote on Instagram last week. "We FaceTimed last night and were talking about how surreal the past couple years have been. And how LUCKY we are to have found one another … ."
https://www.instagram.com/p/B2PQO9epLDt/?utm_source=ig_web_copy_link
Krystal went on reveal that although she and Chris knew their "conscious separation" would be hard to explain to everyone and could lead to a "potential tabloid frenzy," they both believed it was the right move. She also revealed that questions from friends, family, media and cast members caused the couple to release the statement when they did.
"We weren't planning on saying anything until we had actually processed what this new 'chapter' actually IS," she explained. " … Were we ready? No. Did we feel pressure? Absolutely. Does it hurt to hear and read comments and judgments? Deeply. But we are choosing love and compassion over anger and fear."
As for their next moves, Krystal said she is staying in San Diego with the couple's dogs while Chris left their California home "to begin an exciting adventure in Florida." Though Krystal admitted to turning to "bad habits to numb out the pain" in the past, she said extensive personal development has helped her "become a better human being and soul."
"So we are both staying present, sitting in stillness and focusing on radical self care, as we come from a place of love and compassion on how we can BEST support each other," she added.
While the 'BIP' split may have come as a shock to Bachelor Nation, former 'BIP' star Jared Haibon told People he knew the couple had been having a hard time prior to their split.
"It's just really sad because I know that they had been struggling for quite some time," Jared told the magazine on Monday. "They'd been constantly working on their relationship and going through ups and downs and whenever someone gets married, you hope that they can preserve and fight through any disagreements or problems they have in their relationship. But unfortunately it seemed like it got the best of them.
"Having said that, they said that they announced that they're separated, not getting a divorce, so I'm not sure," he added. "It's really tough. I feel bad because nobody wants to have to have been the ones to announce that they potentially could be getting a divorce and that's what they had to do and it really just sucks."
As for Jared's wife, former 'BIP' star Ashley Iaconetti, she said the couple most likely had issues because they're from two different parts of the country.
"They came out about that issue that they had six months before their wedding, after the wedding," she said.
Ashley added that 'Bachelor Nation' wants to think of the show's relationships "as chick flick fairytales," despite them being regular marriages.
"There's good days and bad days and all that," she added.
Chris has not released any public statements since he and Krystal announced the split.
RELATED STORY: 'Bachelor in Paradise' Couple Krystal Nielson & Chris Randone Split After Only Eight Months of Marriage
(Photos: Instagram)