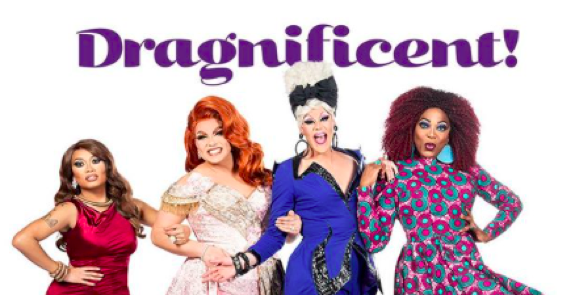 TLC is enlisting four former contestants from RuPaul's Drag Race to revamp the lives of individuals prepping for their special day in the new makeover series Dragnificent.
According to The Wrap, the new show will follow BeBe Zahara Benet, Jujubee, Thorgy Thor and Alexis Michelle as they help 'Dragnificent' participants "re-imagine their appearance for a special day and reveal themselves as they have only dreamed, while taking viewers on a touching journey of their life and struggles up to this point."
"Whether it be a bride who wants to feel beautiful walking down the aisle, an alumna who wants to strut her stuff at an upcoming high school reunion, or a woman coming to terms with her new body after losing a massive amount of weight, there is nothing our queens can't tackle," TLC announced. "No matter how big the event or transformation, our fairy godmothers are just the team needed to give these people the confidence, courage and grace they need to be their best at the biggest moments of their lives."
The new series follows in the footsteps of Drag Me Down the Aisle, a wedding special starring the four 'Drag Race' alums that aired on TLC in March 2019, according to Us Weekly.
Meet the queens of 'Dragnificent' below!
BeBe Zahara Benet, whose real name is Nea Marshall Kudi Ngwa, is the original winner of 'RuPaul's Drag Race' and third-place finisher on Season 3 of RuPaul's Drag Race: All Stars. She also served as a "drag professor" on two episodes RuPaul's Drag U.
Jujubee, aka Airline Inthyrath, was a contestant on Season 2 of 'RuPaul's Drag Race', where she finished in third place. Jujubee went on to appear on the first season of 'RuPaul's Drag Race: All Stars', ultimately making it to the series finale. She has also served as a regular guest artist on 'RuPaul's Drag U.'
Thorgy Thor, (real name: Shane Galligan), appeared on Season 8 of 'RuPaul's Drag Race', placing sixth out of 12 contestants. Thorgy was brought back for Season 3 of 'RuPaul's Drag Race: All Stars' and was eliminated in ninth place.
Alexis Michelle, aka Alex Michael, was one of the top five contestants from Season 9 of 'RuPaul's Drag Race.' She also appeared on RuPaul's Drag Race: Untucked in 2017.
'Dragnificent' premieres Sunday, April 19 at 11 p.m. on TLC before moving to its regular time slot on Monday, April 20 at 10 p.m.
RELATED STORY: Online Petition Asks TLC to Remove Geoffrey Paschel From "90 Day Fiancé" & Prevent Him From Appearing on Future Shows Due to Criminal Charges & Current Abuse Allegations
(Photos: TLC/Instagram)