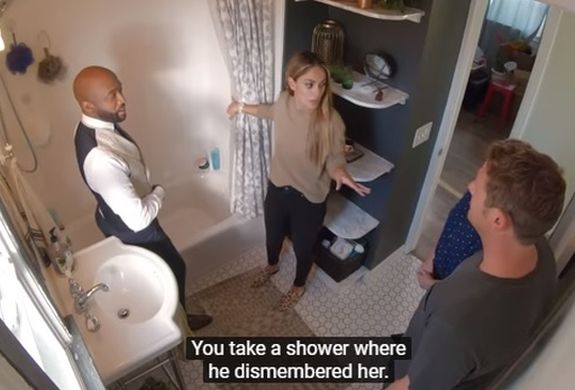 Sometimes, in order to get a house you can afford in the neighborhood you want, you have to buy a home where a guy chopped up his wife…
In a new trailer for Quibi's upcoming new show Murder House Flip, that's how one couple explains their decision to purchase a home where a famous murder occurred. The couple and their once-blood-spattered dwelling perfectly sum up the premise of the new show, which will be available for streaming next month.
Announced back in September, 'Murder House Flip' will feature "a colorful cast of forensic specialists, spiritual healers, and high-end renovation experts. They'll uncover the crimes, shocking secrets and scandalous history of the homes" according to a press release.
Show executive producer Josh Berman (the guy behind the "CSI" franchise) said in a press release from last fall that he hopes the show will "bring healing and solace to families living in the aftermath of tragic events by transforming dark places into healthy spaces."
In the new trailer, we get a taste of just how creepy some of those tragic events were. In one scene, a couple is standing in one area of backyard as they're told, "this is where the bodies were buried…there were seven bodies total."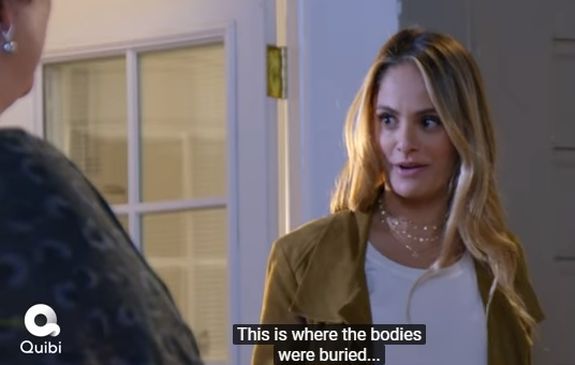 Another couple explains that a famous murder from 1988 occurred right where their Lazy Boy couch now resides.
"This man killed his wife right here where my husband is sitting," a woman says as the screen flashes to a crime scene photo from the murder.
One couple makes their bed….which sits in the spot where several grisly murders took place.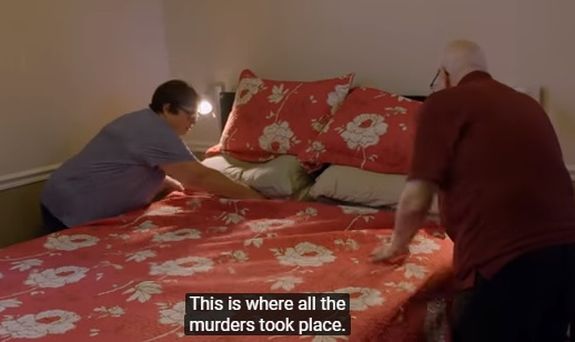 "Murder and makeover don't usually go together," host Joelle Uzyel says in the trailer.
Co-host Mikel Welch explains that they are attempting to free the home of its gruesome past.
"This isn't just about design," he says. "We need to give this space new life and energy."
Of course, when you're working with former crime scenes, reminders of what took place in the space can sometimes pop up, as the team discovers when they're told that missing bodies— and murder weapons— may be found while they are digging or demoing the space.
"Are you trying to tell me that we'll find body parts?" Joelle asked.
"There's a distinct possibility, yeah," the home owner responds.
A press release for the show states that, unlike other home makeover shows, there is no profit to be made, as the flippers will not be profiting off of the work.
'Murder House Flip' will be available for streaming on Quibi starting April 6. (If you're unsure what hell Quibi is, it's a mobile streaming service specializing in "quick bite" content. You can read more about Quibi and how to watch the show here!)
Watch the new 'Murder House Flip' trailer below!
RELATED STORY: New Reality Show 'Murder House Flip' Will Focus On Renovating Homes Where Tragic Events Have Taken Place
(Photos: Quibi)