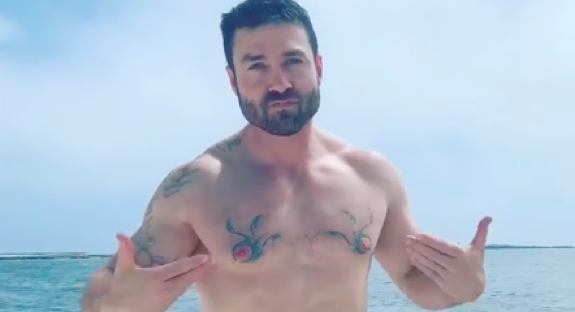 While an online petition demands that Geoffrey Paschel be removed from TLC, Geoffrey may want to look into doing a little removing of his own.
Last week, Geoffrey shared with his followers an Instagram post teasing the story behind his strange nipple tattoos, which have made an appearance on his social media as well as the currently airing season of 90 Day Fiancé: Before the 90 Days.
Geoffrey said in his post that the particular tattoos are something he has regretted "from the very beginning" (go figure), and that they remain a source of joke material for his brothers to this day. Despite growing up "hardcore against tattoos of any kind," Geoffrey said the nipple tats were the result of a trip to a tattoo convention with a friend of his and an attempt to seek "outside approval" for his own self-esteem.
He ended his story there, asking his followers to let him know if they wanted to know the rest.
Surprisingly, some interested parties spoke up and Geoffrey went on to pick up his story the next day, warning everyone that it was "very anticlimactic" (and rightfully so).
Geoffrey said the unique design was essentially selected from an artist's tattoo book, moments before the tattoo convention closed. While Geoffrey picked the tattoo, it was the artist's suggestion to place the designs "around [his] tits."
"I came home all excited and couldn't wait to show them off," he continued. "When the first opportunity arose, I showed my friends and they all laughed and asked what they were. I told them, 'I don't know, they just looked cool' — they disagreed. It was then that I realized I was now the guy with some weird design around my tits, not the pat on the back like I envisioned."
Geoffrey said his nipple decorations have been called everything from flames to snakes, though he prefers to call them "peacock's eyebrows."
" … that's my best answer," he said. "That's it… nothing exciting to see here. It was yet another spontaneous moment in my life. That seems to be the personality trait I'll always possess. I'll take that. It has brought me where I am today and take me where I will be tomorrow — wherever that my be."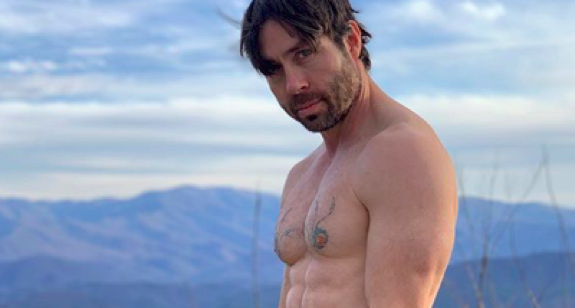 Moral of the story: think before you ink… and then think even harder before applying to be on a reality TV show and going shirtless on-camera.
RELATED STORY: "90 Day Fiancé" Star Geoffrey Paschel Responds to Online Petition Demanding His Removal from Show
(Photos: Instagram)