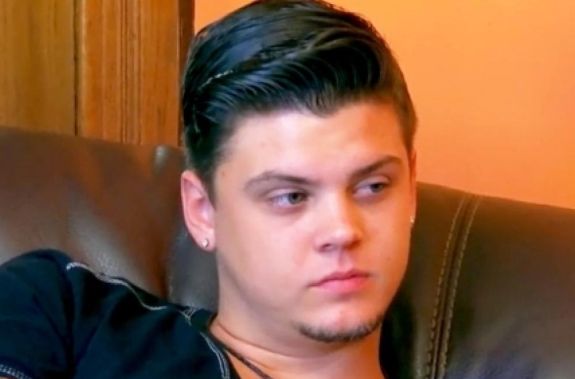 Tyler Baltierra is used to sharing his life on TV, but the Teen Mom OG star recently opened up about how having his kids' lives and milestones viewed by millions of viewers may affect his daughters as they get older.
In a new interview with the Awesome Dad show, Tyler opened up about how he feels about having his daughters, Nova and Vaeda, on TV. He also discussed the money the girls have made from appearing on 'Teen Mom OG' since their births.
Tyler said he and his wife Catelynn Lowell have considered their kids' futures each time they are offered another season of the show.
"It's a constant thing that runs through our brains," Tyler told host Mark Savant in the episode that posted on March 30. "Every time [MTV] calls us and asks if we want to do another season, we sit down and talk about it. Our kids are getting older so, [we think about] what age are we going to be restricting filming."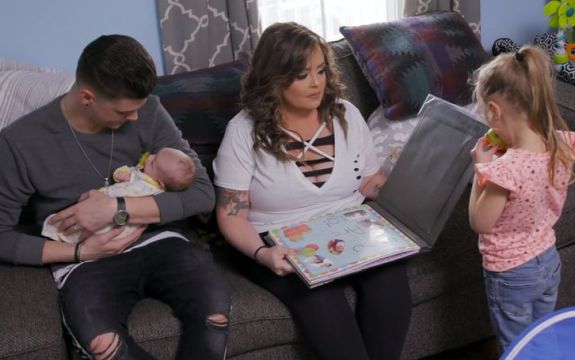 Tyler said they are already giving their five-year-old daughter, Nova, a choice about whether or not she wants to film for the show.
"We ask Nova, 'Do you want to film today? Do you want cameras in your room?'" Tyler said. "We want to give her the option and freedom to determine, 'No I don't want to do this today' or 'I do.'
"I think that's super-important because, at the end of the day, my kids were born into this," Tyler added. "They didn't really get to choose to be on TV or not. Me and Catelynn did that, as parents, and that's what we do. I feel like it's important to give them a little of that freedom to decide if they want to be filmed or not."
Now that Nova's old enough to go to school, Tyler said that he and Catelynn have already started to prepare her for the possibility that her classmates (or their parents) may watch the show.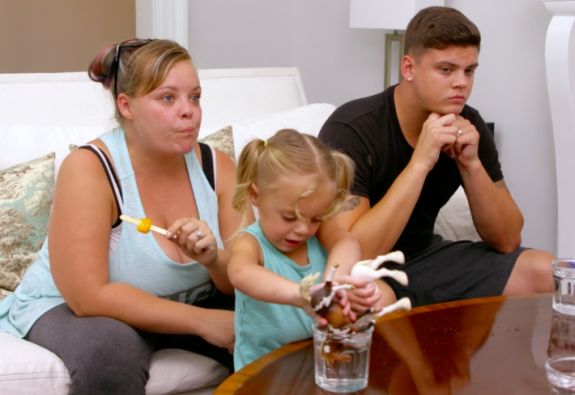 "Our plan with Nova is to keep telling her every single year, 'Hey, [MTV] is going to come here again, and kids at school may know who you are,'" Tyler said. "We're just kind of explaining to them as they get older, at their age level."
Tyler said that he and Catelynn have decided they will stop appearing on the show if it becomes detrimental to their kids.
"If it comes to the point where our children are coming to us and saying, 'Listen, we're getting bullied' or 'I wish you guys wouldn't do the show anymore,' then it's done," he said. "It's very simple. I'm not going to sacrifice their lives, their well-being and [getting to] grow up in as normal a childhood as possible just so we can continue to do the show."
There have been some major perks to having their kids on the show, however. The cast of 'Teen Mom OG' makes hundreds of thousands of dollars a season, and all of the kids are also paid for each appearance they make on the show. Tyler said that this income has been a blessing for his kids.
"As far as [the kids] getting compensated for the show, my kids are totally set, they're totally set up for life," Tyler said. "They're great. College is paid for. That was mine and Catelynn's main thing; that each of our children have trust funds that their [MTV] money goes into and they can't touch."
Tyler said that he and Catelynn have done their best to keep their kids down-to-earth and to raise them as normally as possible.
"I'm raising my children [so] that they're going to be humble and they're going to know the sacrifices that their parents made to be on TV and expose all these things [about themselves publicly]," he said.
"Me and Cate, though, we still live in the same county we grew up in, in Michigan," Tyler added. "We live on a farm in the middle of nowhere. We don't live outside our means. We're not, like, buying big houses…We try to just keep it as humble and simple as possible, and also try to keep our TV life as separate as we can, realistically, from the kids."
Listen to Tyler's full interview with the Awesome Dad show below!
RELATED STORY: EXCLUSIVE! Filming Halted for 'Teen Mom' Shows Due to Coronavirus Threat: Exec Producers Order Film Crews to Return Home from Shoots ASAP
(Photos: MTV; Instagram)