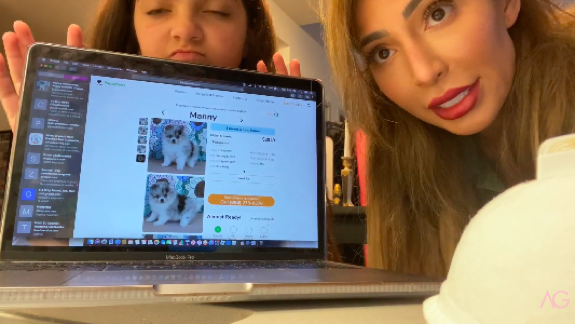 Former Teen Mom and current controversial pet owner Farrah Abraham was hit with some bad news a few days ago when a purchase for a Pomeranian puppy named Manny went south, preventing Farrah from adding another pet to her menagerie. Needless to say, the Backdoor Teen Mom is not happy about it!
Farrah prematurely shared her and daughter Sophia's new addition during a YouTube video, in which Farrah proudly (and very oddly) announced that Sophia had purchased her first dog online and the puppy would be arriving some time in April.
"And for all you pet-shamers out there, this is not about shaming, this is about firsts!" Farrah proclaims.
Um…?
Farrah says that, while "Manny" is currently listed as the dog's name, they are planning to call him "Oreo"…or "COVID." (No, seriously…)
Manny the Pomeranian was reportedly being purchased from The Puppy Spot for more than $2,000. However, according to Starcasm, after the online breeder began to receive some backlash for allowing Farrah to purchase one of their dogs, the company decided to cancel the deal before Manny ever got placed into Farrah's claws.
This, of course, is hardly a surprise to anyone who has followed Farrah's track record with pets. Less than a month ago, she was accused of animal abuse after a video was posted to social media featuring her dog Cupcake with a ribbon tied around her mouth. This, incident, along with the fact that both Cupcake and Farrah's other dog Boo were (and still are) covered in hair dye, resulted in PETA issuing a statement aimed at Farrah, urging her to "start treating dogs like more than fashion accessories or surrender them to someone who will love them unconditionally."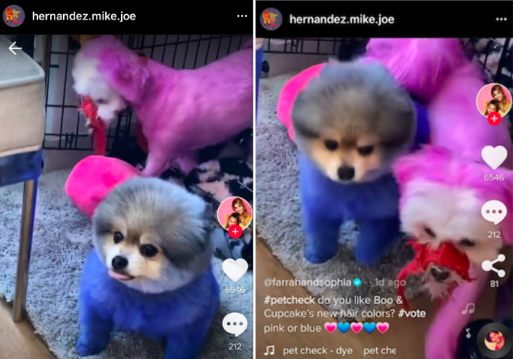 Farrah also had another dog named Blue who passed away in 2018 under mysterious circumstances, though Sophia admitted on social media that she had thrown the small dog. Farrah later denied any wrongdoings on Sophia's part and instead claimed that Blue died as a result of stress from the construction going on in their building at the time.
That same year, Farrah's former friend Phoebe Price did a tell-all Instagram Live session in which she accused Farrah of neglecting her pooches when she brought them to the Coachella music festival. Phoebe, who attended the event with Farrah, alleged that Farrah punished her dogs for barking and neglected to give the pooches water, in addition to other scary claims.
After hearing that her plan to bring dog into her home had been compromised, Farrah took to her new Abraham Gals podcast that she shares with Sophia to "Farrah Speak" her side of the story and let's just say, she may have outdone herself with this one.
https://www.instagram.com/p/B-XqRY2hq5n/?utm_source=ig_web_copy_link
The episode starts out with Farrah "consoling" Sophia and telling her they maybe she shouldn't have posted her excitement on YouTube because "haters just are ruining it and honestly, the breeder isn't strong enough to understand the hate and the celebrity that they're dealing with."
Sounds legit.
Farrah then calls her stepmom, Amy, to give her the lowdown on the puppy situation. Farrah explains(ish) that after paying upfront and signing a contract to buy Manny, she was contacted by "a random customer service rep" — who, according to Farrah, was acting "super fake negative" — and informed her that the deal was off on the puppy purchase.
"She calls me and says based off of me throwing my dog off of a balcony, I'm not going to be allowed, me, to have my own dog that I've already paid for," Farrah tells Amy.
Farrah says she informed the "random customer service rep" that she was misinformed and that particular rumor was "not even real at all."
" … That's made up by haters and hateful people, hate speech, discrimination speech … ," she continues.
Farrah says she also told the "random customer service rep" that what she was doing was illegal and that it was only happening because she is "a celebrity."
We'll give you a moment to stop laughing and compose yourself…
Farrah then demands to speak to the company's legal team, stating that this act of "discrimination" is worthy of small claims court.
"… I go, 'I'm not going to speak to some random customer service care person who doesn't even know what they're doing and if you talk any more, every bit is recorded and it's illegal and it's going to just take you to right to where it's gonna go,'" she said.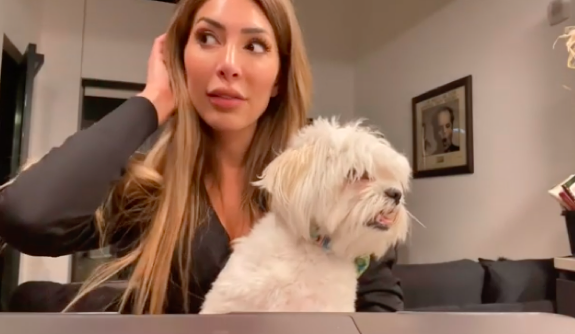 Farrah tells Amy how much this dog means to Sophia. Then, we get to see a perfect example of why Farrah is the way she is when Amy tells her that what she's saying "is completely correct."
Amy asks Farrah if she has received a refund, and Farrah informs her that when the "random customer service rep" discussed issuing one, Farrah informed her that she wasn't accepting it "because it's breaking the law."
"That's not a real claim, that's not real," she says. " … There's a tort, like, there's a tort law that covers this!"
Instead of bringing Farrah back down to planet Earth with the rest of us, Amy suggests they just get a friend or family member to buy the dog and then hand it over to Farrah and Sophia. The two then "brainstorm" about people close to them who "haven't been publicized" that could possibly make the purchase.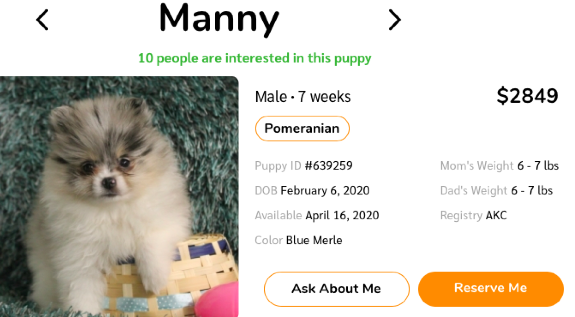 (Farrah also complains about her slow Internet connection near this part of the podcast, which she blames on "this whole C0VIN-9 thing." Yes, you read that correctly… according to Farrah, we are dealing with a "COVIN-9" crisis that kills your Internet connection. Sigh…)
Farrah declares at this point that she believes it best if she calls the sales agent with whom she made (or attempted to make) the puppy purchase to "tell her about this s**t." Before getting off the phone with Amy, she discovers that the website has re-listed the puppy as "available" online and she reveals her plan to leave a damning review for the business.
(We all know how hilarious Farrah's written reviews can be…)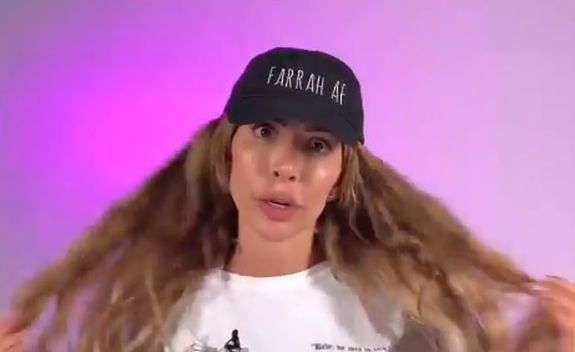 We then get to hear the conversation that went down between Farrah and the sales agent, whose name is Roxanne. The recording of the conversation from Farrah's podcast left out the beginning of the phone call, but here's a breakdown of the s**tshow that was captured — and, mind you, uploaded willingly — by Farrah.
Farrah: " … you're actually taking it off of lies, hatred and slander, so that's not a legal, moral base and that's why you're having what you're hearing right now, so it's not 'OK,' umm, it's actually against the law and your own network hospital admitted my dog that passed away and they'll gladly let you know. And people actually had to go to therapy because of that and trauma because of that, because it was such a devastating loss to our family…
"And I don't think you've ever dealt with somebody who's in the public eye but I will say this, we deal with a lot of very untrue, hateful, discriminating things that you won't ever have the luxury of going through. So, you're talking to one smart, intelligent and tough woman and I will say this, any of your discrimination, your hatred and the lies that you based anything off of is illegal. By law."
Roxanne: "OK."
And then, right on-brand, Farrah eventually gets to calling this a "hate crime." She has also apparently learned a new word– "tort"– so she does her best to sneak it into the conversation whenever possible…
Farrah: "And it's not an opinion, it's legal because you transacted money for that and we've already spent, what, two weeks thinking that we're having this puppy? So no, I take that to heart. I actually take that to heart. I take that to realization to this is such a hate crime right now and it's discrimination and it's hateful. It's discrimination because you based it off of lies that aren't true. That's discriminating. And actually it's a tort."
Roxanne: "No—"
Farrah: "There's also another tort — just so you know, I'm in law school right now — and there's also a tort where you base your actions off of complete and lies and it's discrimination so you can have my lawyer reach out to you, but my lawyer is actually going to contact your lawyer and also the owner of your company and we're going to look at your laws and your guidelines and your opinions and what you just based it off of, which you can say it out loud one more time, so you can hear how illegal you are. That's against the law."
Farrah then goes into a long-winded discussion about her (currently living) Pomeranian Boo and how he apparently has a "collapsed trachea" issue, just like she claims her Pomeranian that passed away had. Farrah attempts to explain that Boo takes daily vitamins that (somehow?) remedy this health issue. She also stresses to Roxanne how much her pets are cared for and pats herself on the back for "caring" so much that she maintains a social media page for them.
I mean…do you even LOVE your pets if they don't have a social media page?!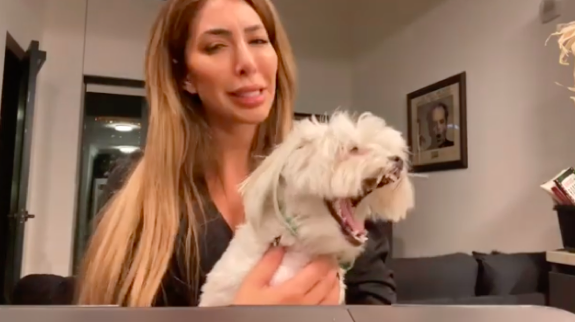 Farrah also requests to speak to a lawyer and the owner, noting that she doesn't "need to speak to anybody else who's a sales agent" because they're "not doing anything for anyone." After demanding to know Roxanne's title, she learns that she's speaking to someone in client services, but that is not to Farrah's satisfaction either.
Farrah: "Roxanne, you're a client service representation. You're not an owner, you're not a lawyer and the statement to the facts that you just presented off of lies, that's illegal. It's not real. So therefore your answer, a declining and discriminating against a woman right now is not OK."
Roxanne tells Farrah she is not going to argue back and forth with her, but she clearly doesn't know who she's dealing with. Farrah keeps on demanding to speak to the owner or "the legal representation of the company" and when Roxanne informs her that what Puppy Spot did was within their rights, Farrah tells her she's wrong.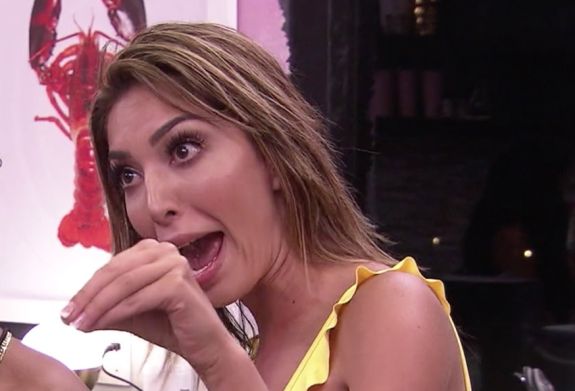 Farrah: " … My money is accepted and you do not have the right to take away someone's right and ownership of what they paid for. Do not tell me by my name, it's very disrespectful. You're disrespectful, that's not accepted, that's illegal."
Roxanne: "Calling you by your name is disrespectful?"
Farrah continues to verbally abuse and talk down to Roxanne, accusing her of breaking the law, interrupting her and trying to give her some sort of twisted and completely inaccurate lesson on all things hate crimes and discrimination.
After ending her conversation with Roxanne, Farrah apologizes to Sophia for the "really, really disruptive" life morning. She then continues to weirdly console Sophia as she did before, telling her not to cry, despite Sophia not making a single sound during the entire podcast.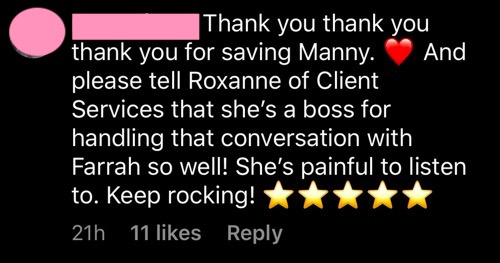 The podcast picks up later in the middle of yet another conversation with someone from The Puppy Spot, who Farrah says has done things that are "illegal, unethical and improper" and warns them that she will be leaving a scathing review. This phone calls unfortunately cuts off mid-conversation and we never find out who exactly Farrah was speaking to; however, it's safe to say it didn't go in her favor as we all would have surely heard about it by now.
Similarly, after speaking to Amy, Farrah said she had a breeder friend with a license "to pull any dog" for her, whom she plans to reach out to in order to get Manny, but that has yet to happen either.
On Tuesday, Farrah promoted the negative review she reportedly left for The Puppy Spot; however, her review does not currently appear on the breeder's website.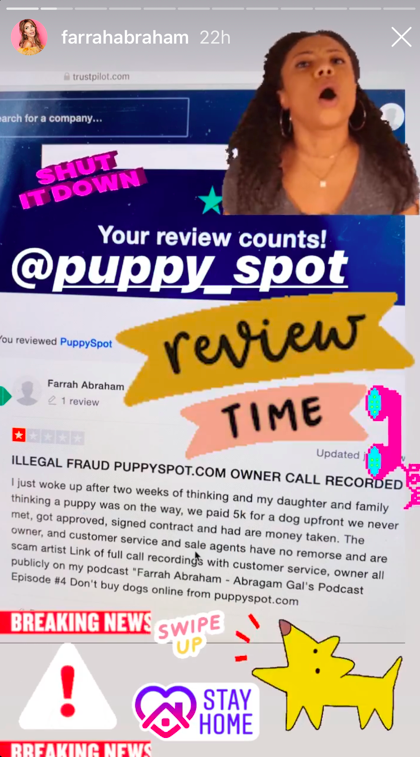 As of press time on Wednesday, Manny is listed as "reserved" on Puppy Spot's website, which means Farrah (or whoever she convinces to go fetch, pun intended, Manny for her) is not currently able to get him.
Did you hear that? It's poor Manny, breathing a big sigh of relief…
RELATED STORY: Farrah Abraham Accused of Animal Abuse After Video Shows Her Dog's Mouth Tied Shut; Farrah Denies Any Wrongdoing After PETA Issues Her a Warning
(Photos: YouTube; Instagram; PuppySpot.com)