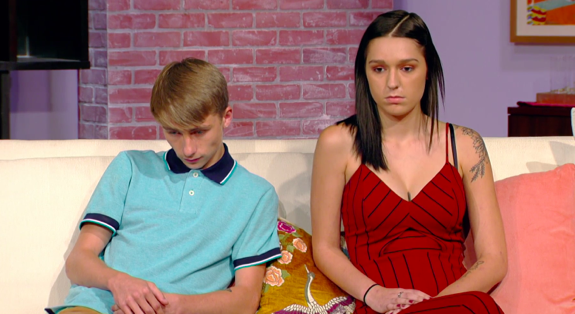 Hailey "Hailey 2" Tilford officially became the second Unexpected star to mother a child with Matthew Blevins on Thursday, as she welcomed son Levi Carter.
According to Starcasm, even though Matthew wasn't around to capture the moments leading up to and immediately following Levi's birth, Hailey's friend Harley was by her side to share updates on social media with Hailey's followers (and possibly Matthew, if he bothered hopping out of his DMs long enough).
Not long after Levi's birth, Hailey began sharing photos on social media and — possibly in an effort to prove to her baby daddy that Levi is in fact his child — she polled her followers on whether or not Levi looks like Matthew.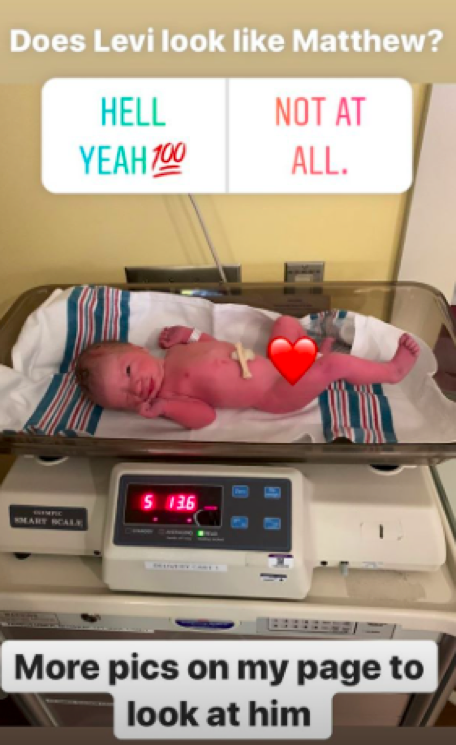 She went on to confirm on Instagram that Matthew doesn't see a resemblance between himself and Levi, as she responded to a comment noting the father and son's likeness with, "HA, right. Tell him that please. Because for some reason he doesn't believe so lol."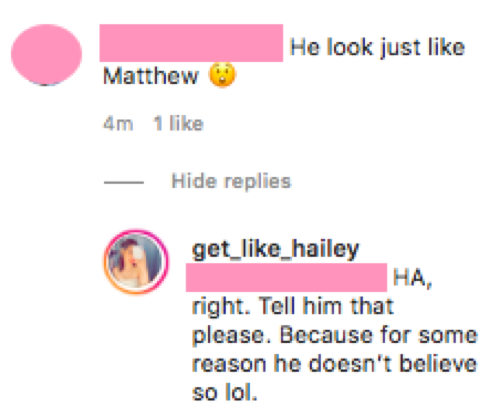 According to Soap Dirt, Hailey said in March during a live stream that Matthew wanted to get a paternity test following Levi's birth, though she insisted it wasn't necessary. The fact that Matthew already has a daughter named Kinsley by his ex-girlfriend (and Hailey's former friend) Hailey "Hailey 1" Tomlinson, also of 'Unexpected', already proves that he's fertile, so that certainly doesn't help his case.
For those wondering where Matthew was during Levi's birth, Starcasm reports that he's been off tending to more important things — aka road tripping and trying to pick up girls to impregnate.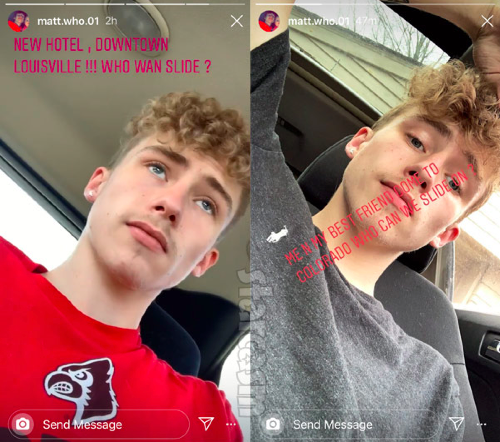 While missing the birth of his child is undoubtedly a bigger deal, it wasn't the first Levi-related event that Matthew missed out on recently. Less than a month ago, Soap Dirt reported that Hailey celebrated her baby shower with friends and family, while Matthew was noticeably absent from the celebration.
Someone who was present for the event was Hailey's ex-boyfriend Cole, whom Hailey insists is one of the "supporters" in her life. Despite Hailey claiming that things between her and Cole are strictly platonic, Cole's presence at the baby shower for Levi apparently rubbed Matthew the wrong way, as he allegedly texted Hailey, "Comedy, Cole doing the daddy work."
Hailey responded by telling Matthew to "grow tf up" and asking that he stay away from her and Levi.
Both Hailey 2 and Matthew previously said they would not be returning to 'Unexpected' next season; however, it appears that Matthew has reportedly been filming with Hailey 1 behind Hailey 2's back. Shocker.
UPDATE! Matthew responded to the criticism he's received for not being present at Levi's birth. In a message posted to Instagram Stories on Friday, he claimed the national health pandemic was the reason he wasn't there.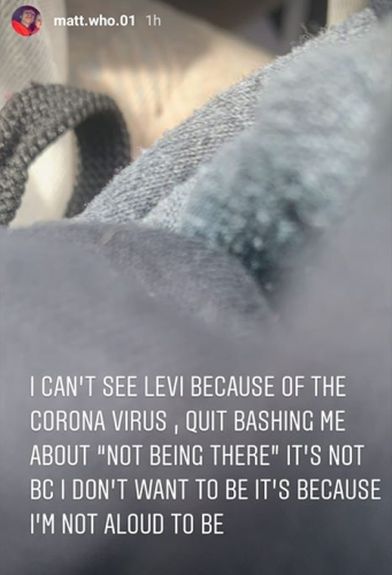 "I can't see Levi because of the C0rona virus," Matthew wrote. "Quit bashing me about 'not being there' it's not BC I don't want to be it's because I'm not aloud to be."
Several people called him out for the explanation though, pointing out that Hailey's friend Harley was allowed at the hospital and was present for the birth.
RELATED STORY: Pregnant 'Unexpected' Star Hailey "Hailey 2" Tilford Reveals She & Matthew Blevins Have Broken Up (Again): "We Are Nothing But Toxic"
(Photos: TLC; Instagram; Starcasm)