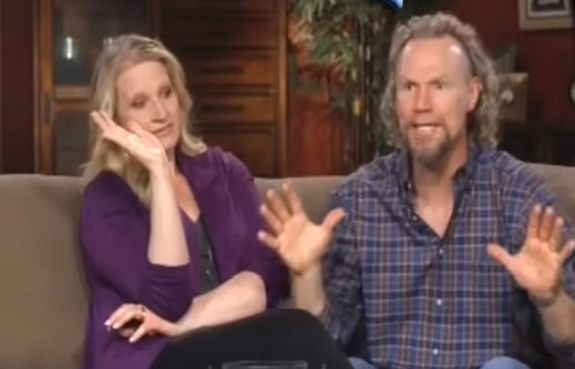 Sister Wives star Christine Brown raised some eyebrows and quite a few concerns recently when she pleaded with fans to purchase from her online clothing store in order to help her raise funds for one of her children to have surgery.
Christine— who is the third wife of Kody Brown and the mother of six of his 18 kids— made the surgery comments on her Lularoe Facebook page last week, informing her more than 30,000 group members that their buying leggings and other assorted stretchy clothing from her was helping her "get something done."
That "something" turned out to be raising money to pay for a surgery for one of her daughters.
"What you guys are doing, by helping me so much with your purchases, are helping me get something done," Christine said during the Live session. "I can't go into tons of information, but one of my daughters needs a surgery and I need $50,000 for a down payment for the surgery, and you guys are making it happen."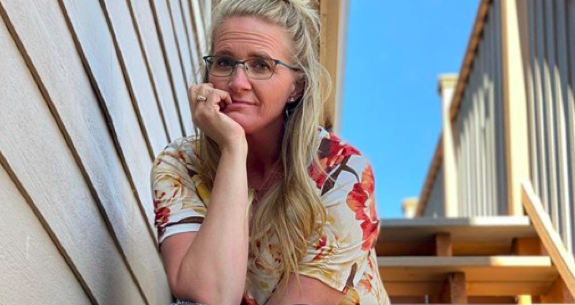 "$50,000 for a down [payment] was so daunting, so I decided to just work hard," she added. "Just work really, really, really hard and we're like halfway there…I can't thank you enough for all your purchases and you helping my family, and my daughter. I can't say [which one] is getting the surgery!"
She went on to say the surgery would be covered on the next season of 'Sister Wives' and while she didn't reveal the name of the child undergoing the surgery, she did note that the child's health issues have been discussed on the show in the past.
"I wish I could tell you more, but I signed a non-confidentiality," Christine said. (She probably means a "confidentiality agreement," otherwise known as a non-disclosure agreement.)
"There's things that I can't talk about, but thanks, it means a lot to me," Christine said.
Longtime fans of the show were quick to assume Christine was referring to her teenage daughter Ysabel and a possible surgery for her scoliosis, which she previously wore a brace for on the show. Her scoliosis has been discussed over multiple seasons of 'Sister Wives.'
On Instagram, a fan of the show asked Ysabel if she has undergone spinal surgery yet to correct her scoliosis, to which she confirmed she had not. Ysabel encouraged the fan to stay tuned to the show next season for updates.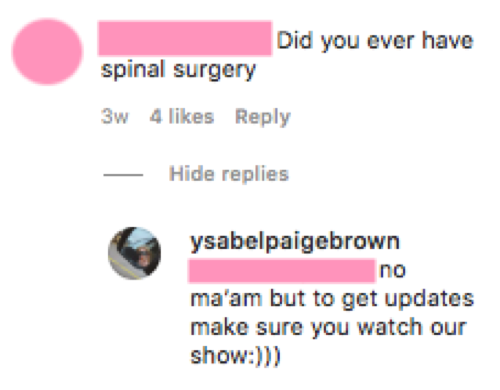 While Christine seems to be pushing the sale of her leggings to fund Ysabel's surgery, some questioned why Ysabel's other parent, Kody, doesn't appear to be coughing up the funds to help his daughter.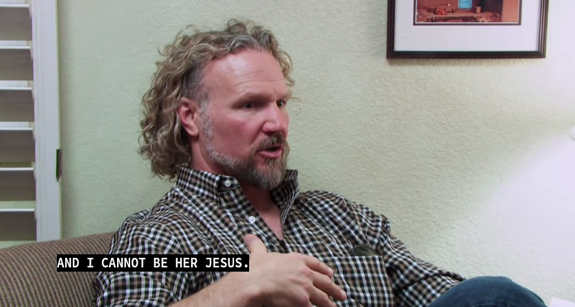 Aside from the money the family pulls in from the TLC show, they also have quite a few cars and homes (both rented and owned), not to mention, Kody's beloved Coyote Pass Property… which makes it appear that the family could easy swing $50,000 for surgery.
However, back in April 2019, it was revealed that Kody & Co. owed thousands in taxes for their Arizona properties. The family also discussed their financial issues on 'Sister Wives' last season.
RELATED STORY: 'Sister Wives' Star Kody Brown Talks About How Quarantine & Social Distancing Have Affected His Relationships with His Four Wives & His Kids
(Photos: TLC; Instagram)