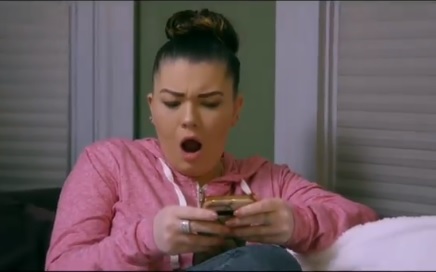 Amber Portwood and her Belgian boyfriend were recently compared to a couple from the 90 Day Fiance franchise and they were not happy about it. The comparison led to the Teen Mom OG star launching into a full-on Instagram rant late last week that has since been deleted.
Amber— who, as 'Teen Mom OG' fans know has been dating her Belgian boo, Dimitri Garcia, since last year— came out virtually swinging after seeing her and Dimitri's relationship being compared to that of "90 Day Fiance" stars Geoffrey Paschel and Varya Malina. The page asked its followers to choose "who had the better criminal love story?"
That caption clearly set Amber and Dimitri off, and soon Amber had launched into one of her infamous social media rants that quickly turned into a conversation about the physical abuse Amber claims to have suffered at the hands of past boyfriend(s).
While she didn't specifically state which boyfriend(s) allegedly abused her, she did say that it was a man/men she filmed with for 'Teen Mom OG,' which basically breaks down to Gary Shirley, Matt Baier and/or Andrew Glennon.
The rant comes after a long period of social media silence for Amber. Aside from a selfie posted last week, Amber has remained off of The 'Gram (except to post clickbait, of course).
For this rant, though, it appears that Dimitri— who, as The Ashley recently told you, has claimed he will be coming back to the United States within the next few weeks— saw the post in question first. He stated in the post's comment section that he found the comparisons to "90 Day Fiance" to be "humiliating," and stated that he's "fed up" with people comparing his and Amber's love story to those on the "90 Day" shows.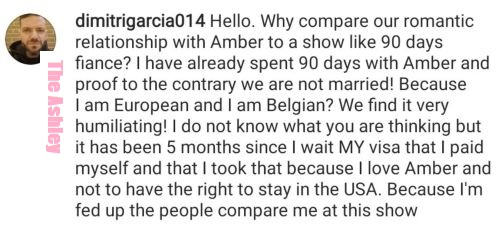 "Why compare our romantic relationship with Amber to a show like '90 Days Fiance?'" Dimitri wrote. "I have already spent 90 days with Amber and proof to the contrary we are not married. Because I am European and I am Belgian? We find it very humiliating!"
Amber then hopped on the thread, threatening to force the Instagram page to delete the post, and sticking up for her geographically challenged love story.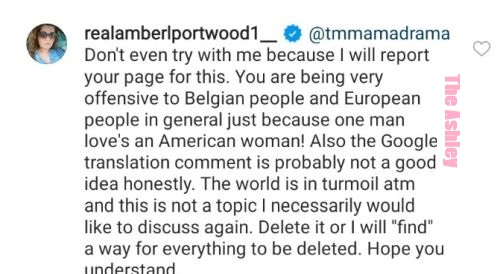 "You are being very offensive to Belgian people and European in general just because one man love's an American woman!" she wrote, later threatening, "Delete it or I will 'find' a way for everything to be deleted."
When another person jumped in to suggest that Dimitri is only with Amber for money/fame/the ability to come to the United States, Amber apologized to her Belgian soulmate for the treatment he's received from Americans. (Dimitri has repeatedly stated on his own Instagram that he is in the relationship with Amber only for love.)

"I'm sorry for how our country is being portrayed by people like this today babe," she wrote to Dimitri. "No worries though."
She then turned her fury on the people who suggested that Dimitri is not with her "for the right reasons." She reminded them that she made Dimitri take a lie-detector test during a recent episode of 'Teen Mom OG' to see if he was being genuine.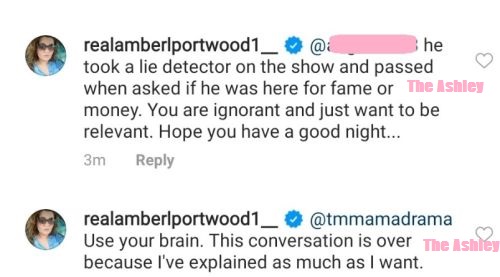 "He took a lie detector on the show and passed when asked if he was here for fame or money!" Amber stated.
From there, Amber argued with another person, reminding them that she has mental health issues, and insisting that she has grown since her domestic violence arrest last July for incidents involving Andrew.
"…I will stick up for my #mentalhealthcommunity no matter what people like you say," Amber wrote. "I'm a 30-year-old woman and you're speaking of 2 incidents that were very hard on me and everyone it affected. We learn and become better people; however I'm proud to be where I'm at and it's in God's hand. I stand for everyone with Bipolar Disorder and Borderline Personality Disorder as well as PTSD and anxiety…"
Obviously, not everyone was bowled over by Amber's explanation. One person brought up that Amber's two children were not filmed for'Teen Mom OG' around her at all this past season, and added, "Can you not see YOU are the problem in ALL of your relationships? And enough with the 'I have a mental illness, I'm a victim' BULLS**T. Get off your damn couch, get a hobby, a job and get your life fixed."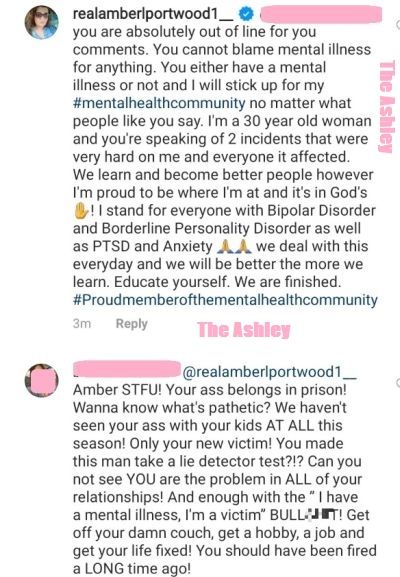 The comments about Amber's kids— she shares daughter Leah with Gary Shirley and son James with Andrew— struck a nerve with her, and she told one of the people in the comment section that there are reasons her kids aren't filmed for 'Teen Mom OG' alongside her.
"I'm with my kid's every single week!!! Every week!" she wrote. "MTV puts on television what they WANT you to see."
She stated that James is not allowed to be on the show. (This is true. As The Ashley told you last year, the custody agreement between Amber and Andrew forbid her from filming with James and prevented both parents from sharing photos of the boy to their social media accounts.) As for her daughter Leah, Amber says she purposely limits the time she's filmed for the show.
"Leah is protected through me because of all of this hate so I will not film with her usually or put pictures of us; however I see her every damn week," Amber wrote. (Again, this is true. The Ashley's sources, along with Gary, have confirmed that Amber sees both James and Leah regularly.)
Later in the comment section, someone called on Gary to come reel in Amber. (She has stated in the past that Gary has helped keep her off social media.)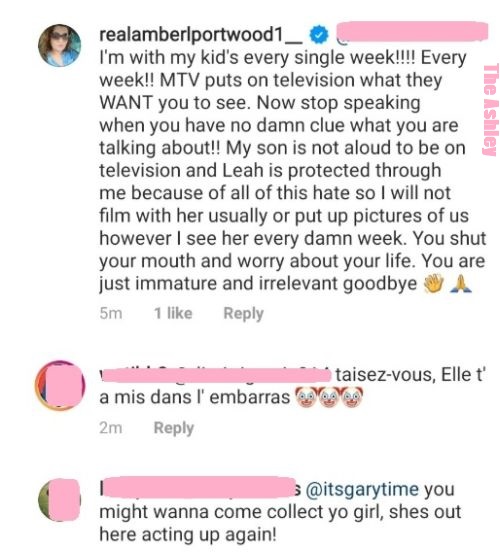 Unfortunately for Amber, though, Gary didn't come fetch her in time. Next, Amber ranted about how she was often the victim of physical abuse in her relationships, and often had to cover the signs of the alleged physical abuse in order to film for 'Teen Mom OG.'
"My only problem is that I never opened my mouth first!" Amber wrote. "You heard that right! If walls could talk you wouldn't say s**t. I've had my ass beat to the point of wearing long sleeve shirts on 90 degree days when I had to film because of bruises. Covering up my eye with full coverage makeup just to film as well.
"CHOKED OUT AND SPIT ON PLEADING FOR MY LIFE! Plus a thousand more yet I didn't call the cops because I was stupid!"
She also insisted that "more than 80 percent of the time" she hadn't done anything wrong.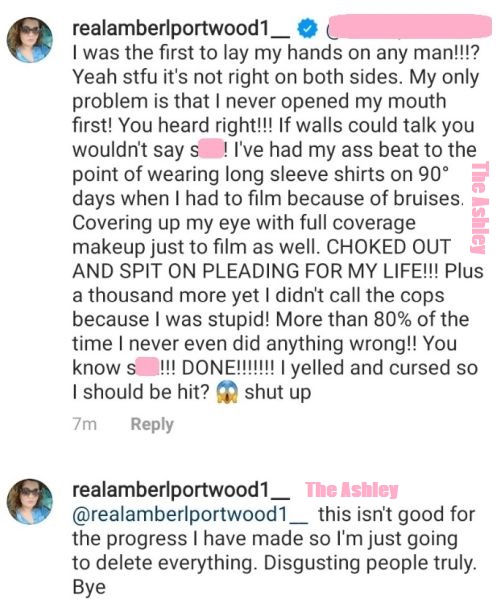 Finally she realized that ranting on Instagram was getting her no where and she vowed to delete her comments, which she did soon after.
"This isn't good for the progress I have made so I'm just going to delete everything," Amber wrote. "Disgusting people truly. Bye."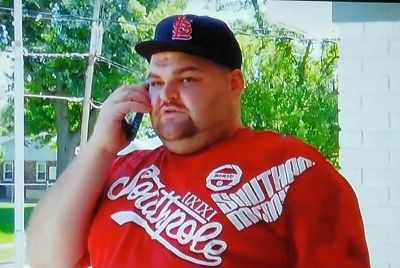 RELATED STORY: Dimitri Garcia, Belgian Boyfriend of 'Teen Mom OG' Star Amber Portwood, Says He's Returning to the United States Within a Month
(Photos: MTV, Instagram)