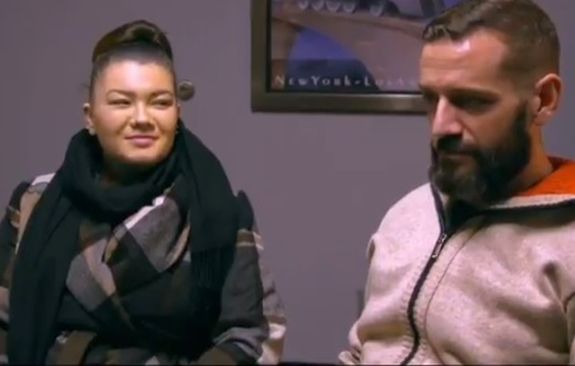 Dimitri Garcia, Amber Portwood's Belgian boytoy, is serving up syrupy-sweet social media posts directed at the Teen Mom star again — but this time, he's added some interesting hashtags and is defending his American woman against her haters. He also defended himself against those who say he's only with Amber for her fame or money.
In a series of recent Instagram posts, Dimitri—- who is currently appearing on 'Teen Mom OG'— laid it on thick to declare his love for Amber… and to beg her critics who say she's "toxic" and "awful" to let him decide for himself.
Dimitri tapped into his creative side (and also his arts and crafts box) by expressing his love through gel pens (as you do).He shared a photo of an hourglass he had drawn for Amber, along with a message that reads, "I love you every second, every minute, every hour, every day."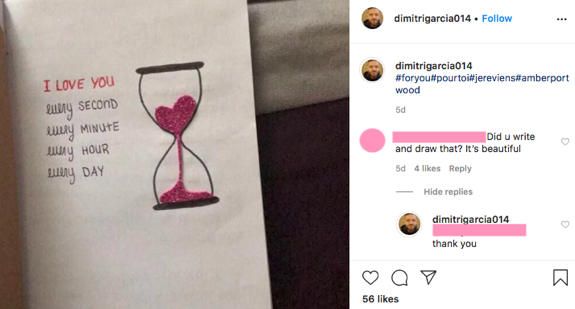 Dimitri— who is currently in Belguim— was sure to include "#foryou" and "AmberPortwood" just in case there was any confusion as to who the post was directed.
If that greeting card knock-off didn't bring you to a full cringe, Dimitri's next post will certainly do the trick…
After trading his gel pens and glittery accents for a classic black pen, Dimitri told Amber, "You know I love you," and proceeded to share this masterpiece…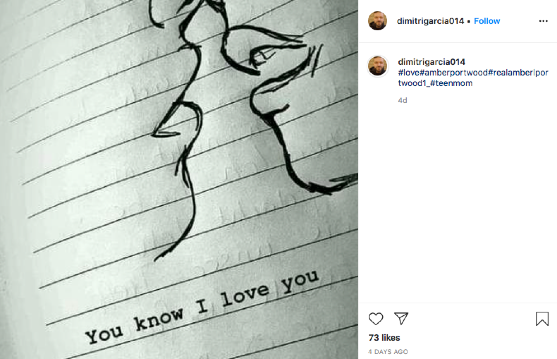 While his show-and-tell craft time ended with that piece, Dimitri's heartfelt posts for Amber did not. He went on to tell his followers he's with Amber for all the right reasons.
"I am not impressed by money, followers, degrees or titles," the now-deleted post read. "What impresses me is honesty, kindness, generosity, integrity, and humility."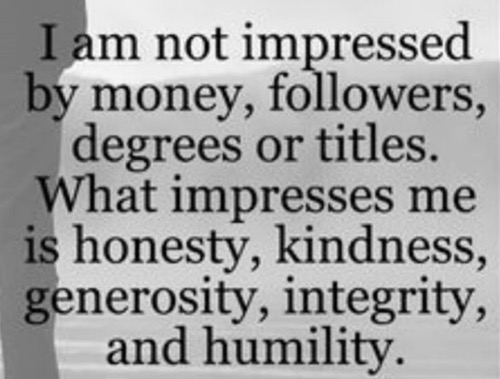 After being warned by one of his followers that Amber "has none of those qualities" and is "a danger to all men and children," Dimitri assured them he is "making the right choice" by being with her.
" … Honestly thank you for your advice," Dimitri added in follow-up response. "I'm sure she is not the person people say."
Dimitri went on to share with his followers his belief that "people should get to know the person before judging"; however, one of his followers told him many 'Teen Mom' viewers are basing their opinion of her on the behavior they've witnessed for years.
"People are judging because they've seen her behaving like a lunatic with their own eyes," the follower told Dimitri. "She's awful."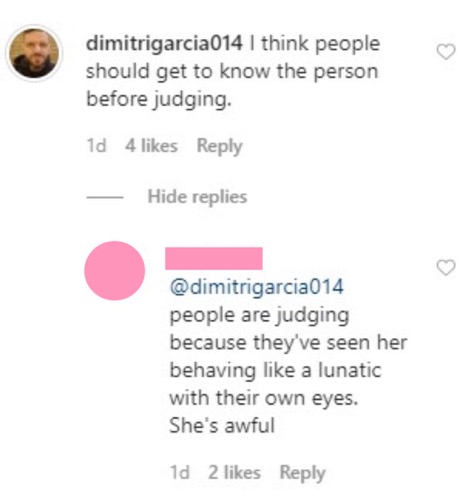 Dimitri responded to the many warnings with another quote –- thankfully not another creepy drawing –- about not judging others.
Still, he was warned of Amber's "toxic" ways and encouraged to "RUN."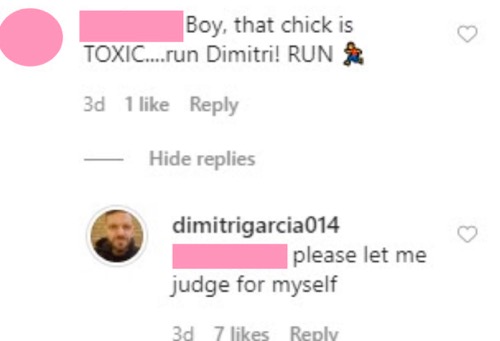 Dimitri was also subjected to some judging himself, when one of his followers accused him of only being with Amber for her money. Another criticized him for leaving his two young children in Belgium for three months in order to to be with her in the United States.
"Firstly, I have a job so I have money," Dimitri argued. "Secondly, what do you know about my life with my children? Are you sure they're not with me? Again people judge someone on saying and not on fact. You don't know anything about me or my financial and family life."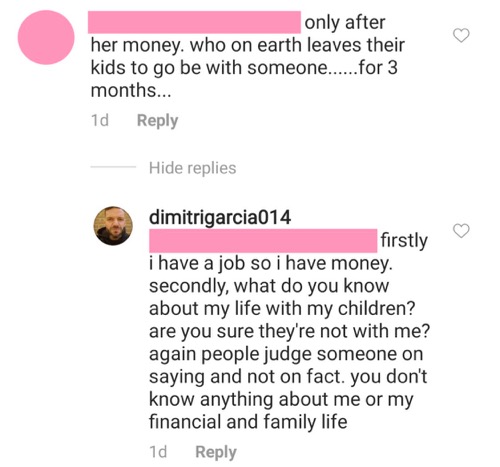 Based on his most recent Instagram post, it looks like Dimitri isn't interested in give up his spot on Amber's coveted couch anytime soon. I mean he is using "#love" in the post, after all.
"I'm okay with your history," his post read. "It made you who you are. And I happen to be in love with who you are."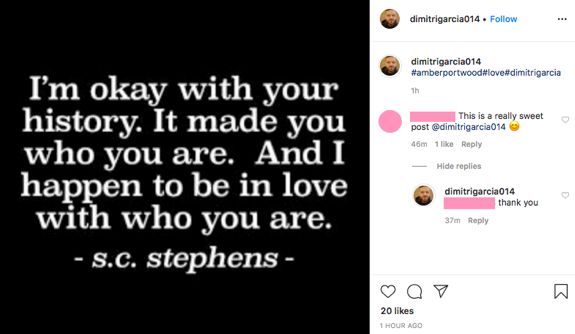 #UntilNextTime…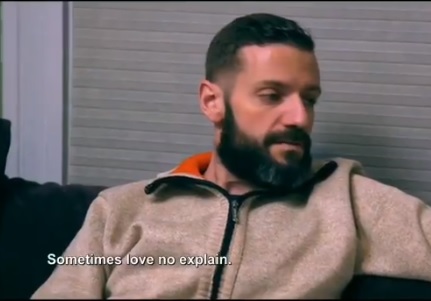 RELATED STORY: The 7 Juiciest Quotes from 'Teen Mom' Maci Bookout's New Interview About Ryan & Mackenzie Edwards
(Photos: MTV; Instagram)