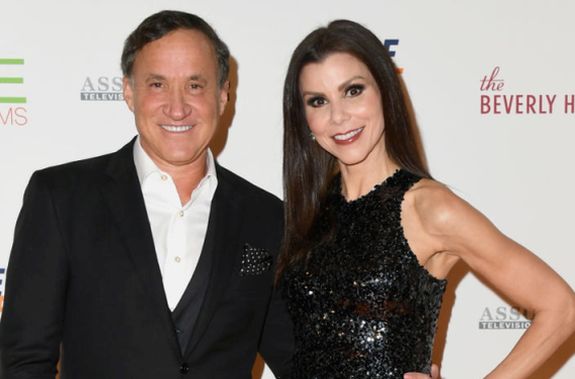 Reality TV power couple Heather Dubrow— former star of The Real Housewives of Orange County— and Dr. Terry Dubrow of Botched are teaming up to give makeovers and overhaul struggling relationships on the newly announced series, The Seven Year Stitch.
Currently in development for E!, the show "follows committed couples nearing their seventh anniversary who are given seven weeks to give their relationship a real and metaphorical facelift."
The show's working title, 'The Seven Year Switch' is a play on "seven year itch," a term commonly given to the unhappy or unsure feelings some couples have once they reach the seven-year mark in their relationship.
"In a time where the median length of marriages that end in divorce has long hovered around seven years, partners have the opportunity to get a full-relationship makeover — from plastic surgery for a fresh look, counseling to tackle emotional troubles, and working with celebrity fitness instructors to get back into shape, couples will attempt to reignite the spark in their marriages," according to an E! press release.
Heather shared the news with her Instagram followers on Tuesday.
"SO EXCITED to share what we have been working on for E! @drdubrow and I are very excited to Host and Executive Produce this show with the very talented Dave Caplan and Trooper Entertainment," she wrote alongside a screen grab of a Deadline article about the show.
No word yet on when the show will go into production, when it will air on E! or if the name 'Seven Year Stitch' will stick. Casting is underway, though, with producers seeking committed couples who have been together six to eight years and feel their relationships need "sprucing up."
Terry has posted multiple casting notices on his Instagram account for the show, the first being in March.
"If you and your relationship needs helps, we are here for you," he posted on March 9.
Two weeks later, Terry posted a second casting notice.
"Quarantine can be tough on a relationship. If you need a personal or relationships makeover apply now!" he posted on March 23.
He posted another casting notice on May 19, informing his followers that casting was open to same-sex couples as well.
"Looking for #samesex couples! Apply now. We can help transform your relationship. @troopercasting@gmail.com," he wrote.
Later this summer, Terry hosts season two of License to Kill on Oxygen. The show tells the stories of crimes committed by medical professionals. Click here to watch a preview of the new season.
RELATED STORY: "90 Day Fiancé" Star Deavan Clegg Receives Backlash After Allegedly Asking Fans to Fund Her Breast Augmentation Surgeries Through OnlyFans Fundraiser
(Photos: Jon Kopaloff/Getty Images; Instagram)