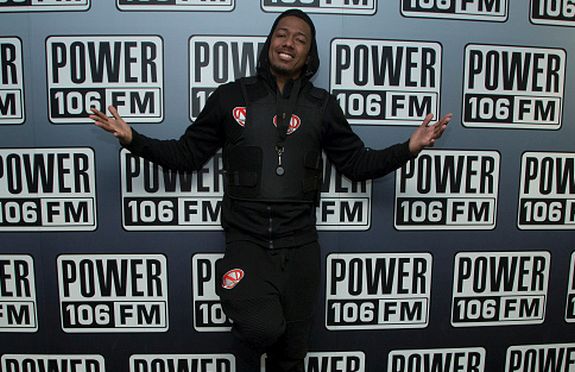 After receiving backlash and ultimately getting dropped from ViacomCBS for making anti-Semitic and racially insensitive comments on his podcast, Wild 'n Out star Nick Cannon is apologizing for his words, one day after calling ViacomCBS' decision "unwise."
Shortly after his apology, FOX revealed that Nick would remain the host of its show The Masked Singer.
As The Ashley told you on Wednesday, comments made during an episode of Nick's Cannon's Class podcast cost him his longtime hosting gig on MTV's 'Wild 'N Out' –- a show created by Nick in 2005. (Nick has since removed the controversial episode from YouTube.) After being dropped by ViacomCBS, Nick announced his plans to take ownership of his "billion-dollar 'Wild 'N Out' brand" upon his exit.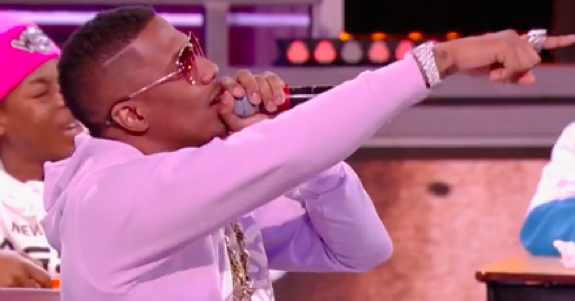 ViacomCBS commented on the decision to fire Nick in a statement to TVLine, in which the conglomerate said it condemns "bigotry of any kind" and denounces "all forms of Antisemitism." ViacomCBS also confirmed it had spoken to Nick about the controversial podcast episode –- an episode "which promoted hateful speech and spread anti-Semitic conspiracy theories," according to the network.
After the events of Wednesday unfolded, though, Nick took to Twitter to address the statements he made on the podcast and to "extend my deepest and most sincere apologies to my Jewish sisters and brothers for the hurtful and divisive words that came out of my during my interview with Richard Griffin."
He also tweeted that he feels "ashamed" of his words, stating that they came from an "uninformed" and "naive" place.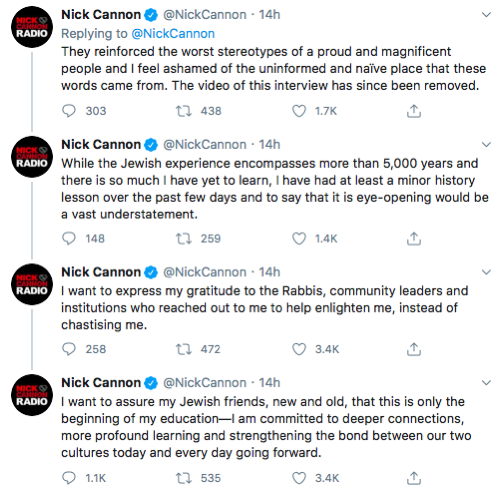 "They reinforced the worst stereotypes of a proud and magnificent people and I feel ashamed of the uninformed and naive place that these words came from. The video of this interview have since been removed," he continued. "While the Jewish experience encompasses more than 5,000 years and there is so much I have yet to learn, I have had at least a minor history lesson over the past few days and to day that it is eye-opening would be a vast understatement."
Nick went on to thank Rabbis, community leaders and institutions who reached out to enlightened him, instead of chastising him. He also vowed that "this is only the beginning" on his education on the subject.
" … I am committed to deeper connections, more profound learning and strengthening the bond between our two cultures and every day going forward," he added.
According to The Wrap, the apology proved to FOX that Nick was remorseful for his actions; therefore the network will be sticking by 'The Masked Singer' host.
"When we were made aware of Nick Cannon's interview with Richard Griffin on YouTube, we immediately began a dialogue with Nick," the network said in a statement released on Wednesday. "He is clear and remorseful that his words were wrong and lacked both understanding and context and inadvertently promoted hate. This was important for us to observe. Nick has sincerely apologized and quickly taken steps to educate himself and make amends.
"On that basis and given a belief that this moment calls for dialogue, we will move forward with Nick and help him advance this important conversation, broadly," the statement continued. "FOX condemns all forms of hate directed toward any community and we will combat bigotry of any kind."
Nick has hosted all three season of 'The Masked Singer' since the show premiered in January 2019 and he is set to return as the host for Season 4, which is scheduled to go into production next month. He also emcees the competition's post-show, After the Mask, and has a development deal with the network that includes a weekly late-night TV series that has been in the works since Fall 2018.
On Thursday, Nick announced on Twitter that, in light of the week's events, he will be stepping away from Cannon's Class for a while. He also deleted the majority of the photos on his official Instagram account.
"Morning radio family. I have decided to take some time away from my radio show so I can commit myself to deeper, more thorough reflection and education," he wrote. "I will use this time to establish an action plan towards real, impactful change and advocacy aimed at bringing people together.
Morning radio family. I have decided to take some time away from my radio show so I can commit myself to deeper, more thorough reflection and education.

— Nick Cannon (@NickCannon) July 16, 2020
"I will continue to express my gratitude to the Rabbis, community leaders and institutions who have reached out to me to help enlighten me. Their input and friendship will help me as I further commit myself to more profound learning and towards strengthening the bond between the Black and Jewish cultures every day going forward."
RELATED STORY: Nick Cannon Fired by ViacomCBS for Making Anti-Semitic Statements on Podcast; Vows to Fight for Ownership of 'Wild 'N Out' & Demands Apology
(Photos: Gabriel Olsen/Getty Images; FOX; MTV; Twitter; Instagram)