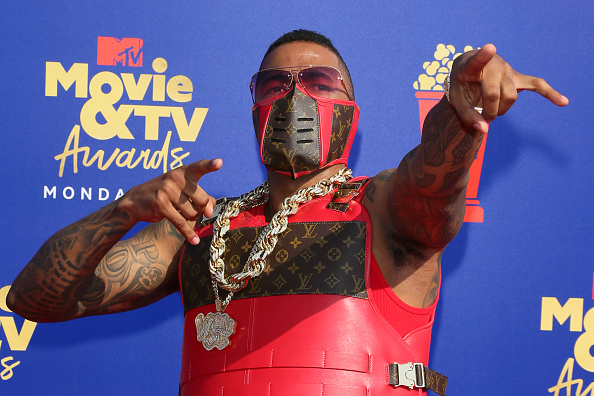 After getting dropped by ViacomCBS on Tuesday over comments made on his podcast, Nick Cannon has announced he plans to take his "billion-dollar Wild 'N Out brand" with him when he exits… and he's demanding an apology from the network before he goes.
ViacomCBS announced it was firing the creator and host of 'Wild 'N Out' over anti-Semitic comments made on an episode of his podcast, Cannon's Class. According to TMZ, Nick responded to ViacomCBS's decision, saying he's "deeply saddened" it "misused an important moment for us all to grow closer together and learn more about one another."
Nick claims the company is trying to "make an example of an outspoken black man," adding that ViacomCBS "does not understand or respect the power of the black community."
https://www.instagram.com/p/CArZIEJBMLV/?utm_source=ig_web_copy_link
ViacomCBS commented on the decision to fire Nick in a statement to TVLine, in which the conglomerate said it condemns "bigotry of any kind" and denounces "all forms of Antisemitism." ViacomCBS also confirmed it had spoken to Nick about the controversial podcast episode –- an episode "which promoted hateful speech and spread anti-Semitic conspiracy theories," according to the network.
" … While we support ongoing education and dialogue in the fight against bigotry, we are deeply troubled that Nick has failed to acknowledge or apologize for perpetuating Antisemitism, and we are terminating our relationship with him," the statement continued. "We are committed to doing better in our response to incidents of Antisemitism, racism and bigotry. ViacomCBS will have further announcements on our efforts to combat hate of all kinds."
The podcast comments in question include Nick alluding to several anti-Semitic conspiracy theories, including "the Rothschilds, centralized banking" and "the bloodlines that control everything, even outside of America." He went on to insist he could not be anti-Semitic and called for Black people to reclaim the word "Semitic."
"You can't be anti-Semitic when we are the Semitic people," Nick stated. "That's our birthright. We are the true Hebrews."
Nick also made comments on the episode about white people. (According to The Sun, Nick stated that those who have less melanin in their skin tone are "a little less" and that those without dark skin have a "deficiency.")
The Sun states that Nick implied that the "deficiency" has "historically forced [white people] to act out of fear and commit acts of violence to survive."
"They had to be savages," Nick said, adding that he was referring to "Jewish people, white people, Europeans," among others.
The podcast reportedly was filmed last year and aired two weeks ago.
After receiving backlash for the comments made on the podcast, Nick addressed his (anti-Semitic) comments on Facebook, calling himself "an advocate for people's voices to be heard openly, fairly and candidly." Nick went on to say, "in today's conversation about anti-racism and social justice, I think we all – including myself – must continue educating one another and embrace uncomfortable conversations – it's the only way we ALL get better."
He also encouraged "more healthy dialogue" and welcomed any experts to hold him accountable for statements he's made that have "been projected as negative."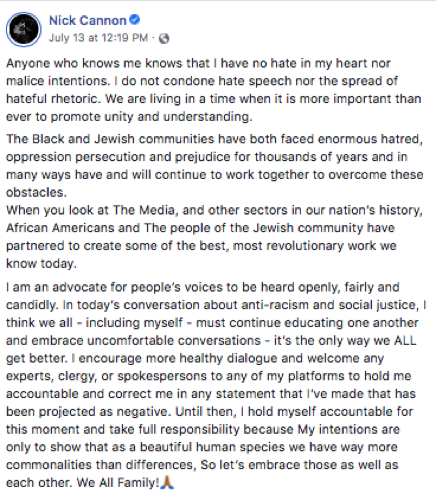 Despite his explanation, ViacomCBS still opted to cut ties with Nick – a move the TV host called "unwise."
"I honestly can't believe that Viacom has such poor council that would allow them to make such a divisive decision in the midst of protest and civil uprising within our current pandemic," he said. "Truly an unwise decision."
https://www.instagram.com/p/CBZ1Sbahz8v/?utm_source=ig_web_copy_link
In addition to accusing the media giant of having no interest in using "this moment to show healing and acceptance," Nick claimed it had banned all advertising that supported George Floyd and Breonna Taylor. While he acknowledged the success he's had with the company, Nick says ViacomCBS is "now on the wrong side of history."
In the wake of his firing, Nick says he will fight for "full ownership of my billion-dollar 'Wild 'N Out' brand that I created and they will continue to misuse and destroy without my leadership. I demand that the hate and back-door bullying cease and while we are at it, now that the truth is out, I demand the Apology!"
Nick created 'Wild 'N Out' in 2005 and the show ran until 2007 (Season 4), before going on hiatus. The show returned in 2013 with Season 5; Season 15 premiered in April 2020.
View this post on Instagram
Over the past few months, several other stars of ViacomCBS shows have been axed over racist or racially insensitive comments or social media posts. In June, Dee Nguyen— who was starring on MTV's The Challenge— was fired, as was Siesta Key star Alex Kompothecras and Teen Mom OG's Taylor Selfridge.
This is not the first time Nick has upset a network with his comments. He previously served as host of America's Got Talent on NBC before quitting in 2017 after NBC threatened to fire him over some jokes made in his Showtime comedy special, Stand Up, Don't Shoot. Regarding his departure from the show, Nick said at the time he would "not be silenced, controlled or treated like a piece of property."
"There is no amount of money worth my dignity or my integrity," he added. "I have loved hosting 'America's Got Talent' for the last 8 seasons, watching talented, brave and courageous Americans accomplish their dreams in front of millions has been nothing but a joy, and everyone has been a pleasure to work with but my soul won't allow me to be in business with corporations that attempt to frown on freedom of speech, censor artists, and question cultural choices."
Last month, Nick stood by his decision to leave 'AGT.'
Nick is currently the host of The Masked Singer on FOX. As of press time, FOX has made no comment as to whether it plans to keep or fire Nick for his comments.
UPDATE! On Wednesday, Nick apologized for his words, and FOX announced that he will remain the host of 'The Masked Singer.' Click here for the latest details!
RELATED STORY: Former 'AGT' Host Nick Cannon Says He Remains "Unapologetic" About His Decision to Leave the Show; Discusses Gabrielle Union's Claims of Racism & Toxicity On Set
(Photos: JEAN-BAPTISTE LACROIX/AFP via Getty Images MTV; Instagram)