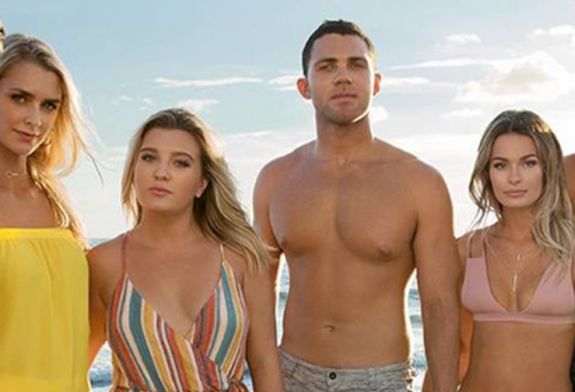 Alex Kompathecras is the latest reality TV star to be handed a pink slip for racist social media posts and after Tuesday's season premiere of Siesta Key, fans and former co-stars are reacting to his absence from the show.
Following the announcement from MTV, which came just a week after Alex and girlfriend Alyssa Salerno welcomed their first child, Alex's former co-star Madisson Hausburg told Us Weekly she believes fatherhood will change her friend for the better.
"I think he can [change] and I think he will," she said. "If he and Alyssa don't work out, then they don't work out, but he's still going to be a good dad. Whether or not he changes his relationship ways, I don't know, but it will change him either way."
The news of Alex's firing was met with some criticism from fans who believe his departure will lead to a drop in ratings; however, Juliette Porter defended the network's decision in giving her ex-boyfriend the boot.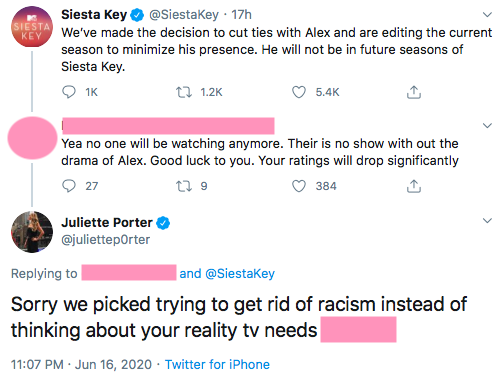 "Sorry we picked trying to get rid of racism instead of thinking about your reality tv needs," she tweeted.
Alex's father, Gary Kompothecras— who is a prominent Florida businessman who helped create and fund the original pilot of 'Siesta Key'— told the Herald Tribune on Wednesday that he is not happy with the network's decision to fire Alex. (Gary currently serves as a producer for 'Siesta Key.')
"Our family is very disappointed with MTV and we are exploring all our options," Gary Kompothecras told the newspaper.
He declined to comment on the allegations of racism his son was booted for, and did not if he will stay on as a producer for the show now that Alex has been fired.
During Tuesday's episode, fans quickly picked up on the shoddy editing that was done to minimize Alex's presence, similar to that of last week's episode of The Challenge, which was heavily edited to remove recently-fired competitor Dee Nguyen. Some fans called the edited episode a "hack job" and again, warned of the "major hit" to the ratings that will follow, while others suggested MTV air the episodes as-is.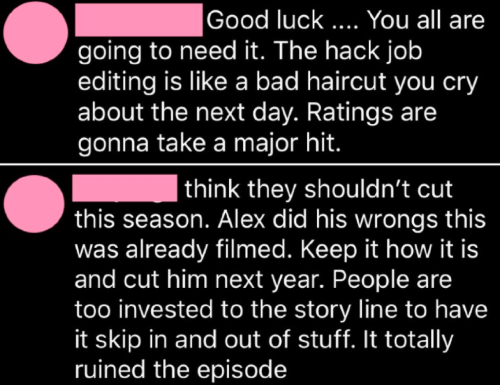 " … they shouldn't cut this season," one person commented. "Alex did his wrongs this was already filmed. Keep it how it is and cut him next year. People are too invested to the story line to have it skip in and out of stuff. It totally ruined the episode."
In response to Juliette defending the network's decision, Chloe Trautman advised her friend not to engage with angry fans.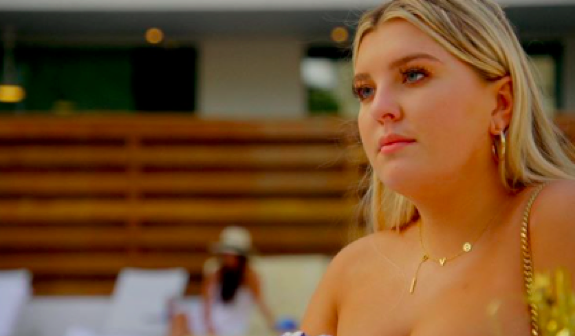 "They aren't worth it boo boo," she wrote. "Who cares?"
Alex's cousin, Paul Bayne Apostolides, who has also appeared on the show, seemed unfazed by the critics, writing, "You haven't seen the last of us."
He then called for the firing of Chloe.
As for former Bachelorette contestant Robby Hayes, who dated Juliette after Alex and also appeared on 'Siesta Key', he summed up his thoughts on Alex joining the unemployment line in one word: "Karma."
Alex and Alyssa have yet to publicly comment on Alex's being fired; however, has unfollowed the show's official Instagram account and removed any mention of 'Siesta Key' from his Instagram bio.
Alex is just one of numerous reality TV stars who have been fired in the last two weeks over past racist or racially insensitive comments or actions. Vanderpump Rules stars Stassi Schroeder, Kristen Doute, Brett Caprioni and Max Boyens were all axed by Bravo last week. Also last week, MTV let go of Dee, as well as Teen Mom OG star Taylor Selfridge.
Earlier this month Abby Lee Miller saw her upcoming show, Abby Lee's Virtual Dance Off, cut from Lifetime's programming schedule before it even premiered, due to past racist comments she made to cast members on her other show, Dance Moms.
One day before Alex's firing was announced, several 'Siesta Key' cast members talked about Stassi being fired, and discussed the topic of the lack of diversity on their show.
"There were things that I didn't even know that I did," Juliette told Entertainment Weekly. "There was so much stuff we had to learn and there were people who, until I educated myself, I didn't realize they were wrong.
"Everyone seems to be white and privileged here and that's the reality of the situation," she added later. "But I am all for having a much more diverse show — I would love it."
RELATED STORY: Alex Kompothecras Fired by MTV Over Racist Social Media Posts; Scenes Cut From Season Premiere of 'Siesta Key'
(Photos: MTV; Instagram; Twitter)