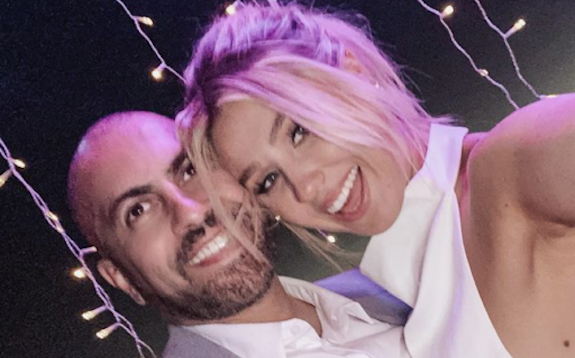 This calls for a Siesta Key celebration!
'Siesta Key' star Madisson Hausburg announced this week that she is pregnant and expecting a baby with husband (and former 'Siesta Key' producer) Ish Soto, nearly two years after the couple's first child, Elliot Angel, was delivered stillborn at 37 weeks.
The MTV star revealed the happy news this week on social media, telling fans Baby No. 2 will arrive next year.
"One in our hearts, one in my belly," Madisson shared on Instagram, along with a photo of her, Ish, their cat and Baby Elliott's urn. "Baby number 2 due in 2024."
As fans of 'Siesta Key' remember, Madisson and Ish were married in October 2021 while Madisson was pregnant with Elliot. Just two months later, Madisson revealed on social media that she had tragically suffered a stillbirth, giving birth to her and Ish's first child at 37 weeks into her pregnancy.
" … Instead of leaving the hospital with our beautiful boy, I was wheeled out with just this memory box," Madisson said. "It's true what they say about there being no greater love than a mother's love. And there is no deeper pain than losing a child.
"Everyday I wake up to the agonizing reality that I will never again get to hold him or kiss him in this lifetime," she continued. "I am completely and utterly heartbroken. I love you, I miss you, my perfect little Elliot."
Months after losing her son, Madisson revealed to fans that she and Ish were having difficulties conceiving again–- something Madisson has continued to be very open about with fans.
"Here's to a glimmer of hope," she shared on Instagram in April, along with a video of her preparing for her first intrauterine insemination (IUI) treatment.
"OOTD for my first appointment to begin IUI treatment after a full-term stillbirth followed by 16 months of secondary unexplained infertility," she wrote. "C'mon baby number 2."
Madisson's pregnancy announcement this week was met with many congratulations from fans, friends and her 'Siesta Key' castmates, including Kelsey Owens, who has already volunteered her babysitting services to the couple.
"Elliot's a big brother! Love you guys so freaking much & I'm beyond excited to meet the little nugget," she wrote. "I hope he or she is ready to be smothered in so much love. Have me on speed dial to babysit hehe."

"I am so so so elated for you both love you all so much!!" Juliette Porter added. "I can't wait to meet baby."
Chloe Trautman and Amanda Miller also shared their excitement over Madisson and Ish's pregnancy news.

"Mother of two, over the moon happy for you guys!" Chloe commented on Madisson's post. "I love you all so much. God's greatest blessings."
"Cannot wait for Elliot's little sibling, baby is going to be so so so loved!" Amanda wrote. "Auntie Amanda can't wait to meet you baby #2!"
RELATED STORY: 'Siesta Key' Star Sam Logan Opens Up About His Friends Being Robbed At Gunpoint At His Home: "Simply Want These People in Jail"
(Photos: Instagram)