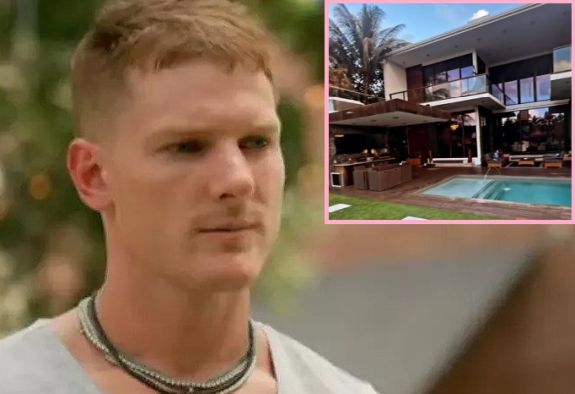 Siesta Key star Sam Logan is speaking out after TMZ broke the news of his Miami home being robbed earlier this month, leaving cast member Brandon Gomes with a head injury after the robbers allegedly pistol-whipped him. Sam posted videos and reports from the attack in hopes that the attackers/robbers would be caught and incarcerated for their crimes.
"Two dudes came in my house with masks on/bulletproof vests and guns, and robbed/pistol-whipped people/stole expensive jewelry/most importantly made me feel worried for guests that I have over because I want a safe environment for them," Sam wrote on Instagram Stories over the weekend.
Sam went on to offer a $10,000 reward and posted the phone numbers and names of the alleged thieves. He added that he thinks the attack/robbery "feels like an inside job."
He also posted videos from his home's security cameras that show people walking around an entrance to his home.
"These two came in guns drawn while we were there. Pistol whipped people etc. Not looking for attention or even my jewelry back," Sam wrote. "Simply want these people in jail."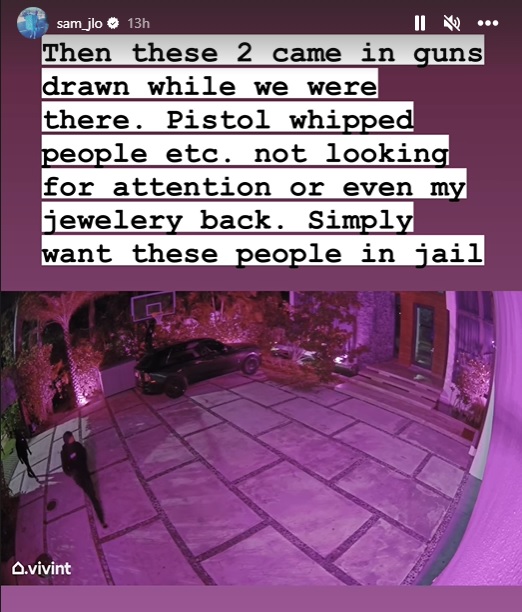 TMZ broke the story this weekend that Sam's house was broken into on January 15. Sam was home, and was entertaining friends including several of his 'Siesta Key' castmates, including Brandon, Jordana Barnes and Mike Vazquez. The thieves allegedly ambushed the friends, entering through a sliding glass door and holding up the group at gunpoint.
The intruders targeted Brandon specifically for his watch but he refused to give it up. When he tried to run away, one of the robbers hit him on the head with a gun. (Fortunately, the injuries he sustained were mild.) The armed men did manage to take Sam's Audemars Piguet watch, which reportedly costs $80,000.
According to TMZ, the women that were in Sam's house were told to get on the ground and give up their cell phones. An iPhone Max Pro was stolen along with Sam's watch, and the unidentified intruders sped away in a black sedan.
At the time of the attack, Mike and Sam were asleep upstairs. After hearing the commotion, they locked themselves in their rooms and did not come in contact with the gunmen.
Sources told TMZ that the cast thinks Sam got targeted because he flaunts his wealth on 'Siesta Key.' He has since hired armed guards to stand watch over his house.
View this post on Instagram
On Sunday, Sam revealed that this is the second time that thieves came into his home, with the first time being while Sam was away in Hawaii. He posted security video footage of the alleged thieves making off with some of his possessions.
"Then he's walking out like he's Santa Claus," Sam captioned the video. "(He even stole my trash bags to put all my stuff in.) Like, at least bring your own bag!"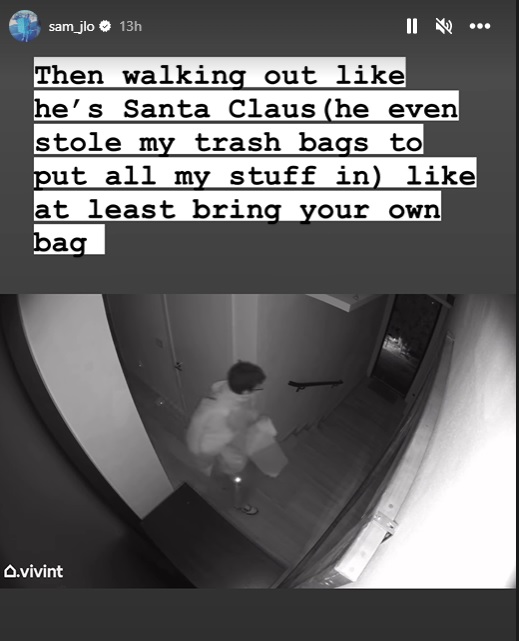 Brandon also addressed the situation after the TMZ story was posted.
"Since everyone been sending me this, just wanted to address it correctly," he wrote on Instagram Stories on Monday. "I'm blessed, healthy and happy still! Always be aware of your surroundings and be aware of the company you keep."
Since Sam was first introduced on 'Siesta Key' as Juliette Porter's boyfriend, he has had no qualms about flashing his financial status on the show and on social media. Although the two have since broken up, Sam remained on the show, although it's clear he doesn't have to work.
Many fans have wondered what Sam does for a living, as it seems he doesn't have a job. As reported by Reality Titbit, Sam comes from a very wealthy family. His mother was part owner of Scripps Networks, which owned popular cable channels such as Food Network and HGTV. In 2018, the company was sold to Discovery for $14.6 billion, making Sam's family set for life.
View this post on Instagram
Still, Sam has money-making ventures of his own. He and Jordana were in talks about launching a faux fur company. Early in January, he shared a glimpse of his line Fauxcus on Instagram. However, he didn't tag his partner Jordana, causing many fans to speculate on the status of their friendship/relationship. He is also listed as the sole founder of Fauxcus on the company's Instagram page.
Anyway, the intruders have yet to be caught and the investigation is still ongoing as of press time.
As for Sam, his rotten luck this month continues. A few days ago, he posted a photo of himself sitting on top of a wrecked Rolls Royce, captioning it, "Car shopping. Anyone want a Rolls?"
View this post on Instagram
He later stated in the comment section of the post that he "accidentally went off roaring and took out some trees after the gym."
(Photos: Instagram; MTV)