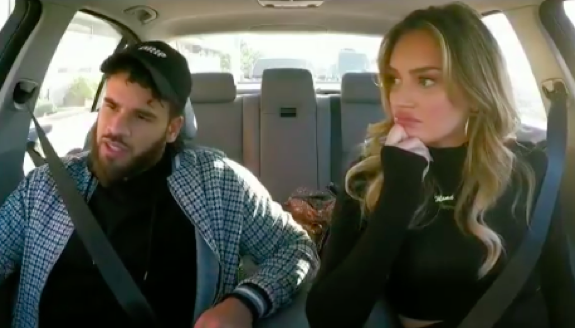 Cory Wharton and his girlfriend/baby mama Taylor Selfridge saw their much-anticipated Teen Mom OG birth special cut at the last minute on Tuesday night, shortly before MTV announced that it was severing ties with Taylor due to racist tweets from her past.
MTV had been promoting the self-shot 'Teen Mom OG At Home: Cory & Taylor's Birth Special" for weeks, and up until the day it was due to air, Cory was posting about it to his social media accounts. However, when the scheduled airtime came, MTV chose to air an old episode of Catfish instead of the special, causing plenty of 'Teen Mom' fans to wonder what was going on.
MTV later revealed that the special was purposely not aired in the United States (although it did air in Canada), and that the decision had been made to end all ties with Taylor, due to a series of racist tweets she posted to Twitter years ago.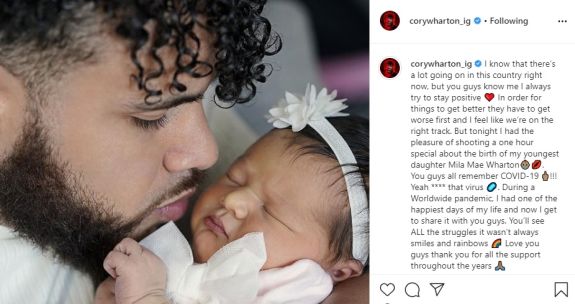 (The tweets were later addressed in an episode of 'Teen Mom OG' by Cory's baby mama, Cheyenne Floyd. You can read them here.)
Since then, Taylor— as well as several of her MTV allies including Gianna Hammer and Cheyenne— have spoken out on the controversy and Taylor's firing.
Taylor's axing came just one day after MTV announced it was also cutting ties with The Challenge star Dee Nguyen, over recent tweets Dee posted about the Black Lives Matter movement.
In a statement issued to People on Tuesday evening, MTV confirmed the reason they cut the birth special— which was to show the birth of Cory and Taylor's daughter Mila.
"MTV pulled 'Teen Mom OG At Home: Cory & Taylor's Baby Special' from its Tuesday schedule and is ending our relationship with Taylor Selfridge in light of her past racist statements on social media," the network's statement reads. "MTV strongly condemns systemic racism and stands with those raising their voices against injustice."
That same night, Taylor took to Instagram to tell her side of events. She insinuated that it was her choice, not MTV's, to leave 'Teen Mom OG.'
"As you guys know already our special didn't air tonight," Taylor posted to Instagram. "I made the decision last week to not film the next season of 'Teen Mom OG' with Cory for the benefit of myself and my daughter. I don't believe the reality TV lifestyle benefits me any further at this point in my life. With current events being what they are and reality TV being selective in who they apply rules to or what is considered acceptable behavior, I do not have any further respect.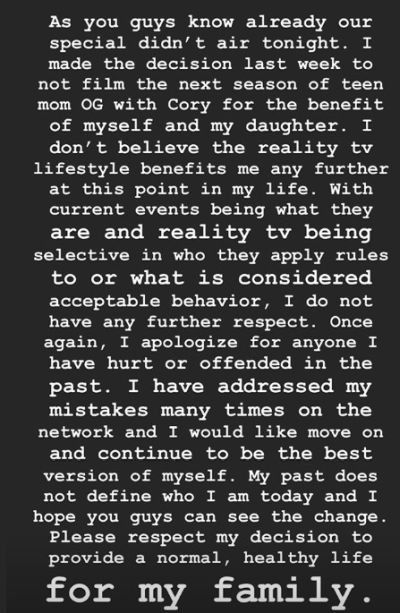 "Once again, I apologize for anyone I have hurt or offended in the past," Taylor's message continued. "I have addressed my mistakes many times on the network and I would like to move on and continue to be the best version of myself. My past does not define who I am today and I hope you guys can see the change. Please respect my decision to provide a normal, healthy life for my family."
Cory— who has not been cut from 'Teen Mom OG'— has yet to speak out directly about Taylor's firing or the special being cut. However, he did "like" a telling tweet on Twitter on Tuesday night that stated, "How they gonna cancel your second daughter, a mixed blessing, and the celebration of her new life…in a world that's fighting for her equality and help the cause? @CoryWharton something is so backward here. Idk sad day."
While Cory has yet to speak out directly, others have not remained silent about Taylor's dismissal. Taylor's friend and former Are You The One? co-star Gianna Hammer took to Twitter on Tuesday and Wednesday to slam MTV for choosing to fire Taylor now, even though they had addressed the tweets in an 'TMOG' episode and MTV didn't fire her until fans started to put pressure on the network to do so.
"S**ts just Soooo wishy washy and fake," Gianna wrote. "If [MTV] took those tweets as serious as they're pretending they are now, she would have been fired from the network 3 years ago when it all came out.
"They shot & aired a whole episode of Taylor addressing those tweets but now it's 'let's not air this special' lol aired it in other countries tho," she added. "Meanwhile they've got cast members they continue to employ who've shown racism and sexual assault ON CAMERA right in front of their eyes."
They shot&aired a whole episode of taylor addressing those tweets but now it's let's not air this special lol aired it in other countries tho 🥴meanwhile they've got castmembers they continue to employ who've shown racism and sexual assault ON CAMERA right in front of their eyes https://t.co/mpnQBr5udx

— Gianna Hammer (@giannahammer) June 10, 2020
She then brought up the fact that Taylor discussed the issue on-camera with Cheyenne— who is African-American, and that Taylor plays an active role in the life of Cory and Cheyenne's daughter Ryder.
"Not saying that having a black person in your family changes you, but having them address it and demand growth is huge, Gianna wrote. "Especially raising two children of color. All I think is that it's important to give people like that the opportunity to grow because it IS possible."
Cheyenne was also quick to comment on Taylor's post to show her support.
"Ryder, my family & I love and support you always," Cheyenne wrote in the comment section of Taylor's post. (Taylor later turned off comments for the post.)

Speaking of Cheyenne, some 'Teen Mom' fans were quick to point out that she had her own racist tweet controversy in the past. Cheyenne has since addressed the tweets— which were posted before Chey began her reality TV career— and apologized for them, but some fans still felt that Cheyenne should be fired for what she wrote if Taylor was.
In case you're wondering what Cheyenne wrote, allow The Ashley to recap. Back in 2011, Cheyenne tweeted, "My mom said I can't see [the movie] 'The Help,' she knows I already have a problem with white people." She later posted, "Last night I saw ['The Help'] and I wanted to kill every white person I saw."
That same year, Cheyenne retweeted the following tweet, "[Cheyenne] and [redacted] are the only Nazi-loving, black power-having, 'kill-a-white-baby-if-I-could' people I can accept & adore."
After the old tweets went public, Cheyenne deleted her Twitter account. Earlier this week, fired Teen Mom 2 stars David Eason and Jenelle Evans called on MTV to fire Cheyenne for what she wrote.
The Ashley has checked in with 'Teen Mom OG' production sources and, as of right now, Cheyenne has not been fired (despite what some media outlets are reporting).
"Everything is being circulated behind the scenes right now, though," one source from the show tells The Ashley. "But no decision has been made [about Cheyenne]."
You can watch a clip of the unaired birth special below.
The Ashley will update this when more info is available…
RELATED STORY: Fired 'Teen Mom 2' Stars David Eason & Jenelle Evans Accuse MTV of Being "Racist"; Say 'Teen Mom' Stars Cheyenne Floyd, Ashley Jones & Bar Smith Should Also Be Fired
(Photos: MTV, Instagram, Twitter)