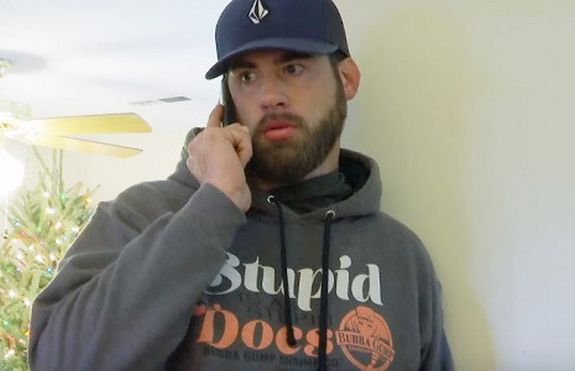 MTV's decision to fire Dee Nguyen of The Challenge following a series of offensive comments she made about the Black Lives Matter movement this week has former Teen Mom 2 dad and husband of Jenelle Evans, David Eason, accusing the network of "racist behavior and discrimination."
On Tuesday, David— who was served up an MTV pink slip himself back in 2018— posted a series of screenshots that included MTV's statement regarding Dee, a comment from Cheyenne Floyd of Teen Mom OG/'The Challenge', as well as now-deleted tweets Cheyenne made in 2012 about wanting "to kill every white person" she saw, for which she previously apologized. Accompanying David's post was a caption accusing MTV of "only taking action when it benefits them."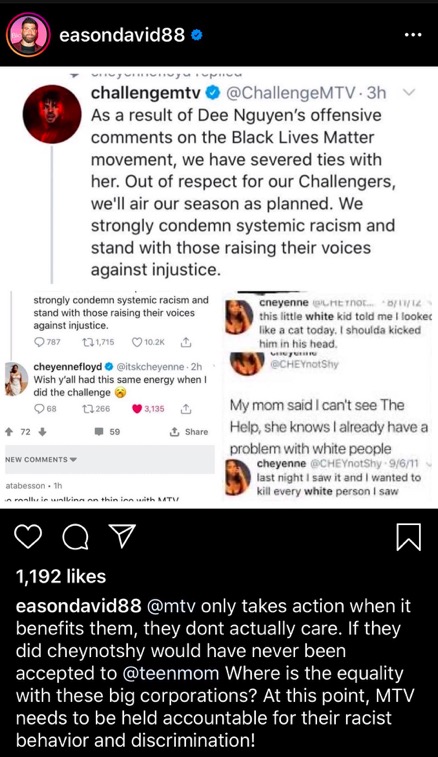 "[MTV] only takes action when it benefits them, they don't actually care," he wrote. "If they did [Cheyenne] would have never been accepted to 'Teen Mom.' Where is the equality with these big corporations? At this point, MTV needs to be held accountable for their racist behavior and discrimination!"
After posting his frustration regarding his former employer – the employer that severed ties with him in February 2018 following his homophobic Twitter rant – David received comments asking why he and Jenelle even care about the issue, given their past claims of not wanting anything to do with 'Teen Mom' or MTV.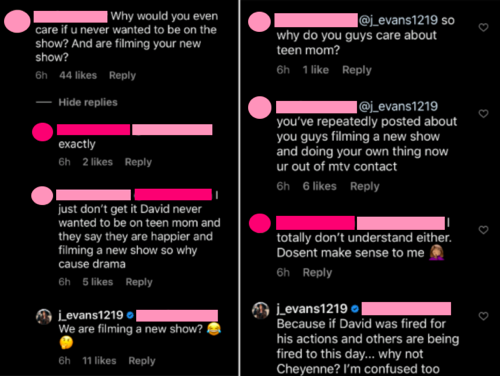 "Why do you guys even care about teen mom," one comment read. "You've repeatedly posted about you guys filming a new show and doing your own thing now ur out of mtv contract."
In response, Jenelle jumped in to defend David/try to throw other cast members under the bus.
"Because if David was fired for his actions and others are being fired to this day… why not Cheyenne," she asked. "I'm confused too."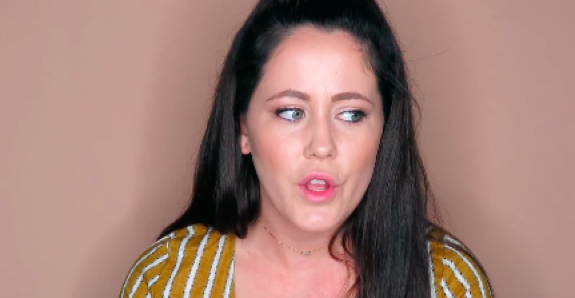 Jenelle was then called out for previously denying that David actually got the boot from MTV, to which David then attempted to cover up clarify.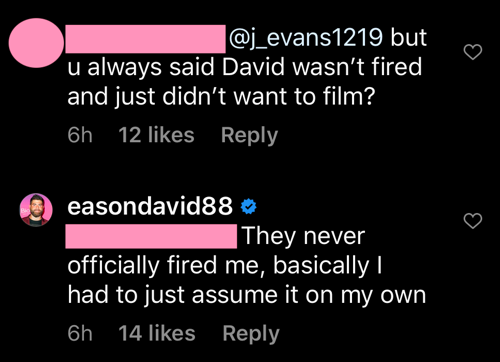 "But u always said David wasn't fired and just didn't want to film," one person asked.
"They never officially fired me, basically I had to just assume it on my own," David replied.
As you may recall, despite MTV posting an official statement to its social media pages at the time, David insisted (and apparently still insists) he wasn't actually fired from 'Teen Mom 2'.
Official statement from @MTVPress: David Eason's personal comments do not reflect the views of MTV. With six weeks left of production on 'Teen Mom 2,' effective immediately, we are ending our relationship with him.

— MTV (@MTV) February 21, 2018
Back in 2018, The Ashley gave you the real story about what went down behind-the-scenes when David got fired. Her sources gave her to scoop on why David believes he was not fired and thinks he quit.
"Basically, he was on the phone with [the MTV producers] who were not going to fire him, but they needed to have him apologize for what he said [on Twitter]," The Ashley's sources told her back in 2018. "David refused to do that, and started spouting off even more [hateful] stuff. So by not agreeing to do what they wanted, he knew he was going to be off the show. So he believes HE made that choice, not MTV."
From there, MTV issued the statement via social media, without telling David and Jenelle they were posting it.
Anyway, on Tuesday David was calling for Cheyenne's firing, and insisting that MTV also boot Teen Mom: Young and Pregnant couple Ashley Jones and Bar Smith, both of whom accused Jenelle and David of being racist last week in response to Jenelle posting a video claiming the opposite.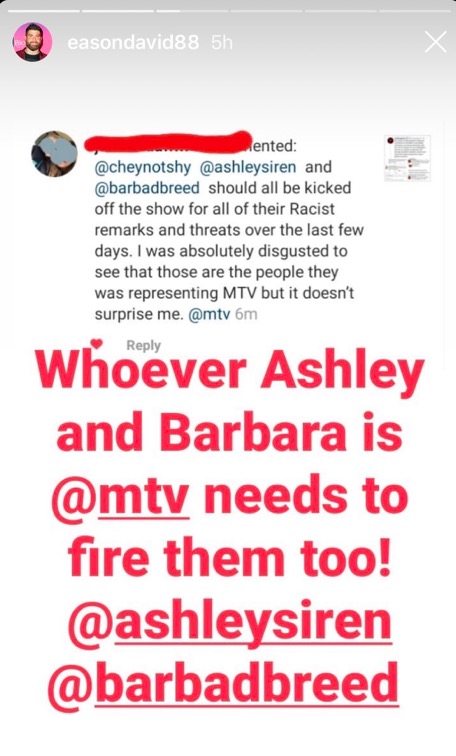 David shared a screenshot of a message supporting his stance on Ashley and Bar's future with MTV, along with, "Whoever Ashley and Barbara is [MTV] needs to fire them too!" (Apparently, David thought Bar was named Barba?)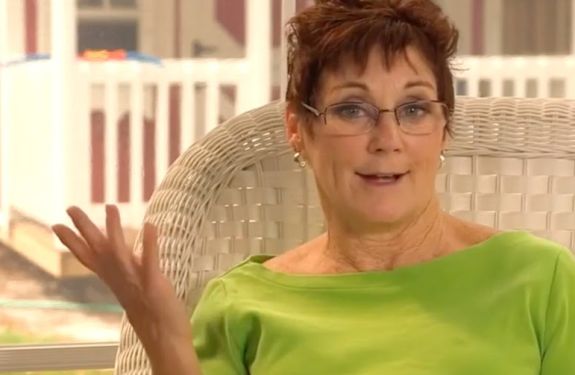 David and Jenelle have both been called out recently for being racist. While Jenelle made a video last week, denying she's a racist, David has continued to post race-driven content to his social media accounts such as the posts below.
RELATED STORY: MTV Severs Ties with 'The Challenge' Cast Member Dee Nguyen After She Posts Offensive Comments About the Black Lives Matter Movement: A Complete Recap of Events
(Photos: MTV; Instagram; YouTube; Twitter; Facebook)