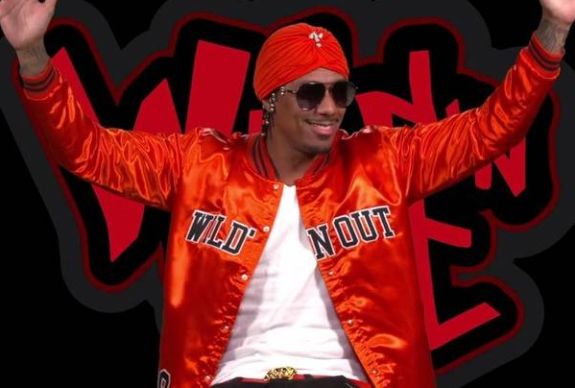 Wild 'N Out is returning… along with host and creator Nick Cannon.
While ViacomCBS fired the longtime host in July over anti-Semitic comments he made during an episode of his Cannon's Class podcast, Deadline reports that Nick and the media conglomerate have made amends and that the improv show – renewed at VH1 for three more seasons – will begin production soon.
No air date has been announced for the new episodes, and it is unknown if they will air on MTV or VH1.
ViacomCBS claims that Nick has apologized and taken responsibilities for the racist and anti-Semitic comments he made last summer and has partnered with Jewish leaders to educate him and help him become an anti-hate advocate.
Nice time in LA w/ Rabbi Abraham Cooper & @NickCannon talking about our book "The Next Jihad" & lots of other things.

Hugely encouraged by his interest in the issue.

Watch our Canon's Class conversation, here:https://t.co/Oft0baZvVi pic.twitter.com/hyPaaNXGsY

— Rev. Johnnie Moore ن (@JohnnieM) December 29, 2020
"I want to assure my Jewish friends, new and old, that this is only the beginning of my education – I am committed to deeper connections, more profound learning and strengthening the bond between our two cultures today and every day going forward," Nick said Thursday in a statement.
While ViacomCBS terminated their contract and cut ties with Nick, it never officially cancelled 'Wild 'N Out.' Shortly after being fired, Nick lashed out at the network, stating he felt it had made "an example of an outspoken black man." He demanded an apology and vowed to fight for ownership of the series; however, days later he reversed his feelings and issued an apology.
Soon after, Nick stepped away from his radio program and later confessed that he felt suicidal during this time.
It was reported in August that ViacomCBS was considering rehiring Nick after seeing the effort the host was putting in to "make amends for his comments and gain a better understanding of why they were offensive."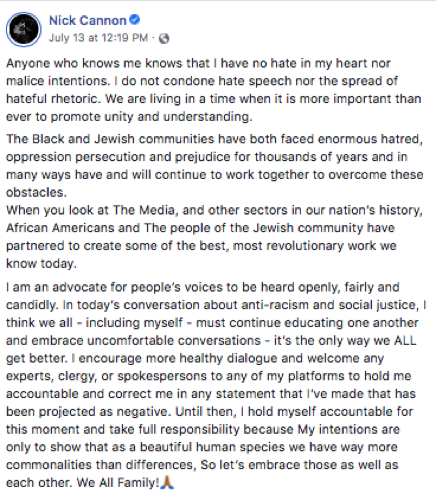 Nick created, produced and hosted 'Wild 'N Out' on MTV from 2005 to 2007. The series returned in 2013 for Season 5 with an updated name, Nick Canon Presents: Wild 'N Out; Season 15 premiered in April 2020.
View this post on Instagram
At the time of his firing, Nick was reportedly prepping for his own syndicated daytime talk show, which was slated to launch in October 2020. In light of all the controversy surrounding him last summer, the show was postponed.
According to Deadline the talk show— called Cannon — will now premiere this fall.
Nick has also served as host of FOX's The Masked Singer since the January 2019 series premiere. He remained the show's host throughout the controversy.
Production on Season 5 of 'The Masked Singer' begins this week without Nick, as he is currently recovering from COVID-19.
RELATED STORY: ViacomCBS May Be Willing to Rehire Nick Cannon Following His "Journey of Learning & Understanding" After Making Racist Statements
(Photos: MTV; Facebook; Instagram; Twitter)