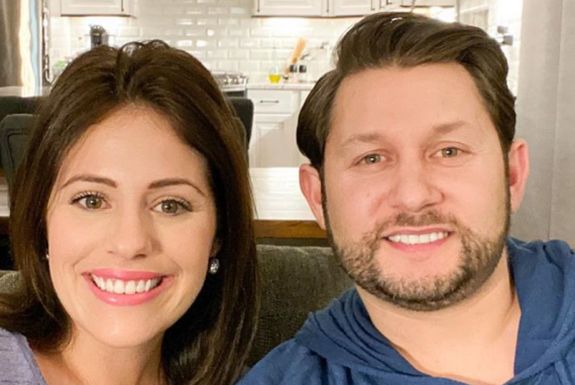 The Married At First Sight family just keeps getting bigger! Ashley Petta and Anthony D'Amico— who fans first met on Season 5— welcomed their second child on Wednesday, a daughter they named Vaeda Marie.
Baby Vaeda weighed in at 6 lbs., and measured 19 inches long, according to a press release sent out by Kinetic Content, the production company behind 'MAFS.' She joins big sister, Mila, who was born in 2019.
"This pregnancy was not easy on me and the birth was even harder but meeting the new addition to our family made it all worth it!" Ashley said in a statement to Kinetic Content.
View this post on Instagram
"It was definitely love at first sight. We can't wait to get her home and introduce her to big sister."
Anthony told People that Baby Vaeda arrived with a head full of hair.
Married at First Sight Alums Anthony D'Amico and Ashley Petta Welcome Daughter Vaeda Marie​ https://t.co/9JLV4DG7lw

— People (@people) February 4, 2021
"Ashley and I are beyond excited to announce the birth of the newest member of our family, our daughter Vaeda Marie," he told the magazine. "She's how I thought Mila's hair was going to be."
Ashley and Anthony announced Ashley's pregnancy back in July 2020, during an episode of the show's "Couples' Cam" spin-off. Right after announcing the pregnancy on the show, Ashley expressed on Instagram how nervous she was, given that she began to experience some problems in her pregnancy between filming the episode and it airing.
"It feels very weird for me to be announcing this pregnancy at a time of such uncertainty," Ashley wrote at the time. "Typically, I keep these kind of things to myself because that is just the type of person that I am but on tonight's episode of #couplescam you will see me share with Anthony the news that I am pregnant. We filmed this segment about 8 weeks ago and at that time I was nervous but everything was good. I'm sharing all of this because it is to hard for me just to pretend everything is great and I figured it would be even more weird if I didn't say anything at all. We are trying to stay positive and I will keep you all posted. Prayers are welcome."
Ashley and Anthony are part of the cast of the new season of "Couples Cam," which premieres tonight on Lifetime. (Click here to see the rest of the Season 2 cast!)
The 'MAFS' family is set to grow again, as Season 9 couple Deonna McNeill and Greg Okotie are preparing to welcome their first child soon.
RELATED STORY: Lifetime Announces Season 2 of "Married at First Sight: Couples' Cam": Meet the New & Returning Couples
(Photos: Instagram; Kinetic Content)