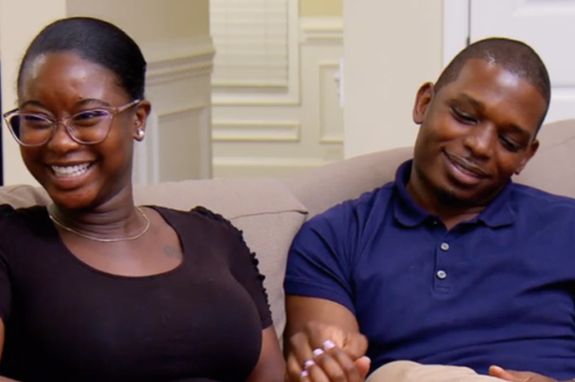 Another Married At First Sight baby is on the way!
Season 9 stars Deonna McNeill and Greg Okotie revealed on Thursday that Deonna is pregnant. The couple met (and married the same day) on March 21, 2019 on the show.
"We're excited to announce that we are expecting our first child!" the couple told People magazine. "It's surreal to think that less than two years ago we met for the first time at the altar and now we are expanding our family! We are blessed to begin this new chapter and can't wait to meet our little bundle of joy."
Deonna and Greg are one of the two couples from Season 9 who are still married. (The other two couples from that season—which took place in Charlotte, North Carolina, have divorced.) They have gone on to star on the 'MAFS' spin-off Couples Cam.
Greg announced the big news on his Instagram account as well, hinting that this is just the first of many children for the couple.
"Caption my face to Deonna…what am I thinking?" he captioned a photo of him and his wife standing next to a sign that says 'Okotie Party of 3.' "Truly a blessing to be married to this woman and for her to carry our first of eight children(maybe). Crazy how your life can change when you trust and take a leap of faith. THANK YOU ALL for the overwhelming love, support, and well wishes! It's surreal and amazing to have you all on this journey with us."
Deonna and Greg are just the latest 'MAFS' couple to announce a pregnancy. Season 7's Danielle and Bobby Dodd announced back in June that they're expecting their second child, and Ashley Petta and Anthony D'Amico of Season 5 revealed in July that they have another baby on the way, too.
RELATED STORY: 'Married At First Sight' Season 5 Stars Ashley Petta & Anthony D'Amico Announce They're Expecting Their Second Child
(Photos: Lifetime; Instagram)