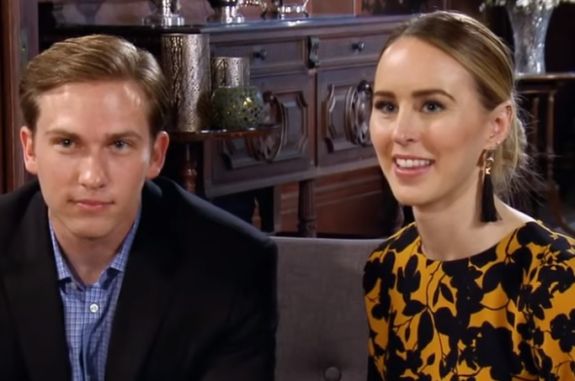 There's another Married At First Sight baby on the way!
Season 7's Bobby and Danielle Dodd announced during Wednesday's episode of the 'MAFS' spin-off Couples Cam that they are expecting their second child. The couple is already parents to 16-month-old daughter Olivia. After the episode aired, Danielle posted the big news to her Instagram account.
"It's official! Olivia has a baby brother or sister coming January of 2021!" Danielle captioned a photo of Olivia, who is standing next to a sonogram photo and wearing a "Big Sis" T-shirt.
In an interview with People, Danielle— who married Bobby on the first day that she met him during a 2018 episode of 'MAFS'— said they are excited to have another child.
"We are so blessed and lucky to be able to announce that we are able to grow our family by one more," she told the magazine. "Olivia has changed our lives in so many positive ways and we can't wait to be able to give her a sibling. Bobby and I loved growing up with siblings and we can't wait to see the special bond they will form!"
After Olivia's 2018 birth, Danielle told People that she had complications following the delivery and was eventually diagnosed with HELLP syndrome, which is a variant of preeclampsia that can be life-threatening. Following the diagnosis, Danielle stated that she and Bobby contemplated not having any more children.
"We had planned on starting to try again for a baby as soon as we could to keep our kids close in age, but I have to say, this experience freaked us out so much that we considered keeping Olivia an only child," Danielle said at the time. "Luckily she is a happy and healthy little girl who has never had any issues from her rough entrance into the world!"
Bobby and Danielle are the only couple from Season 7 who are still together. Currently, nine of the 34 couples who have been matched and married on 'Married At First Sight' are still married. (The rest have divorced.) Of course, these stats do not include the Season 11 couples, whose season has yet to air. (Season 11— which is set in New Orleans— premieres July 15 on Lifetime.)
They are the second 'MAFS' to have a second child. Currently, only Season 1 couple Jamie Otis and Doug Hehner are the parents of two kids. (Season 5's Anthony D'Amico and Ashley Petta have one daughter, as do Season 6 stars Shawniece Jackson and Jephte Pierre.)
Danielle and Bobby are currently appearing on the 'Married At First Sight: Couples Cam' spin-off, which airs Wednesdays on Lifetime.
RELATED STORY: 'Married At First Sight' Stars Jamie Otis & Doug Hehner Welcome Second Child During Livestreamed Birth
(Photos: Lifetime, Instagram)