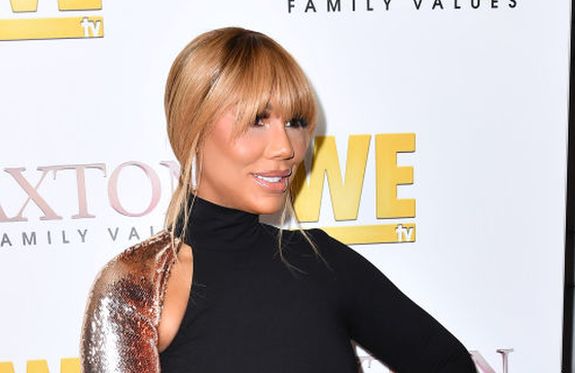 Days after she was hospitalized following a possible suicide attempt, Braxton Family Values star Tamar Braxton is awake, alert and has been transferred to a new facility.
The Blast reports at the new hospital facility, Tamar can receive more specialized mental health treatment. When Tamar's boyfriend, David Adefeso, found her unconscious on Thursday, she was rushed to the nearest hospital. At the time, the two were staying at the Ritz Carlton Residence in Downtown Los Angeles.
The site reports that David called 911 to report Tamar had been drinking and had taken an unknown amount of prescription pills; sources for the site claim he believed it was a possible suicide attempt.
Tamar was reportedly moved over the weekend to a different Los Angeles hospital that has top mental health specialists, covering issues such as depression, anxiety and sexual assault trauma. Sources claim she is now talking to doctors about her situation, including the days leading up to her hospitalization. It is believed that Tamar will remain in the facility until doctors evaluate what time of treatment she needs going further, or until they decide to release her to undergo outpatient treatment.
As The Ashley told you last week, Tamar's hospitalization came on the heels of the release of the trailer for her new WEtv reality show, Tamar Braxton: Get Ya Life.
https://www.instagram.com/p/B9zFzqeHVLU/?utm_source=ig_web_copy_link
According to Page Six, Tamar sent an email to network executives weeks, before expressing her disappointment in the way her family has been treated and portrayed on TV, accusing the network of "destroying a great Black family." She reportedly went on in the email to reveal producers had played a role in digging "up a family secret" she never shared with anyone – an action that she wrote almost caused her to end her own life.
" … a secret I was so ashamed to talk about that I hid it even from my own mom: the fact that I had been assaulted and raped repeatedly from age 6 to age 16, sometimes multiple times a day, "she wrote, adding that producers "exposed it on your show in front of my entire family and 100 crew members."
"You broke me that day and I considered ending my own life then for the shame I felt," she continued.
The Blast reports that, in the hours before her medical emergency, Tamar drafted a tweet that revealed her suicidal feelings.
"I am a slave. I do not own my life. My stories. My pictures. My thoughts or beliefs. I've asked my massa to free me. I'm threatened and punished for it," she reportedly wrote. 'The only way I see out is death. I will choose that before I continue to love like this. Please help me."
While Tamar never posted the tweet, The Blast reports that she did send it to several of her family members who became alarmed.
"A source close to the situation tells The Blast Tamar has threatened suicide several times in the past year, so her family took this incident very seriously," the site reports.
Following Tamar's hospitalization, WEtv released a statement expressing its support for Tamar.
"Tamar Braxton has been part of the WEtv family for nearly a decade," the statement read. "We are keeping her and her family in our thoughts in prayers and joining with her fans sending strength and healing at this difficult time."
On Saturday, Tamar's sister Towanda— who appears on 'Braxton Family Values' along with the other Braxton sisters Toni, Traci and Trina and Braxton matriarch, Evelyn— asked fans to pray for the Braxton family.
RELATED STORY: 'Braxton Family Values' Star Tamar Braxton Hospitalized After Possible Suicide Attempt, Currently Stable & Under 24-Hour Supervision
(Photos: Earl Gibson III/Getty Images; Instagram)