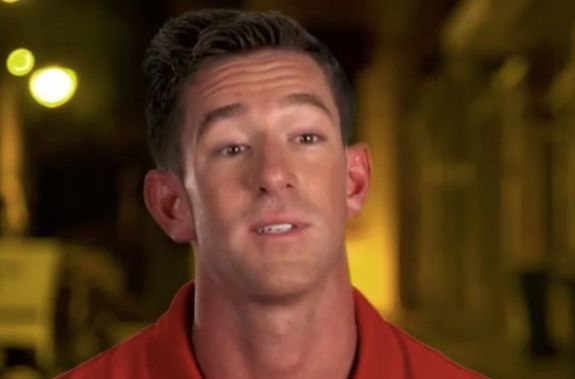 More than a month after he was terminated by Bravo for sharing a racist meme online, Peter Hunziker of Below Deck Mediterranean has finally apologized for his actions.
As previously reported, the meme Peter reposted in his Instagram Story three months ago featured a naked Black woman in shackles, along with an extremely offensive message. It was allegedly brought to Bravo's attention back in June, at which point Peter was terminated. Following his firing, Peter spoke out, denying he's racist because he's "very sexually active with all races." That comment only angered fans of the show more.
This week, though, Peter issued an actual apology for posting the disgusting meme.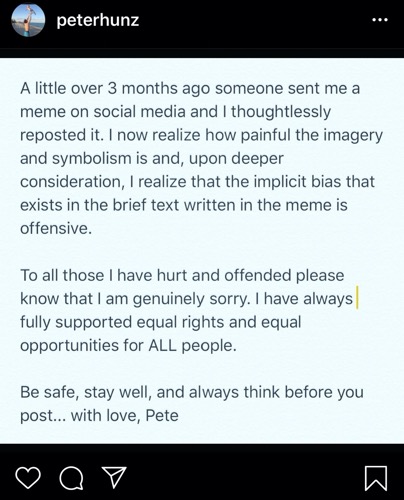 "A little over 3 months ago someone sent me a meme on social media and I thoughtlessly reposted it," Peter wrote. "I now realize how painful the imagery and symbolism is and, upon deeper consideration, I realize that the implicit bias that exists in the brief text written in the meme is offensive.
"To all those I have hurt and offended please know that I am genuinely sorry," he continued. "I have always fully supported equal rights and equal opportunities for ALL people."
Peter closed by reminding his followers to "think before you post."
Peter's apology was met with a mix of reactions, some showing their support while others mocking the formality (and lateness) of the apology statement.
One of those supporters was 'Below Deck Mediterranean' star Jessica More, who sent her "bro" some love.
Others, however, are not as willing to let Peter off the hook.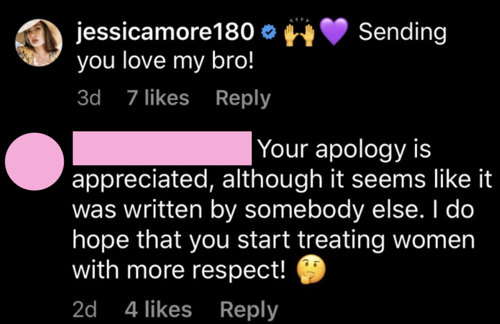 "Your apology is appreciated, although it seems like it was written by somebody else," another one of Peter's (more forgiving) supporters wrote. "I do hope that you start treating women with more respect!"
"Took you 3 months to realize this? come on now…. ," one of his critics wrote.
"'Implicit bias'? You mean, blatant racism," another argued. "You still don't get it. Goodbye."
"What a phony," someone else wrote. "You know perfectly well what you were doing and thought you could get away with it. You are only sorry because you got caught and now you're out of a job."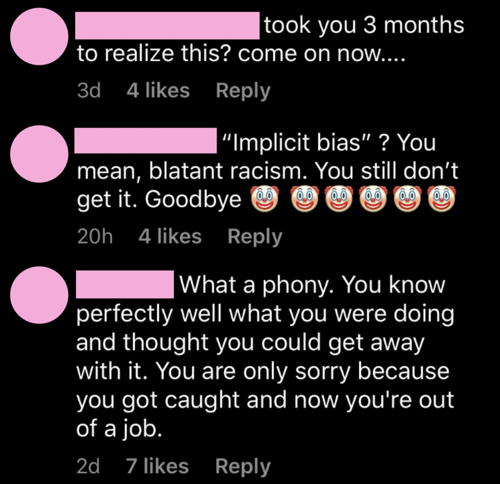 It's unknown what made Peter suddenly come to the conclusion that what he posted was wrong; however, after Peter's termination, Bravo and production company 51 Minds announced that 'Below Deck Mediterranean' would be edited to minimize Peter's appearance for subsequent episodes.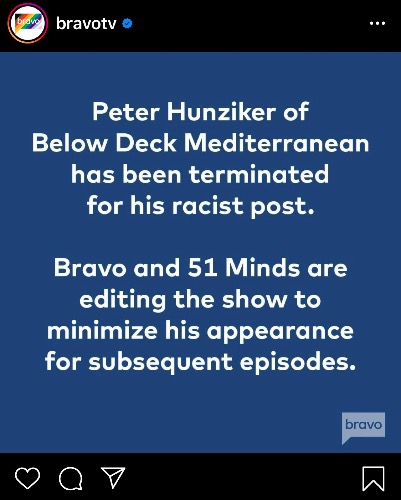 RELATED STORY: 'Below Deck Mediterranean' Star Peter Hunziker Responds to His Firing; Jokes He's Not Racist Because He's "Very Sexually Active" with All Races
(Photos: Bravo; Instagram)