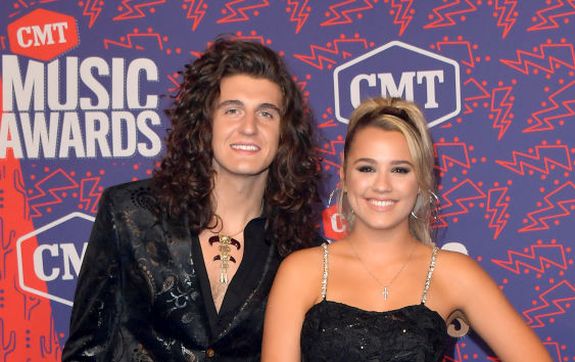 There's an 'Idol' baby on the way!
American Idol Season 16 finalists Gabby Barrett and Cade Foehner announced on Sunday that they are expecting their first child together. The couple— who met while appearing on the singing reality TV show in 2018 and got married in October 2019— revealed their big baby news in Instagram posts.
"And then there were three… Psalm 127:3," Gabby captioned a photo showing her leaning against Cade and showing off her baby bump.
View this post on Instagram
In his post, Cade revealed that they are expecting a baby girl.
"I have the most amazing wife in the world," he wrote. "I can't possibly come up with strong enough words to honor her as she has honored me in giving me a baby girl!
Praise the Lord our God! #babyfoehner"
"'Behold, children are a heritage from the LORD, the fruit of the womb a reward.
Like arrows in the hand of a warrior are the children of one's youth. Blessed is the man who fills his quiver with them! He shall not be put to shame when he speaks with his enemies in the gate.' Psalms 127:3-5."
(If the whole 'quiverfull' statement sounds slightly "Duggarish" to you, it's worth noting that Cade and Gabby are good pals with Jinger Duggar Vuelo and her husband Jeremy, who are currently expecting their second child.)
View this post on Instagram
Like the Duggar clan, Cade said Gabby had no trouble getting pregnant.
"So we started trying pretty much at the start of the whole pandemic," he told People magazine. "It happened pretty quickly. We were expecting it to take a little while, and it seemed like the first try that it happened, so we were just so excited. We were blown away that it worked so quickly. But yes, we were starting to plan on it, for sure."
Gabby— who seems to want a large family— told the magazine she hopes that she and Cade can someday take their youngins on the road with them in a sort of "family rodeo in a tour bus."