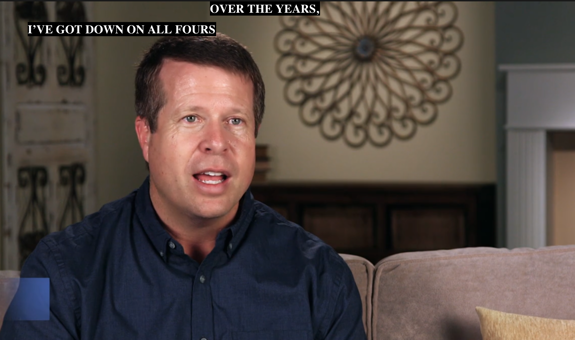 If the shutdown of Broadway has left you with a serious case of theatrical-performance withdraw, never fear: the Duggar Family thespians are here to put on a show that will either hold us over until theaters reopen or scar us to the point that we never want to enter a theater again.
Without further ado, grab your (Jana-assembled) playbill as we raise the curtain on the latest episode of Counting On!
As "The Best Duggar Christmas Pageant Ever" title suggests, it's almost Christmas time at The Compound and the Duggars are prepping for the second annual Duggar Family Ugly Sweater Party – an event the Duggar kids are clearly jazzed about.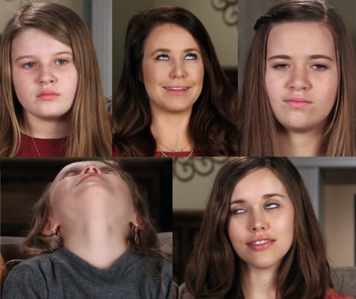 Nevertheless, the Duggars take one for the larger-than-life team and show up to The Compound not only wearing ugly sweaters, but also assorted wigs, hats, light-up jewelry, faux facial hair and whatever other festive finds they were able to dig up at the thrift store.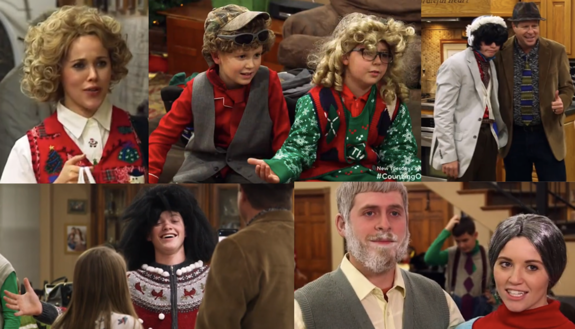 While the family is downstairs wandering around, trying to identify each other, single-sister Jana makes her grand entrance down the staircase, rocking a look best described as Betty Draper on a budget.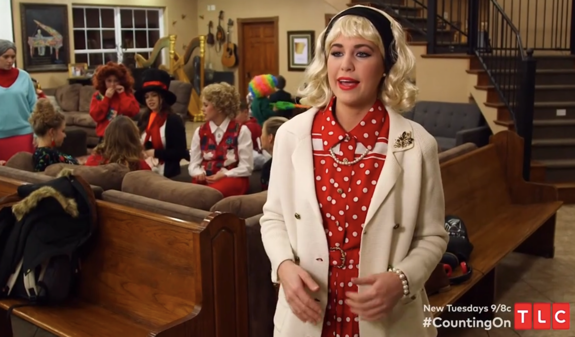 The party continues and Duggar kids and spouses sit around admiring each other's get-ups, talking loudly and keeping themselves occupied. While there's no sign of a Duggar Family competition (for once!), everyone seems to be enjoying themselves.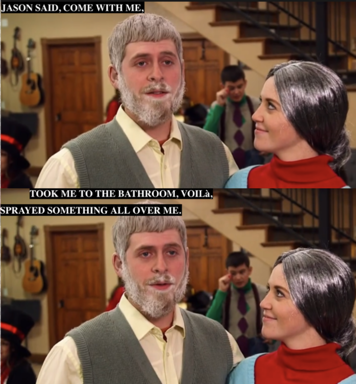 We spoke too soon.
Fundie Grand Marshals Michelle and Jim Bob interrupt the party to let everyone know that there will be an ugly sweater contest after the family has stuffed their faces with tator tot casserole.
As the family casts their votes for each of the four categories, Jessa issues a "friendly reminder" (by-way of shouting) that little kids are not eligible to win any of the categories.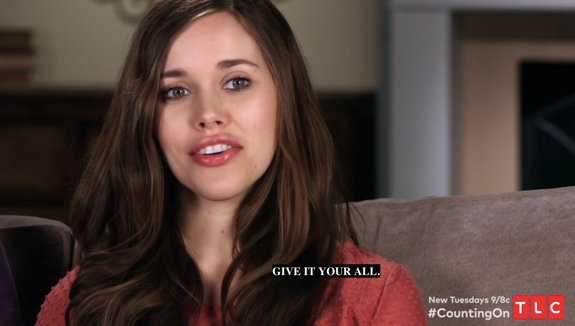 Despite her bullying, Jessa comes up empty handed as Jana wins Cutest Costume, Lauren and Josiah win Most Creative, Justin wins Ugliest and James wins Weirdest. (I demand a recount! Surely Michelle's pilgrim shoes should have secured her the Ugliest category win, no?)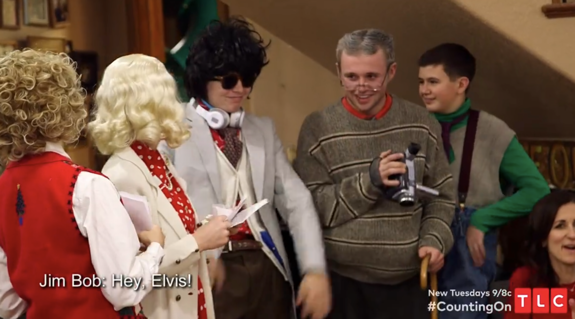 With one over-the-top Duggar holiday tradition complete, it's time to move on to the next: the Duggar Christmas Pageant. The pageant will be held in an old church that Jana recently headed up the renovation on (shocking).
The pageant will almost surely scare away any of Jana's potential suitors. If they know they have to participate in this horrorshow every Christmas if they date Jana, they'll run faster than Michelle when there's a sale on crunchy hair gel at Walmart!
With the heavy lifting complete, Jana wrangles up some of her siblings and guilts them into helping her with props, costumes and set design, revealing they only have two days to get everything together.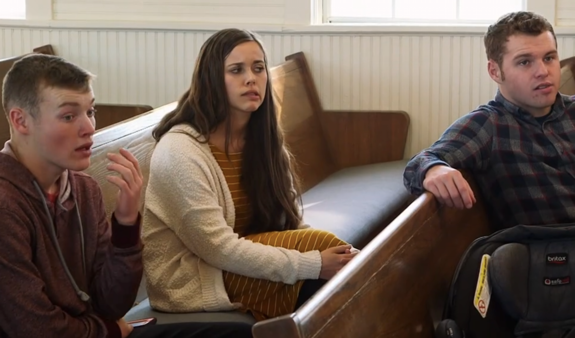 As for the little kids, Jana says The Spurge will play Gabriel, the main angel, while Ivy and the three Duggar newborns will be on standby to play baby Jesus, much to Jim Bob's dismay, because you just know he had his eye on nabbing that role for himself.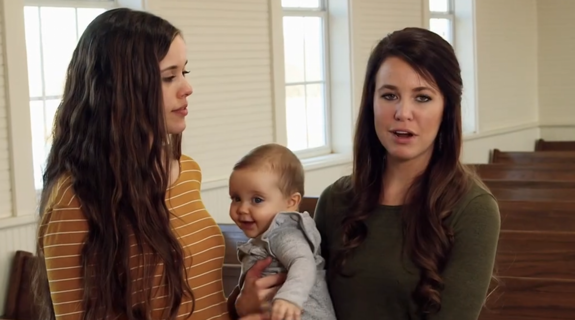 Over in Los Angeles – happily avoiding yet another Duggar family activity – Jinger and Jeremy head to a Christmas tree farm so that Jeremy has an excuse to dress like a lumberjack and pretend to be a man of the wild.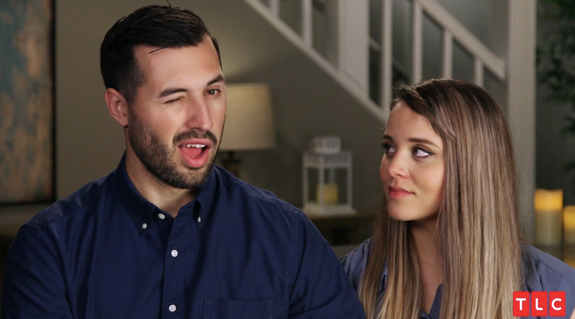 Armed with a handsaw, Jeremy gets to work cutting down the family's tree – an activity Felicity takes zero interest in, thus solidifying her title as most relatable person on this show.
Back in Duggar Land, a hipster-hat-wearing Jessa prepares to take photos of the grandkids as part of a Christmas gift for Michelle and Jim Bob. Jessa heads to Joy's house first to snap a photo of Gideon. After being bribed with food to pose in the hallway, Gideon is all smiles, though it seems like he's laughing at his aunt, rather than with her.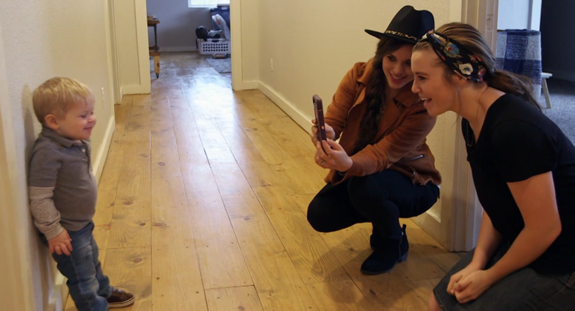 Jessa hits up Anna and He Who Must Not Be Named's house next, followed by Josiah and Lauren's house and Kendra and Joe's.
Next we head back to Duggar Family Theater Camp, where Duggars of all ages are chaotically trying to rehearse this Christmas pageant. The kids are scurrying about, throwing on costumes made of bedsheets, while Jim Bob is lurking around, waiting for one of the bigger roles to open up so he can call dibs and ditch his jackass getup.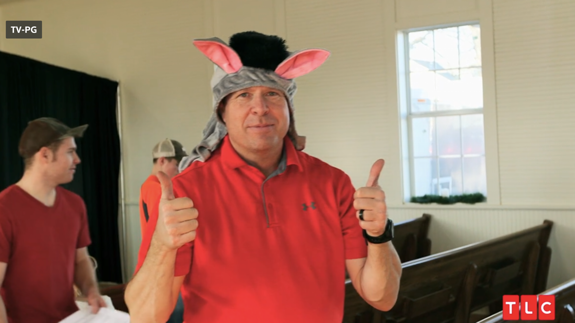 During rehearsal, The Spurge decides to give up the role of Gabriel the angel because the sheep are being bribed with crackers and he wants in on the Nabisco-chomping action.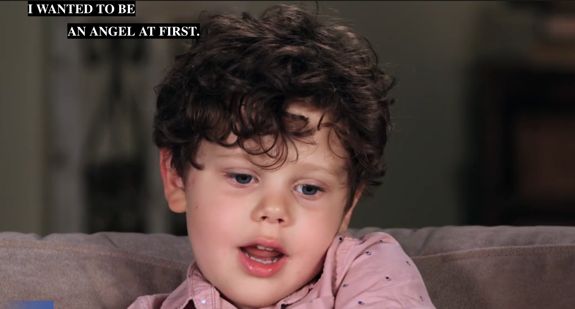 As expected, the toddlers are not about the pageant rehearsal life and eventually, Jana and Jessa wrap it up and decide they'll just wing it when showtime arrives.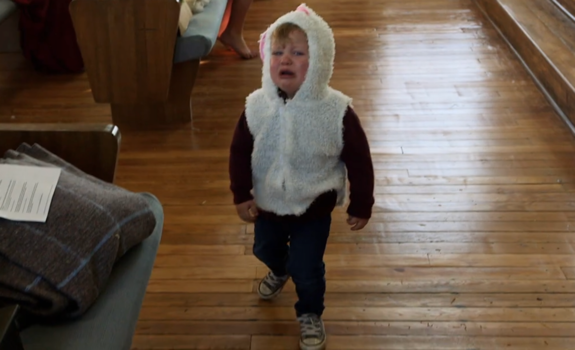 Before watching the Christmas disaster pageant unfold, we check in with the Vuolos once more, as they decorate their fresh from the farm tree. While stringing lights and hanging ornaments, Jeremy spots something else hanging on a branch – a giant spider. As he reaches up to grab the critter, a producer informs the couple that there's probably a nest chilling in their just-decorated tree.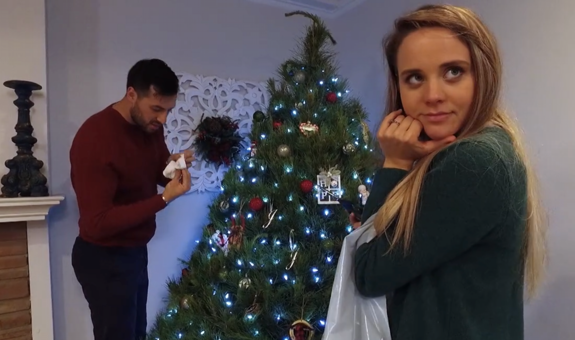 They go on to find some more spiders as well as some ladybugs, but ultimately decide to march on, throw a few more decorations up and hope for the best.
Hey, I'll take a spider-filled Christmas tree in Los Angeles over a Duggar-filled Christmas Pageant in Arkansas any damn day of the week.
It's finally time for the Duggar Family Christmas Pageant and Jana's renovated Church is packed with an audience consisting largely of Duggars and families of Duggar spouses. When the show begins, Johannah, aka Mary, sits on the stage as various Duggars walk on to robotically recite lines read from index cards.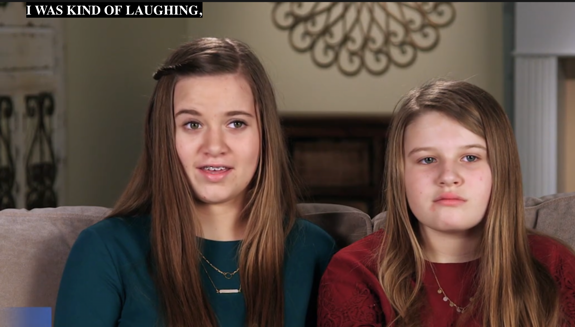 During the play Jim Bob gives a riveting jackass performance, which he basically declares to be his debut into the world of professional comedy.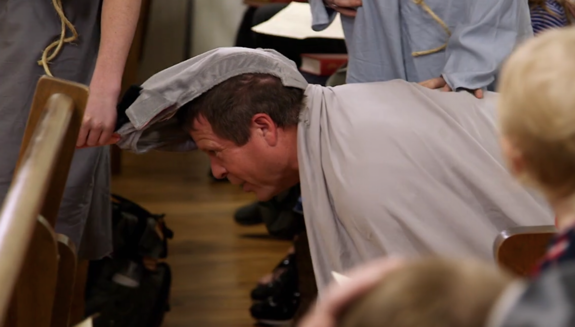 To keep the sheep (toddlers) from wandering off mid-pageant, Jana throws some snacks into a trough on stage – a move she's probably used a time or two on The Compound.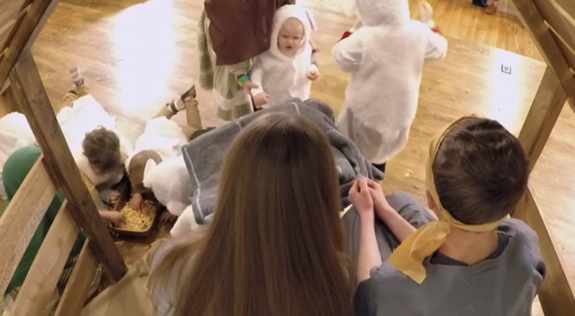 Once the kids realize the snacks are just stale findings from the back of The Compound pantry room, they begin to lose interest, but fortunately they're shuffled off the stage before things completely fall apart.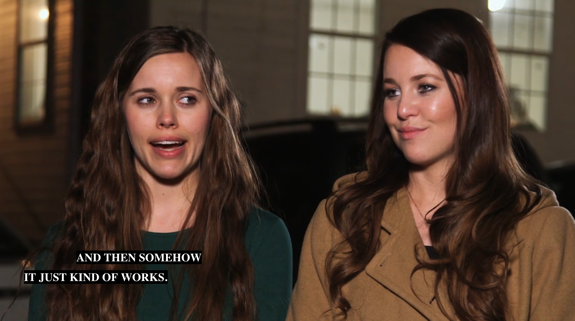 After the show, Jim Bob and Michelle take the stage to thank the audience for succumbing to peer pressure and attending. While Jim Bob and Michelle are rambling on (and on, and on, and on… ) Jessa interrupts to shower them with an ark load a boatload of compliments.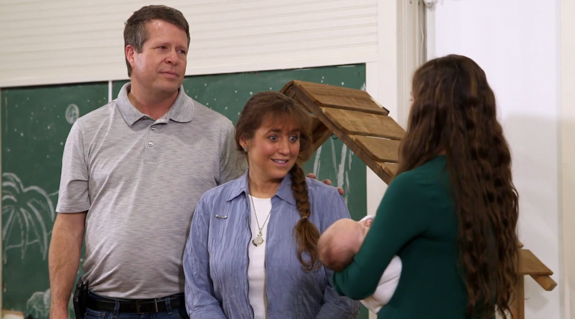 Jessa goes on to reveal the "big surprise" she the kids have for Jim Bob and Michelle, which is brought on stage in two Duggar-sized boxes.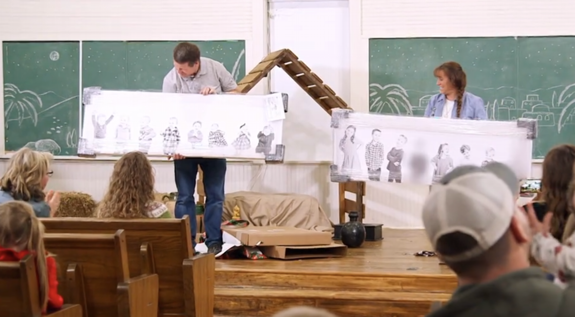 That's all for this week!
On the next episode of 'Counting On,' John David puts together a video for his and Abbie's baby (because apparently the 100-plus hours of 'Counting On' footage wasn't enough), Abbie goes into labor with said-baby and Jessa organizes a kid-friendly arts and crafts project for The Spurge and Henry (and Ben).
To read The Ashley's other 'Counting On' recaps, click here!
(Photos: TLC)