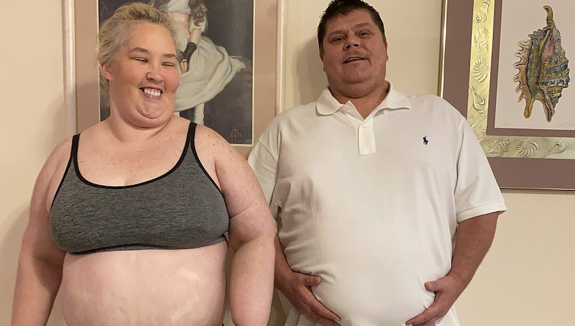 Mama June Shannon is on a mission to go from Not to Hot once again as she heads to Beverly Hills to get liposuction, a tummy tuck and some new veneers.
DailyMail reports the Mama June: Family Crisis star is makeover-bound with her boyfriend Geno Doak, who will receive some enhancements of his own in the form of gastric sleeve surgery and a new set of teeth.
June and Geno's trip to California comes as the couple prepare to celebrate seven months sober. June spoke about their sobriety last month, revealing on her 41st birthday that she and Geno had both been sober for six months.
The two had been photographed a month earlier near a Florida rehab clinic looking rather healthy.
Mama June was spotted out with her boyfriend Geno. https://t.co/fImXncSxH5

— HollywoodLife (@HollywoodLife) June 28, 2020
The pair were spotted right before the season finale of 'Mama June: Family Crisis' aired, during which Geno revealed that he and June had spent $150,000 on cocaine in six months. June noted at the time that she and Geno could go through a couple of ounces of crack cocaine in a single day, resulting in a $3,000 per day habit at their worst.
June last underwent a transformation back in 2017 on the first season of Mama June: From Not to Hot, during which she went from a size 18 to a size 4. However, she has since lost much of the progress made from her gastric bypass surgery, reportedly now weighing 258 lbs.
As for Geno, he revealed in June that his weight had reached over 300 pounds, which he attributed to "getting clean" and the quarantine.
At the time, Geno admitted both he and June "need to lose some weight."
RELATED STORY: Mama June Shannon Reveals She & Geno Doak Have Been Sober for Six Months
(Photos: DailyMail; Twitter; Instagram)