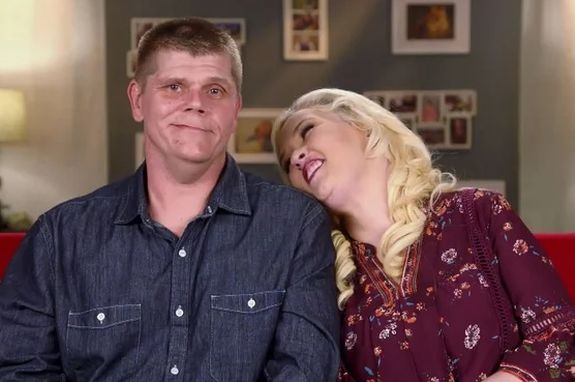 Life is good for Mama June Shannon and Geno Doak.
Now 10 months sober, the Mama June: From Not to Hot couple returned to Florida from a stay in Los Angeles where both were treated to plastic surgery and makeovers. The former deviant duo also took steps to get their lives back on track, buying a car and getting set up in a new home after living in motels for a long stretch of time while using.
June shared details on the car and home Friday on Instagram.
"… a new car was not in our plans but with the suburban that has broke down as of yesterday n what is it going to cost a fortune to fix we decided to take the plunge and bought a new car we have been working so hard these last 10 months with our sobriety," Mama June wrote.
Mama June gave a shoutout to the recovery center she and Geno went to last year when they first got clean, as well as all of her fans who are cheering her on.
"Thanks to @banyantreatmentcenters and all of y'all supporting us," she wrote It may not be a brand new car but it's brand new to us and also we got approved for a new place thanks to all the hard work and commitment from our realtor that is amazing …"
As The Ashley reported back in September, June and Geno were in Los Angeles to undergo a number of procedures, including liposuction and dental work. Geno was also treated to a gastric sleeve weight loss surgery. While getting spiffed up, the couple stayed with 'Mama June: From Hot to Not' executive producer Gina Rodriguez. The trio later did a photo shoot and interview revealing their new looks for The Sun.
"After having all my procedures done and my hair and clothes styled, I feel brand new," Mama June told The Sun in the article that detailed the couple's six-figure makeovers.
Looking forward, Mama June and Geno want to give back and help other people struggling with addiction, she shared on Instagram.
"… only two more months until we will be a year clean N can work in a rehab facility giving back even more to the recovery community… but like always my inbox is always open to those who need someone to speak to."
RELATED STORY: More Surgeries! Mama June Shannon & Geno Doak Head to Beverly Hills for Weight Loss Procedures & Dental Work as They Celebrate 7 Months of Sobriety
(Photos: WeTV; Instagram)