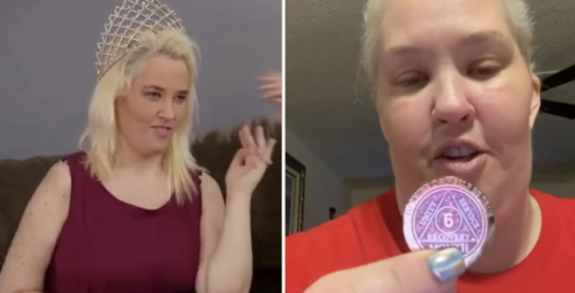 Mama June Shannon has a lot to celebrate on her birthday this year!
This weekend, the Mama June: Family Crisis star kicked off her 41st birthday festivities by sharing a couple of early birthday gifts she had received, including a "blinged out" six month sobriety chip from her manager, which June said was "probably the most thing [she's] proud of."
" … Me and Geno [Doak] are over six months clean," she continued. "This is amazing, y'all. I'm so proud of this."
June also showed off cookies she had received with decorative messages that included "happy birthday" and "sober life."
The news of June and her boyfriend Geno's sobriety comes just a month after the couple were photographed together near a Florida rehab clinic looking rather healthy.
Mama June was spotted out with her boyfriend Geno. https://t.co/fImXncSxH5

— HollywoodLife (@HollywoodLife) June 28, 2020
The pair were spotted right before the finale of 'Mama June: Family Crisis' aired, during which Geno revealed that he and June had spent $150,000 on cocaine in six months, with June adding that she and Geno could go through a couple of ounces of crack cocaine in a single day, resulting in a $3,000 per day habit at their worst. June also noted that snorting crack had further contributed to her blindness.
While June ultimately ditched the outpatient rehab program on the season finale, she and Geno eventually attended an inpatient 30-day rehab program. Dr. Ish Major, who has worked with the Shannon family on the WEtv show, revealed in June that the couple entered the facility after hitting "rock bottom."
"They went in very discreetly, very quietly, once they hit their rock bottom they went to a treatment center in Florida," he said.
June's sobriety announcement was met with many positive comments from her followers on social media, with many expressing how proud they are of her.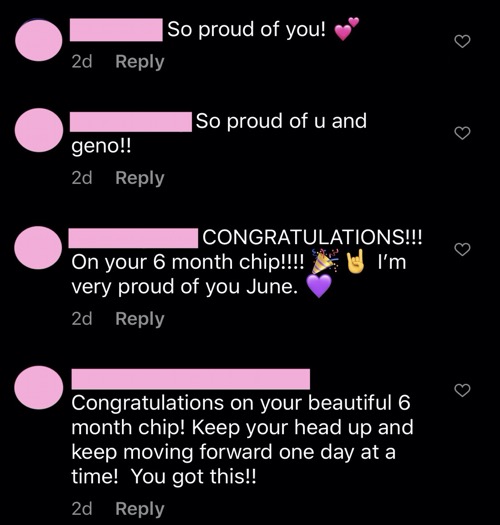 "CONGRATULATIONS!!! On your 6 month chip!!!! I'm very proud of you June," one person commented.
"Congratulations on your beautiful 6 month chip," another wrote. "Keep your head up and keep moving forward one day at a time! You got this!!"
RELATED STORY: Still Together! Mama June Shannon Photographed with Geno Doak After Revealing Their Rehab Stay on 'Family Crisis'; Geno Comments On His Weight Gain
(Photos: WEtv; Instagram; Twitter)