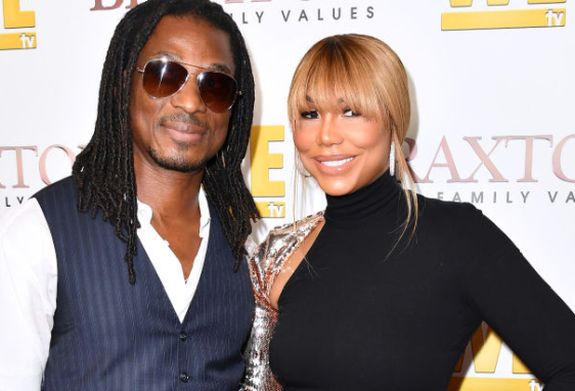 The story of what went down between Tamar Braxton and her now-ex-boyfriend David Adefeso last week has gone from confusing to downright strange.
The Tamar Braxton: Get Ya Life stars are claiming two very different stories in regard to what happened to make David file for a restraining order against Tamar earlier this week. As The Ashley previously reported, David claimed Tamar was violent against him, but Tamar responded, stating that it was actually David who got physical with her, and even claimed they would both end up dead in a murder/suicide.
Now, according to The Blast, David has gone live on Instagram to provide more details of the alleged incident.
"I've been a victim of domestic violence, of domestic assault. I was attacked," David told his followers.
In his version of events, David says he was speeding along in his Rolls Royce (as you do) with Tamar, when all of a sudden, she attacked him, punching him in the neck area. David claims the unexpected whack left him disoriented so he called his mom, who began to pray for him. David stated that the alleged incident was recorded (although he didn't state who was recording it.)
In Tamar's version of events, Tamar says David grabbed her while they were in the car, during a discussion about a social media post made by David that included Tamar's young son, Logan. (We can assume the post below is the one in question.)
The couple was reportedly en route to a mental health facility that Tamar was going to seek treatment at when the argument started.
Tamar allegedly told David he was "around for the wrong reasons and could not be trusted," at which point David became "irate, threatening not only [Tamar's] life but his own." Tamar claimed David said they were going to end up in a "murder-suicide."
In his recent Instagram Live session, David denied hitting Tamar— or any woman, ever, for that matter.
"[I] never laid a hand on Tamar Braxton or any woman in my entire life," he told his followers. "I've never, ever, ever, and never will ever put my hand on a woman. I grew up in a household where my parents were married for 50 years… and my mom and dad were the most loving and kind couple… I didn't grow up in that environment."
On Wednesday, David posted about avoiding "the financial devastation of divorce." David– who is a financial advisor– chose the topic to talk about on his YouTube channel, but did not specifically state that he would be discussing his own split with Tamar.
"Divorce, or separation from a long-term live-in partner, could be devastating financially to both partners; but it tends to affect women harder because the man is often the breadwinner," he wrote. "While separation from a loved one may be inevitable, there are ways to protect yourself from having to start over again financially."
RELATED STORY: Tamar Braxton Claims David Adefeso Threatened to Kill Her in a Murder-Suicide, Days After David Files for Restraining Order Against the 'Braxton Family Values' Star
(Photo Earl Gibson III/Getty Images; Instagram)