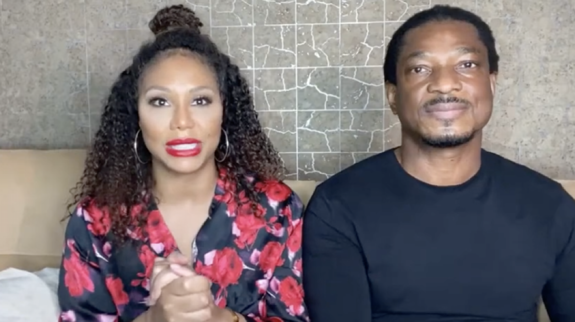 Less than a month after being praised by Tamar Braxton for saving her life, David Adefeso is seeking protection from the Braxton Family Values star.
TMZ reported on Tuesday that David filed for a restraining order against Tamar, asking a judge to grant him a protective order to "prevent domestic violence" against him. The site reports that, so far, the court has not approved or denied his protective order request.
David has not provided details as to why he is seeking the protective order. At least, not yet…
This is obviously an interesting turn of events, considering last month, Tamar was thanking David for saving her life and having her back through all the drama that's gone down over the last few months. In an Instagram post Tamar even called David "an angel on Earth."
"… You were here for me when NOBODY was and still is," she wrote. "YOU and [my son] Logan are priority. Thank you for being my Rock and now, my Angel on earth."
David has played a big part in Tamar's battle with WEtv. During the 911 call on the night of her suicide attempt, David went into detail to the 911 operator about how Tamar has had trouble with the network.
"She was very angry early on," David tells the 911 operator in the audio clip obtained by TMZ. "She's had trouble with the network, the company she's working with. And they did some things today…"
The 911 operator then tries to steer the conversation back to Tamar and her medical condition, instructing David to keep an eye on her breathing. David starts to sob at that point, crying, "This f**king network…it's come to this. When do you get free? At what point are you really free?"
The 911 operator then asks David how long Tamar has been working for said company, but David sobs that "it's taken over everything… everything…"
WEtv has since cut ties with Tamar, but indicated in a statement that it still plans to air her new show, Tamar Braxton: Get Ya Life, sometime this month, rather than the original July 30 premiere date it had intended.
UPDATE! Tamar is claiming a very different scenario went down than what David has implied. Click here for the latest update!
RELATED STORY: Tamar Braxton Defends Boyfriend David Adefeso on Social Media & Thanks Him for Saving Her Life After Suicide Attempt
(Photos: YouTube)