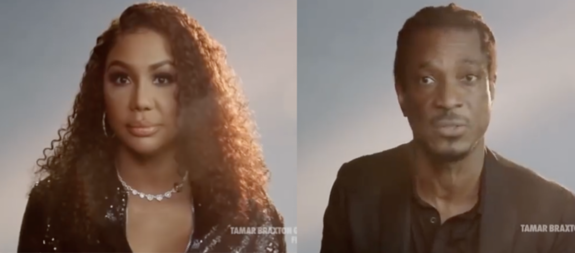 Tamar Braxton's boyfriend, David Adefeso, has confirmed the Braxton Family Values star is "receiving the best available medical attention" following her hospitalization for a possible overdose/suicide attempt. However, Tamar's family is reportedly confused and alarmed by some of the things David has done and said in the past week in regard to Tamar.
A week ago, Tamar and David were staying at the Ritz Carlton Residences in Downtown Los Angeles when David found Tamar unresponsive. David allegedly believed the incident to be a possible suicide attempt and called 911, informing the operator that Tamar had been drinking and had taken an unknown amount of prescription pills. Tamar was taken to a nearby hospital at the time and on Saturday, she was transferred to a facility to receive specialized mental health treatment.
On Thursday, David spoke publicly for the first time about the events and the treatment Tamar is receiving.
"On behalf of Tamar Braxton, I want to thank her fans and the public for the ongoing thoughts and prayers," David said in a statement issued to The Blast. "Tamar is a beautifully talented woman, a devoted mother, a loving girlfriend, a dear sister and a special friend to countless people. This is an extremely difficult time for Tamar and her family as she navigates professional and personal struggles including her battle with depression.
"Tamar is currently receiving the best available medical attention to address those struggles and strengthen her mental health and her family and I will remain by her side throughout her treatment," he continued. " … Mental health is a common issues, affecting 1 in 5 Americans. Please continue to send prayers and hope as Tamar continues the path to recovery and ultimate happiness. We ask to please respect Tamar's privacy, and her family's privacy, during this important time of healing."
As The Ashley previously told you, Tamar's alleged suicide attempt/overdose occurred after the trailer was released for her new WEtv show, Tamar Braxton: Get Ya Life. It also coincided with issues Tamar has expressed to network executives recently regarding the way her family has been treated and portrayed on TV.
However, it now appears that David's frustration with the network, specifically the 'Get Ya Life' footage, may have contributed to Tamar's frustration.
https://www.instagram.com/p/B9zFzqeHVLU/?utm_source=ig_web_copy_link
According to TMZ, David saw both the pilot episode and the promo for the new show last week and he was very unhappy with how he was portrayed, which in turn, upset Tamar. The site reports that David was so upset by the footage that when calling 911, he even explained that Tamar had issues with the network leading up to him finding her unresponsive in their hotel room.
Members of the Braxton Family apparently found it very strange that David would mention a television show while making a 911 call.
Tamar Braxton's family is puzzled by her boyfriend's actions the night of her apparent suicide attempt https://t.co/hGB2FKN6cX

— TMZ (@TMZ) July 22, 2020
The family reportedly believes that, because David discussed the details of Tamar's alleged drama with WEtv to the 911 dispatcher while the singer was in need of medical attention, it further proves David was the one who really had the issues with the show and its editorial choices, not Tamar.
"She was very angry early on," David tells the 911 operator in the audio clip obtained by TMZ. "She's had trouble with the network, the company she's working with. And they did some things today…"
The 911 operator then tries to steer the conversation back to Tamar and her medical condition, instructing David to keep an eye on her breathing. David starts to sob at that point, crying, "This f**king network…it's come to this. When do you get free? At what point are you really free?"
The 911 operator then asks David how long Tamar has been working for said company, but David sobs that "it's taken over everything…everything…"
The site's source goes on to claim that the family has noticed a change since Tamar began dating David and that David is very involved in Tamar's business decisions.
RELATED STORY: 'Braxton Family Values' Star Tamar Braxton Reportedly Transferred to Facility to Receive Specialized Mental Health Treatment Following Possible Suicide Attempt
(Photos:WEtv; Instagram; Twitter)