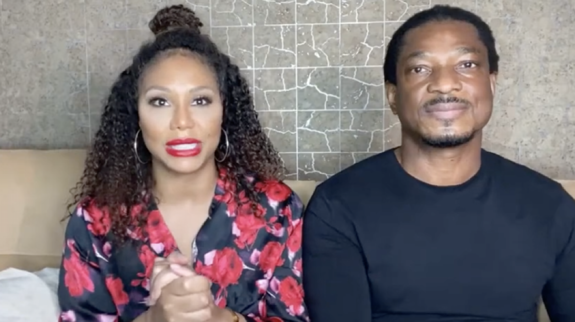 Tamar Braxton took a moment this weekend to praise (and come to the defense of) her boyfriend David Adefeso following her recent suicide attempt.
Tamar shared on Instagram that she would be "logging off," but before doing so, she wanted to publicly thank David "for saving [her] life."
David reportedly found Tamar "unresponsive" in their Downtown Los Angeles hotel room and called 911 to report that the Braxton Family Values star had been drinking and had taken an unknown amount of prescription pills. (He also mentioned Tamar's ongoing issues with WEtv during the 911 call – something Tamar's family reportedly found quite odd.)
" … I'm so grateful," Tamar posted, along with a video of herself and David toasting "to the best times."
https://www.instagram.com/p/CDX2-HGBDLS/?utm_source=ig_web_copy_link
"I was in our home lifeless & I'm sure finding me the way that you did couldn't have been easy," she continued. "But know that people coming at you saying all this crazy stuff, isn't easy for me. People have called you every name in the book, to deflect what's really been going on. Through this entire time, you have held my hand, heard my cries, held me when I have been weak. You have had my ENTIRE back."
Tamar went on to deny accusations that David is "controlling," insisting that she has a mind of her own and without David's support, she "simply would not be here."
" … You were here for me when NOBODY was and still is," she added. "YOU and [my son] Logan are priority. Thank you for being my Rock and now, my Angel on earth."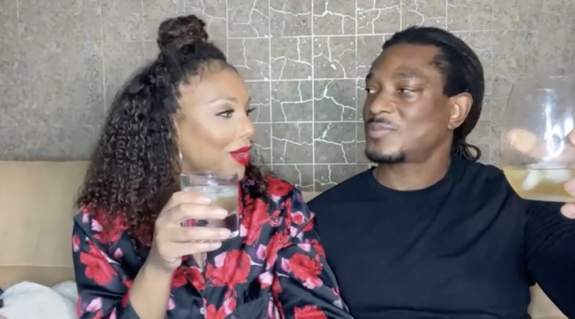 Tamar then addressed the engagement she and David spoke of in the accompanying video.
"I love you.. and although I been said yes in this old video… now and then, I couldn't imagine what life would be like if you weren't by my side," she wrote. "[Thank] God I'm here and thank God for you."
David commented on Tamar's post, sharing a similar sentiment as well as the same diamond ring emoji that Tamar had included in her post.

"I love you," he wrote. "You love me. We love Logan. Together forever."
Last week, Tamar shared a lengthy statement about her suicide attempt, which included her thoughts on how she felt exploited by WEtv and had asked to be freed from her contracts. The following day, the network announced plans to "work with [Tamar's] representatives to honor her request to end all future work for the network."
First and foremost, Thank you.
Thank you to each and every individual who has prayed for me, thought of me, sent me their love and has showered me with their support. In this present moment, it is my only responsibility to be real with myself and to be real with the ones who… pic.twitter.com/FB13IgOmHh

— TAMAR "SLAVE" BRAXTON (@TamarBraxtonHer) July 30, 2020
In a now-deleted tweet, Tamar denied that WEtv had cut ties with her.
"LIES!! no one has talked to a lawyer, or to me, sent a flower or card, text to me or NAN!!! THIS is the abuse and lies I am talking about," the tweet read. "This is not helping my mental state. They just won't stop until they see me out of my mind or dead."
Tamar's new WEtv show, Tamar Braxton: Get Ya Life! will reportedly still air as intended, however, the premiere was postponed due to Tamar's hospitalization.
RELATED STORY: WEtv Cuts Ties with Tamar Braxton, One Day After She Wrote About "Exploitation" She Endured From the Network; Tamar Later Denies She Was Fired
(Photos: YouTube; Instagram; Twitter)