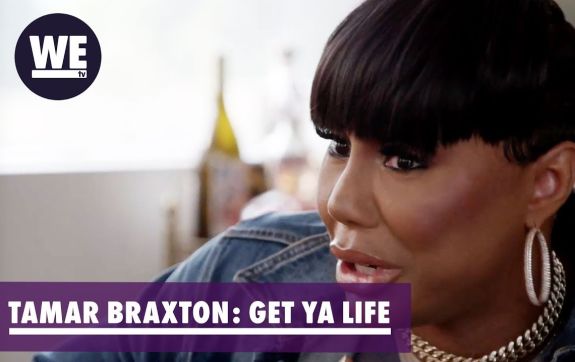 Tamar Braxton's new reality show has been postponed in light of her recent hospitalization and mental health issues.
Variety reported on Tuesday that Tamar Braxton: Get Ya Life, the new show featuring Tamar that was supposed to premiere on July 30 on WEtv, will no longer air in July. In a statement to the site, WEtv revealed that it now plans to premiere the show in September. The network also confirmed that the postponement was due to Tamar's recent hospitalization.
"Tamar Braxton has been an incredibly important member of the WE tv family for more than a decade, and our first concern is for her recovery and well-being," the network's statement reads. "Given the current situation, we are postponing the premiere of 'Tamar Braxton: Get Ya Life!' until September 10.
"This series was conceived by Tamar and is a real portrait of a dynamic woman juggling the demands of being a single mother, a new relationship and her career. We know, when the time is right, Tamar's fans will relate to seeing this honest portrait of her life, but – at this moment – we are joining with her fans and sending strength and healing in the hope that she is getting the support and help she needs at this difficult time."
WEtv— which, on its official website, invited viewers to "follow Tamar Braxton's epic journey to reclaim love, reboot her music career, and reconcile with her family"— has not responded to reports that Tamar and her boyfriend David Adefeso were unhappy after watching the first footage from the show.
As The Ashley previously reported, Tamar was hospitalized two weeks ago after David found her unconscious in a downtown Los Angeles hotel room. He called 911 to report Tamar had been drinking and may have taken an unknown amount of prescription drugs in a possible suicide attempt. During the 911 call, David mentioned how disturbed "the network" (presumably WEtv) had made Tamar in the days leading up to her medical emergency.
"She was very angry early on," David told the 911 operator during the call. "She's had trouble with the network, the company she's working with. And they did some things today…"
David started to sob at that point, crying, "This f**king network…it's come to this. When do you get free? At what point are you really free?…It's taken over everything…everything…"
It has also been reported that, in the weeks before Tamar's hospitalization, she sent an email to her show's producers and network execs, accusing them of destroying her family and making her feel suicidal.
WEtv has not commented on the email.
Watch the supertease for 'Tamar Braxton: Get Ya Life' below.
RELATED STORY: Tamar Braxton's Boyfriend David Adefeso Speaks Out For First Time Since 'Braxton Family Values Star' Was Hospitalized; Braxton Family Reportedly Finds Details of David's 911 Call Odd