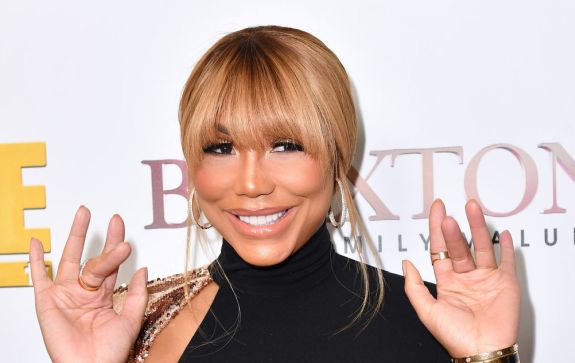 WEtv says it's going to give Tamar Braxton what she wants.
One day after the Braxton Family Values star posted a long statement about her recent suicide attempt— a statement that also contained Tamar's thoughts on how she felt exploited by the network and had asked to be freed from her contracts— WEtv announced its cutting ties with her.
In a statement issued to Variety on Friday, WEtv said it "will work with [Tamar's] representatives to honor her request to end all future work for the network."
According to TMZ, though, only "future" work is going to be stopped, not work that's already in the can, namely Tamar's upcoming show Tamar Braxton: Get Ya Life. WEtv recently announced that it was postponing the premiere of the show until September, due to Tamar's hospitalization and recent suicide attempt. (The show was originally due to premiere on July 30.)
"WE tv tells us … 'Get Ya Life!' will air as it was intended — the network will not be changing the show or further editing based on Tamar's complaints," TMZ reported on Friday.
The statement released on Thursday marked the first time Tamar has spoken publicly since her July 16 suicide attempt. In a statement, which was posted to her social media accounts, the reality TV star aired out her beef with WEtv.
"I was betrayed, taken advantage of, overworked, and underpaid. I wrote a letter over 2 months ago asking to be freed from what I believed was excessive and unfair. I explained in personal detail the demise I was experiencing. My cry for help went totally ignored. However the demands persisted."
She also claimed that the "toxic, systematic bondage that dwells television" contributed to the demise of her mental health.
"The pain that I have experienced over the past 11 years has slowly ate away at my spirit and my mental," Tamar wrote. "I will do everything in my power to aid those who from mental illness, including those of us who's mental illness was only a result of the toxic, systematic bondage that dwells television. It was only God's grace and his mercy on my attempt to end my pain and my life that I am here to utilize my voice."
Tamar and her boyfriend David Adefeso were reportedly very unhappy with the episodes of 'Tamar Braxton: Get Ya Life' that they were able to preview. In fact, David mentioned "the network" (aka WEtv) several times during the 911 call he made on the night Tamar tried to take her own life.
It is unknown if the Braxton family will continue on with 'Braxton Family Values' without Tamar. However, she will apparently appear in the first episodes of Season 7, given that they were filmed before her hospitalization and statement.
According to Variety, Tamar was the second-highest-paid reality TV personality in the history of WEtv, with her sister (and 'Braxton Family Values' co-star) Toni Braxton being the highest paid.
UPDATE! According to a screenshot posted by The Jasmine Brand, Tamar is denying that WEtv has cut ties with her. In a tweet (which has apparently since been deleted) Tamar claimed that she was never informed or contacted by WEtv of this decision.
"LIES!! no one has talked to a lawyer, or to me, sent a flower or card, text to me or NAN!!! THIS is the abuse and lies I am talking about," the tweet, which was reportedly posted after WEtv released it's statement, read. "This is not helping my mental state. They just won't stop until they see me out of my mind or dead."
That tweet was not appearing on her timeline at press time, and it is unknown when or why she deleted it.
RELATED STORY: Tamar Braxton Releases First Statement Since Hospitalization; Confirms Suicide Attempt & Vows to Work to Prevent "Exploitation" of Reality TV Personalities
(Photos: Earl Gibson III/Getty Images; Instagram)