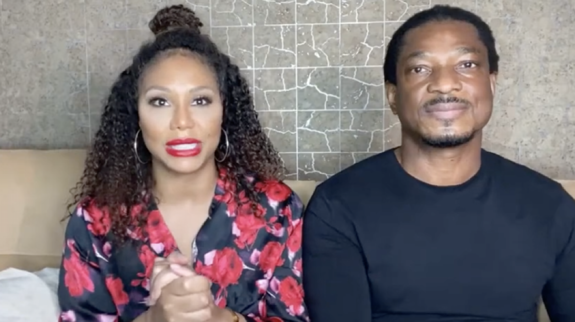 A day after Tamar Braxton's boyfriend David Adefeso filed a restraining order against her, the Braxton Family Values star is responding with a story claiming that David assaulted her and threatened to kill her in a murder-suicide.
The Blast reports that the now-former couple got into an argument while driving to a mental health facility to check Tamar in for treatment. A source told the site that during the drive, Tamar questioned David about a recent Instagram video he posted featuring her seven-year-old son, Logan.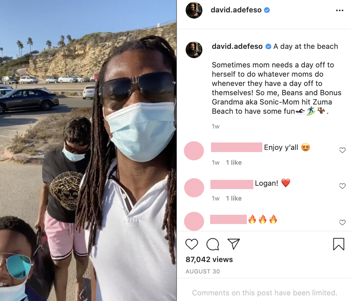 Tamar allegedly told David he was "around for the wrong reasons and could not be trusted," at which point David became "irate, threatening not only [Tamar's] life but his own." Tamar claimed David said they were going to end up in a "murder-suicide."
The argument then turned violent as David reportedly "grabbed [Tamar] hard" on the arms and caused bruising. Tamar claimed she only grabbed David after he became physical with her.
When filing for his restraining order against Tamar on Tuesday, David asked that the order be granted to "prevent domestic violence" against him. At the time, there were no additional details.
Just last month, Tamar credited David for saving her life after he found her unresponsive following a possible suicide attempt.
Soon after Tamar's hospitalization, it was revealed that David had gone into detail about Tamar's battle with WEtv during the 911 call on the night of the incident. In the audio clip obtained by TMZ, David told the 911 operator that Tamar was "very angry early on" and that she has "had trouble with the network."
Despite having since cut ties with Tamar, WEtv indicated it still plans to air her new show, Tamar Braxton: Get Ya Life, later this month.
RELATED STORY: Tamar Braxton's Boyfriend David Adefeso Files for Restraining Order Against Her; Hints at Domestic Violence Situation with the 'Braxton Family Values' Star
(Photos: YouTube; Instagram)