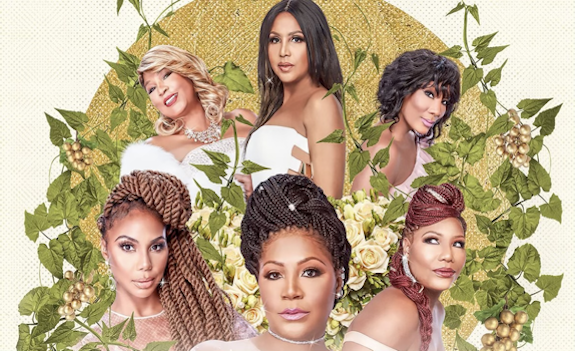 The Braxtons are back!
According to theJasmineBrand, Braxton Family Values–- the reality series starring Braxton sisters Toni, Towanda, Trina, Tamar and their mother, Evelyn–- is set to return to WEtv where it aired from 2011-2020, despite members of the family previously speaking out against the network.
"The Braxtons are ready to share their personal lives with the world again," the site reported on Monday. "An insider also let it slip that fans will be able to catch the reboot on WEtv, which might be a little shocking."
(Since the show wrapped in 2020, the Braxton family has also mourned the loss of their sibling and fellow 'Braxton Family Values' star Traci Braxton, who passed away in March 2022 at the age of 50 after privately battling esophageal cancer.)
The Braxtons' decision to reportedly return to WEtv is quite surprising, given that the family has openly expressed their dissatisfaction with the network in the past, even banning together to boycott years ago on claims that they were being underpaid. (That boycott resulted in filming for Season 6 to be temporarily paused.)
As The Ashley previously told you, Tamar went on to declare during the summer of 2021 that she was "definitely not ever doing another docuseries about [her] life," only to announce a few months later that 'Braxton Family Values' was returning for an eighth season, but "not with a foolish network."
"What if I told you 'Braxton Family Values' is coming back? Not with a foolish network, I can tell you that," she said in October 2021 at a live event in Tennessee. "Because the truth is, the true depiction of a Black American family is not a bunch of foolishness. And the other part of the truth is I ain't about to let the devil use me like that for people's entertainment purposes. It's a no for me, dog."
Tamar's announcement came less than a year after she publicly spoke out about the dangers of appearing on reality TV, vowing at the time to help other reality TV stars escape unfair contracts and exploitation. Tamar had begun speaking out about the network following her July 2020 suicide attempt, claiming WEtv exploited her by including her family's reactions to the news of her suicide attempt in the Season 7 trailer, despite Tamar not being on the show at the time.
"After waking up to that disgusting trailer… F**K @wetv and whomever else is participating in using my pain for their pleasure and ratings," Tamar tweeted in October 2020.
Upon the release of the Season 7 trailer, Tamar–- whose spinoffs Tamar & Vince and Tamar Braxton: Get Ya Life also aired on WEtv-– unfollowed her family on social media, though the family has since made amends.
The Braxtons have yet to comment on their potential comeback, nor their reported return to WEtv.
RELATED STORY: 'Braxton Family Values' Star Traci Braxton Dead at 50 After Private Battle with Cancer
(Photos: WEtv; Instagram)