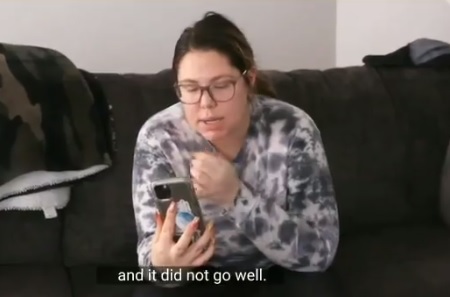 Kail Lowry's long-lost family members are not happy with how they have been portrayed on MTV– and they recently took to social media to air their grievances.
On this week's episode of Teen Mom 2, Kail's half-sister, Mikaila and Kail make plans to meet up when Kail was taking her kids to Dallas. When Mikaila cancels the meeting, Kail gets upset, but on social media, Mikaila argued that MTV didn't give her a chance to tell her side of what happened. Then, Kail's long-lost father, Ray, added his two cents to the conversation, agreeing with Mikaila that MTV purposely shows people in a bad light.
(Kail's father has only made one appearance on MTV— during Kail's 16 and Pregnant episode. He— and his locked freezer of prized meat products— have not appeared since, as Kail has not had any contact with him since that time.)
"I don't have a relationship with my sister," Kail told the cameras during the episode. "On a day-to-day basis we don't ever speak. I don't text her, she doesn't text me. We just don't have that kind of relationship…I don't want to introduce more people to my kids and they're not permanent. I don't want to get my kids' hopes up for knowing their aunt and their cousin and then it not going anywhere."
View this post on Instagram
We see Kail– who had last talked to Mikaila at the funeral of her grandmother the previous month— explain to her sons Lincoln and Isaac that they're going to meet Mikaila and her daughter during their upcoming trip to Dallas, but then later Kail tells her friend that Mikaila cancelled their meeting, claiming she can't go because she got bit by a dog.
"It's like she looks for every excuse," Kail said. "…my sister cancelling when I was already making the effort to go to Dallas and see her just confirms why I don't want to introduce my kids to her. I likely won't reach out again."
After the episode aired, Mikaila argued on social media that she was seriously injured by the dog, despite how it was made to look on 'Teen Mom 2.'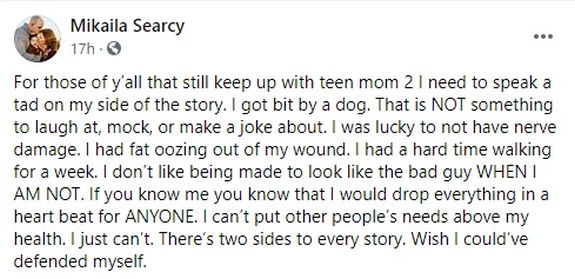 "I was lucky to not have nerve damage," she said. "I had fat oozing out of my wound. I had a hard time walking for a week. I don't like being made to look like the bad guy WHEN I AM NOT…I can't put other people's needs above my health. I just can't. There's two sides to every story. Wish I could've defended myself."
On Twitter, Mikaila brought up the fact that she was also grieving her mother's death at the time.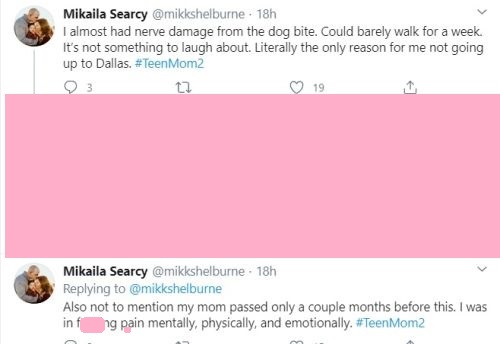 "Also not to mention my mom passed away only a couple months before this," she wrote. "I was in f**king pain mentally, physically and emotionally."
Then, Kail's father–who is also Mikaila's father— jumped in on Mikaila's Facebook post to bash MTV and 'Teen Mom 2,' arguing that he was not portrayed in a favorable light during his appearance on Kail's show over 10 years ago.
"I was on the show too and they made me look bad," Ray wrote, adding, "I personally don't think that show is good for young girls to watch. It gives them the wrong idea about being a parent so young among other things. It's just a bad show I think. Sorry for your bad experience on the show. Been there. Love ya."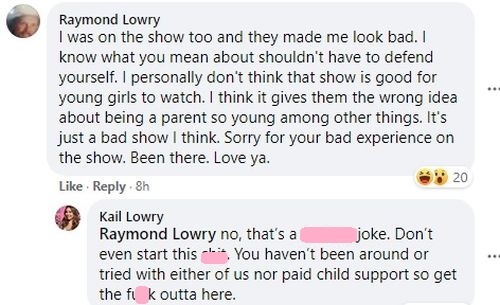 Kail saw his comment and clapped right back at him to shut him up.
"No, that's a f**king joke," she responded. "Don't even start this s**t. You haven't been around or tried with either of us nor paid child support so get the f**k outta here."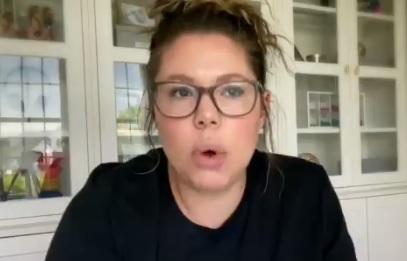 (Mikaila has since deleted Kail's comment on Facebook.)
RELATED STORY: 'Teen Mom 2' Stars Kail Lowry & Vee Torres Announce New Podcast 'Baby Mamas No Drama' Launching This Month