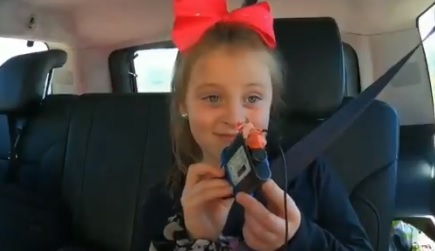 On this episode of Teen Mom 2, we have Leah finding a new passion (again), a bunch of fights with baby daddies and everyone texting while driving.
So…basically, it's business as usual for a 'Teen Mom' episode!
First we head to Indiana, where Jade and Sean are dealing with the aftermath of their big fight at Kllowey's birthday party. As you may remember, they took the kid to some weird adult restaurant, where they proceeded to bicker while gnawing down free breadsticks until Sean popped off after Jade's unemployed mom Christy suggested he take up a career in food delivery.
Have these people never heard of Chuck E. Cheese? Seriously. Take the kid there, let her snarf down some greasy pizza, crawl around some germ slides, watch the rat sing and give her a real birthday party. Poor Kcloi.
Jade is about to do an interview for the camera, so she asks Sean to take his unemployed ass outside so she can talk crap on him without him hearing.
I think that's night. #CoupleGoals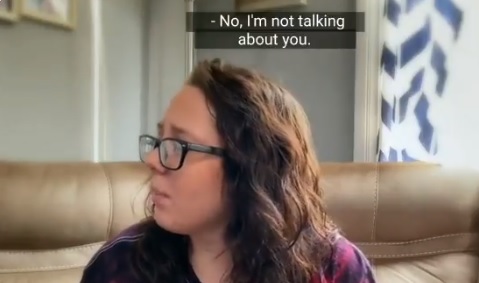 Sean insists Jade can be as open as she wants and that she doesn't have to hide her feelings from him.
"There's nothing to hide!" Jade insists.
Um…Christy and the mysterious crackpipe may beg to differ…
Sean finally leaves and goes into the bedroom, slamming the door on his way in, yelling, "There? You happy!?"
"NO!" Jade says.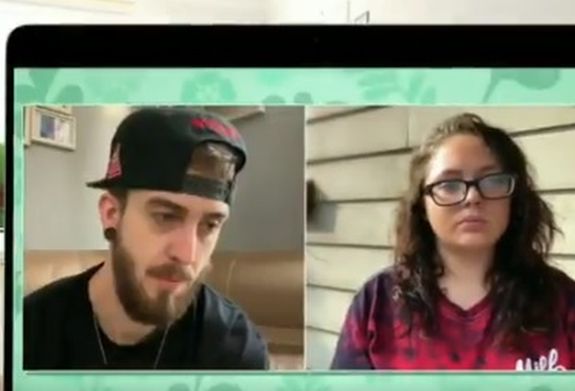 Jade not happy!? I'll give you a moment to get over the shock.
Producer Eric gently suggests they do her interview outside. Jade agrees, and soon she's outside, talking crap and saying that she wants Sean to be more driven in his career. Later, Sean gives his "side of s**t," telling the producers that the only time his opinion counts is when the cameras are rolling.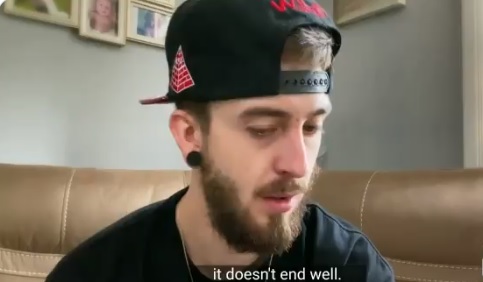 When we check in with Chelsea this week, she and Cole are checking up on the progress of their new home, which has slowly become the main – if not only – filming location for the DeBoers, aside from their cars.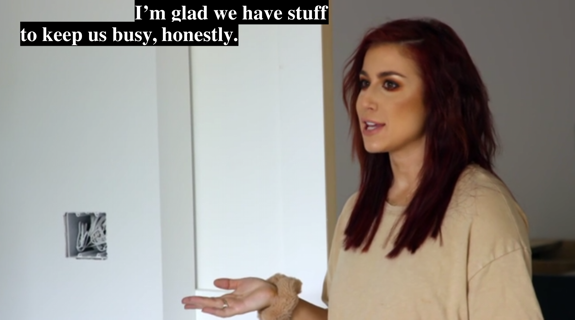 In all seriousness, are we sure Chelsea, Cole and the kids haven't secretly been living on this property in a tent? They sure seem to be hanging out at this construction site pretty damn often, considering their new home doesn't have floors or indoor plumbing yet.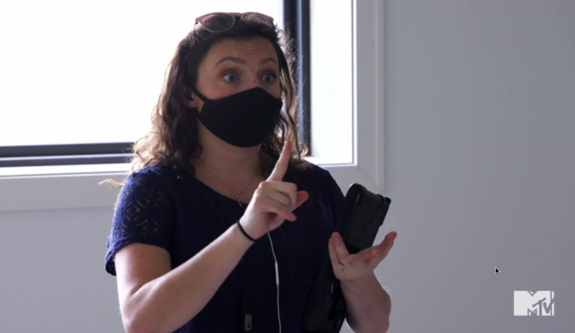 Following in Watson's lead, it's time for Aubree to head to school. Chelsea is happy that she won't have to subject her daughter to the pesky E-learning, though she admits it's "a little nerve-racking to send her to school in a pandemic."
So nerve-racking, that Chelsea makes Cole do the dirty work and drop Aubree off at school, even though Aubree is admittedly nervous and uneasy about her first day.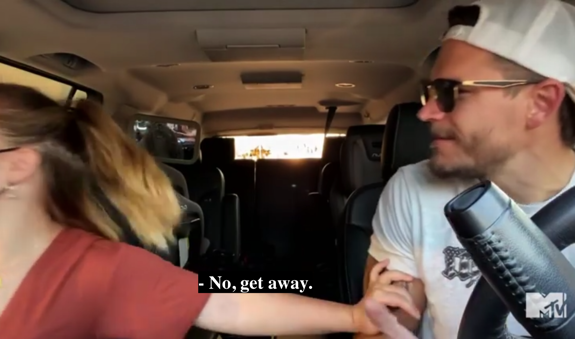 Over in Delaware, Kail rounds up her boys and asks them how E-learning went while they were at their dads' houses. Kail says according to Javi, Lincoln did well; as for Isaac, he says he's over E-learning and ready to get back to "regular school"… and away from his pile of distracting younger siblings.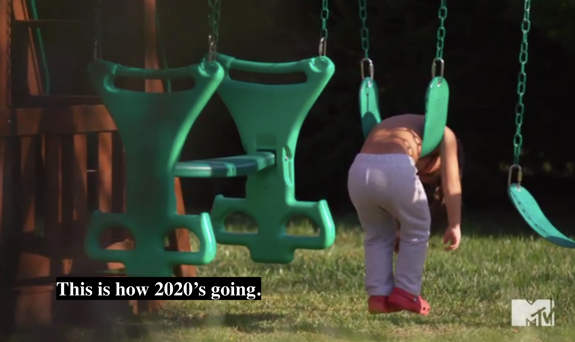 Later that day, Kail tells her friend Bone that keeping up with E-learning has her patience wearing thin and on top of that, she and Vee have just launched their podcast. Kail says they are bringing Jo on as one of their first guests, though she reveals they haven't established what they're going to talk about.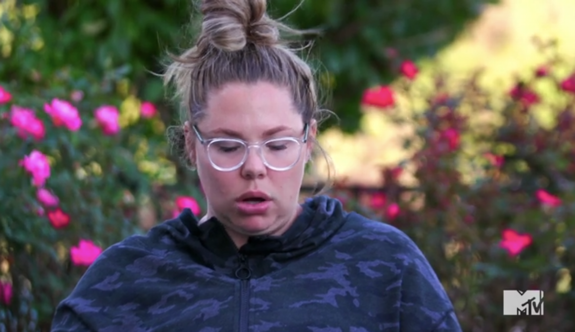 Regardless, Kail tells Bone she's just pumped that they're all getting along right now.
Down in Orlando, Briana is dropping off and picking up her kids at school/daycare/gymnastics/etc. and reminding viewers that she's working a full-time job in addition to all of this… just in case they didn't hear her say it the first 43 times.
Later that day, Brianna pats herself on the back for Nova's recent not-so-socially-distanced birthday party. Brittany (rocking her Playboy hoodie like it's 2002) agrees, noting how "turnt" the "b*tches" were –– and "b*tches" she means Nova and Nova's elementary school-aged friends, of course.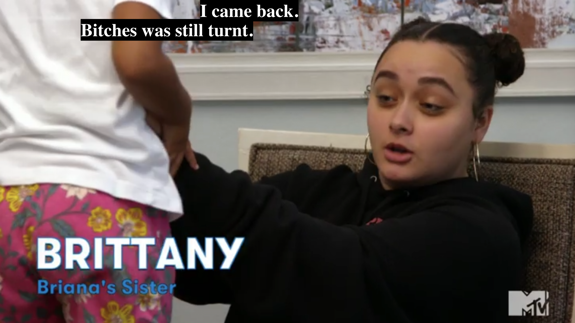 Briana tells her mom and sister that it's almost time for another sit down with Devoin. Briana says Devoin needs to "take Nova" more often, but Roxanne isn't having it because Devoin is "room-mating" and Nova can't be in that environment.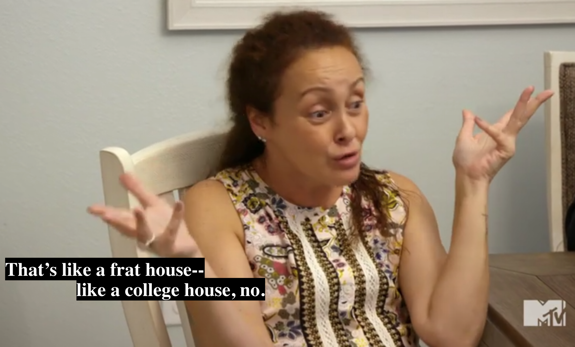 Roxanne's comments rub Briana the wrong way but Briana insists that whatever she does with Nova is her decision, not Roxanne's.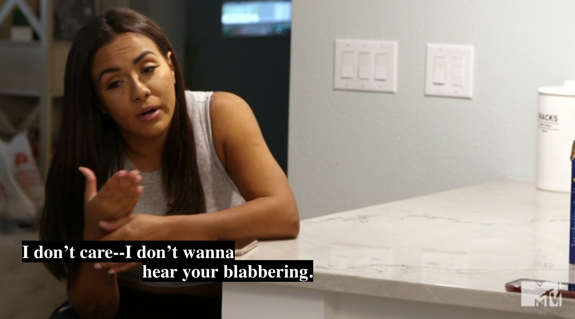 Briana and Co. begin talking over one another and arguing over who is wrong. In the end, Briana says if she decides to "drop these kids off with their dads" – because apparently we're pretending Luis is an active participant this episode – that Roxanne needs to just say "OK" and let it happen.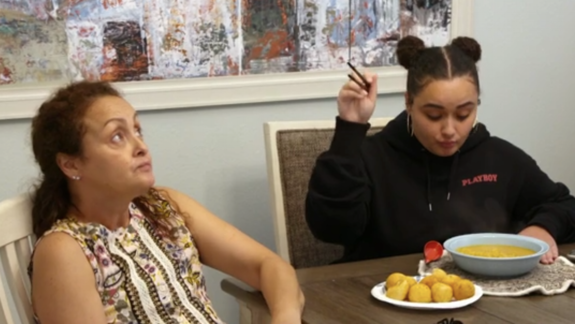 Finally we head to The WV, where Leah is still helping the girlseses with their E-learnings. She has decided that she's going to go get her learn on, too. She tells Jeremy that she wants to be trained to carry Naloxone.
No, it's not another one of Victoria's oddly named babies. Naloxone is a nasal spray that can be used to counteract an opioid overdose. Leah understands why it's so important because she was once all messed up on the drugseses herself.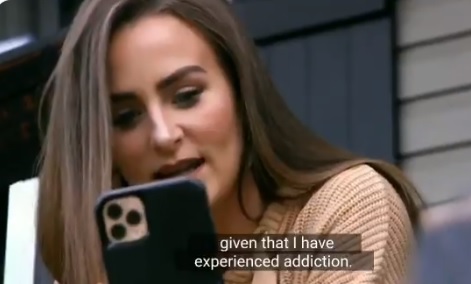 Leah tells Jerm that she hopes to have an open conversation with her other ex-husband, Corey Tyler, about her addiction. Ever the optimist, Leah says that, someday, one– or even all— of the girlseses could end up on drugeseses and babblin' on the phone about dye in the baby's head or something.
I think that's nice…
Leah tells the camera that she wants to talk to Corey because there is a lot of hurt in their past, due to what happened when she was on the drugeseses.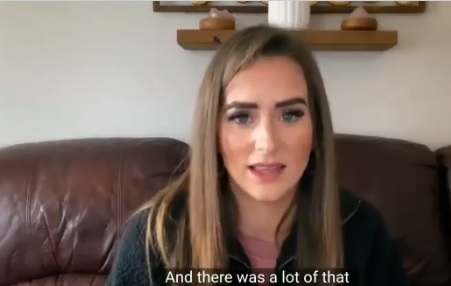 Meanwhile in Indiana, Jade waits until the MTV crew has left and then decides to break up with Sean. Poor Producer Eric has literally missed the breakup— which is probably the most-exciting thing to happen to these two since The Great Crackpipe Caper– by moments. He is not happy.
Jade says she told Sean that she feels like they're forcing their relationship, and that he needs to get out. Producer Eric is worried that throwing Sean— who is broke, jobless and useless— out on the street might be a little harsh.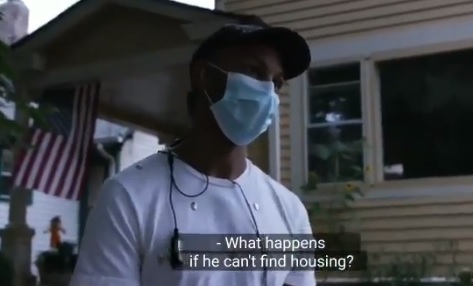 Jade says she's realized that the only way she will be happy is if she kicks the blob 'o' unhappiness that is Sean out of her life…and her house.
When we check back in with Jade a few days later, we learn that— surprise, surprise— Sean is still without a place to stay so he's still living with Jade. That didn't stop the breakup, though— or their ability to fight.
Sean is just randomly hanging out in his car (as you do), when Jade (wearing a some sort of Miami-Vice-Meets-Golden-Girls sweatset) goes out there to tell him to come inside so Cloughi isn't alone in the house. Jade and her pal are off to "get food…and stuff."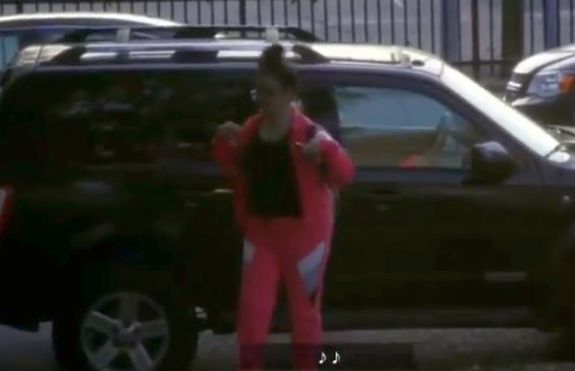 At dinner, Jade says she will try to co-parent with Sean, but if he keeps "gettin' crazy," she will have to cut it off.
Back in South Dakota, Chelsea heads to the Laurie TacoBelle's warehouse to see all the hard work that everyone else has put into her clothing line.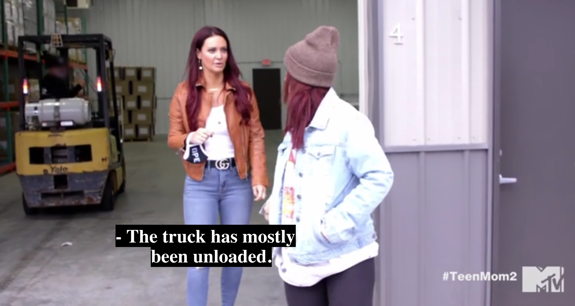 While digging through boxes of her distressed hoodies, Chelsea tells Laurie she needs a size medium, only to accommodate her bump and "growing rack." We then spend a couple of minutes literally watching Chelsea look for her size in boxes.
It's riveting TV.
Later on, Chelsea meets up with her stunt double friend Laura in a random park. Both are pregnant, both are wearing jean jackets and beanies and both are boring as sin.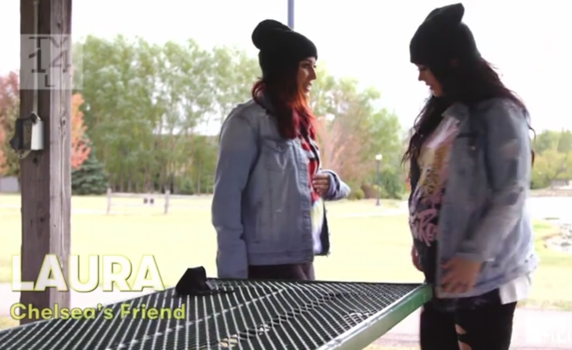 After sitting down with Laura, the two trade ultrasound photos and Chelsea starts talking about her new house, Laurie TacoBelle's and all the "cool s**t" she's finally getting to do. Only then does Chelsea ask how Laura, who recently had COVID, is feeling.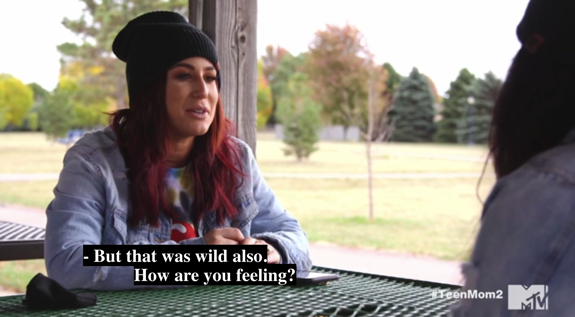 Laura tells Chelsea despite being "precautious" (um?), she still ended up getting COVID and even though it was a "bad experience," she's glad she had it.
Way to be positive, Laura! (Your attitude, we mean… not your COVID test.)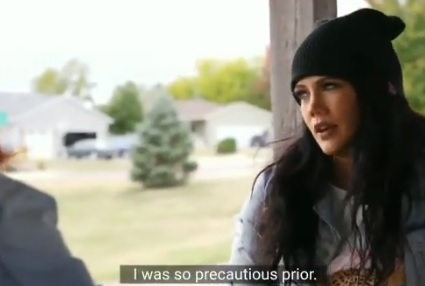 Meanwhile in Delaware, it's the day of Kail and Vee's podcast recording and on the way, Kail keeps herself busy by… writing her doctoral dissertation on her phone, apparently? She then seems to remember that she's not only texting and complaining but also driving too.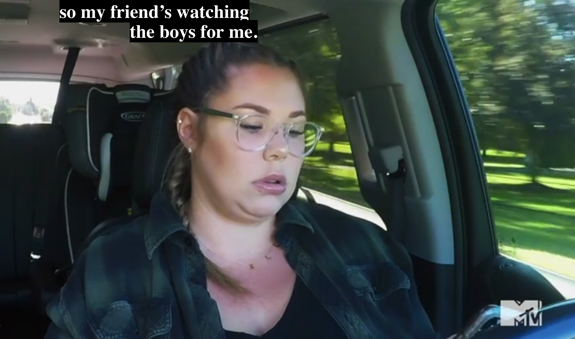 After finishing her tweets or whatever, Kail calls her friend Kristen to tell her "some surprising news" she received this morning: half of Isaac's E-learning assignments from the previous week are missing. Jo and Isaac both told Kail everything had been completed, but Kail says there are "too many links" and "too many websites" and it's evidently too confusing to navigate.
Kail is pissed and ready to tell E-learning to F-off.
When Kail gets to Vee and Jo's house, the three of them sit down and kick off the podcast episode. Kail asks Jo if it was awkward when she and Vee became friends and Jo says it was a relief and what he always wanted. (I'm sure he's relieved that the girls will not be getting into a brawl and he will never have to hear "Jo, hold my earrings" or "Jo, hold my foot," from Vee or Kail, respectively.)
Kail says it was probably easier for Vee because there were never any "blurred lines" when it came to Kail's relationship with Jo, unlike Kail's relationship with some of her other baby daddies.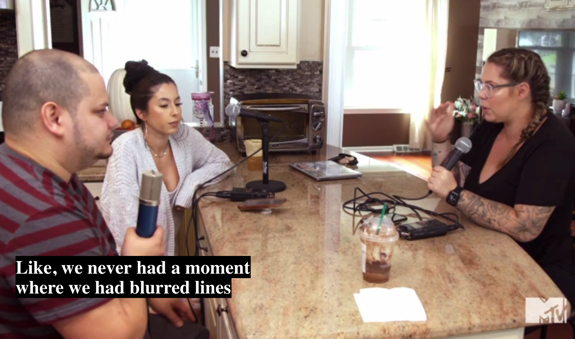 After the podcast wraps, Kail says she has a lot of catching up to do with Isaac's work and Jo apologizes for whatever happened with the assignments from the week before. Kail tells him "it's just a learning curve for everybody."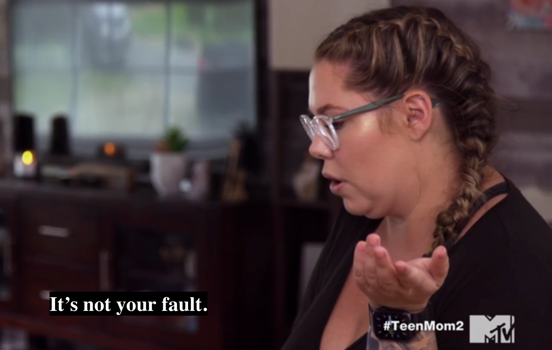 Jo says he sat in on Isaac's Zoom call for school and was shocked to find out it was only 12 minutes long. Jo doesn't understand how anyone is supposed to learn in such a short amount of time and says the schools should be doing more to help students. However, in three weeks Isaac will return to school two days a week, which is good news for Kail and Jo and the struggle bus on which they've been passengers.
Over in Florida, Briana and Devoin meet up in a parking lot to talk. (No, seriously, they are just there to talk. No one is doing the "WaWa Dip" if ya know what we mean…)
Devoin tells Briana which days he has off from work and they determine a pick-up/drop-off schedule.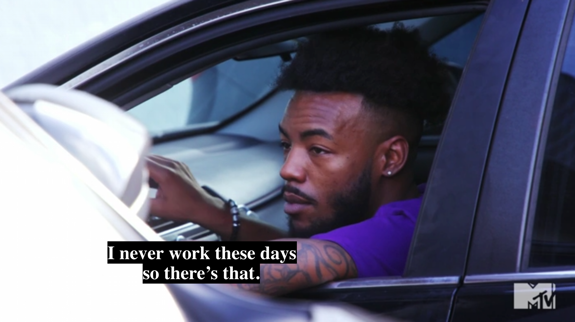 Briana also tells Devoin she's going to talk to Nova to see how she feels about spending a few nights each week at the frat house Devoin's house in order to give Briana a break… because she's exhausted, in case you haven't heard.
That night, Briana asks Nova how she feels about the potential new arrangement.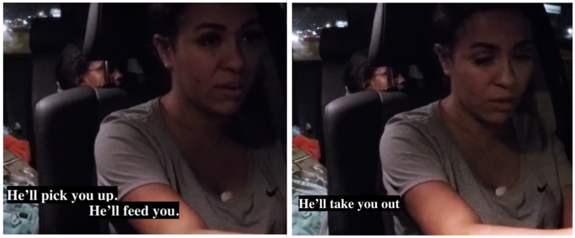 Nova tells Briana she's not really into the idea because Devoin and his fraternity brother friend play music really loud and she doesn't like it.
(I guess she doesn't take after her Aunt Brittany.)
Briana asks Nova why she feels uncomfortable at her dad's house (besides the tunes) and Nova says it's because she's around only girls at her mom's house and basically there's just Devoin and some random dude hanging out at her dad's house and she's uncomfortable around a bunch of guys.
(I guess she doesn't take after her mom, either.)
Nova explains to Roxanne and Brittany later why she doesn't like hanging out at her dad's house and they tell her they understand why she feels the way she does – she likes her dad, she just likes spending time with him one-on-one. As their conversation is wrapping up, Stella chimes in to let everyone know how she feels about her own dad.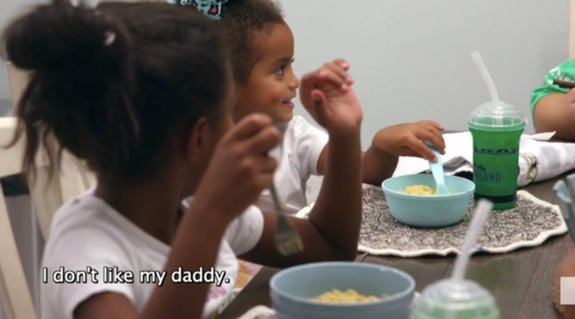 After confirming that Stella is talking about Luis – no comment on their need to clarify – Briana, Brittany and Roxanne calmly talk to Stella, assuring her she has to "like her daddy."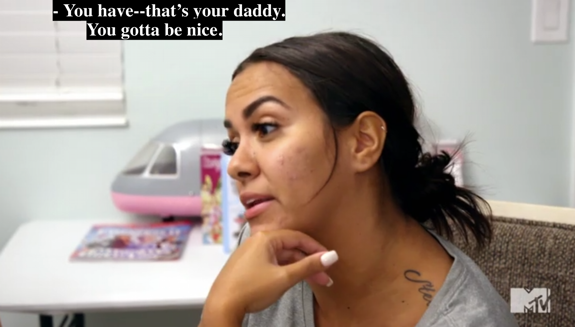 Stella then lets the table know where her loyalties lie.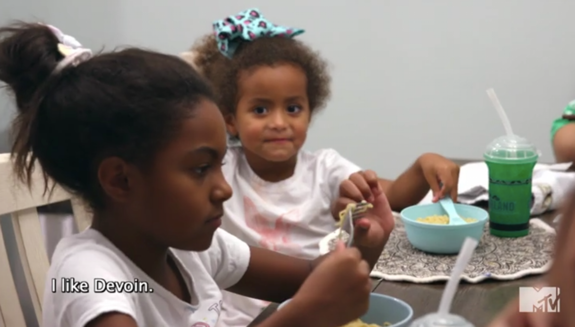 Briana says she understands why Stella prefers Devoin over Luis and then reminds everyone that she picked these two standup gents to be fathers so she just has to deal with it and keep pushing for them to make an effort.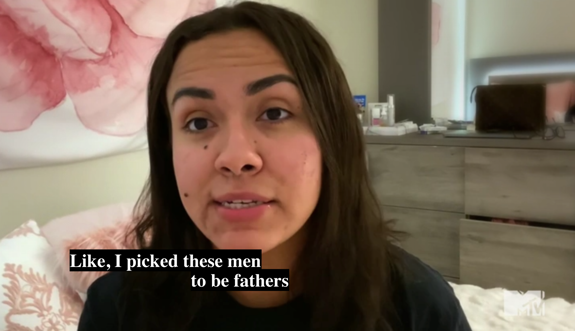 Back in West Virginia, Leah is trying to tap out a text on her phone but those dern girlseses are bein' pains in the reareseses. In fact, Addie has somehow gotten her gum stuck to one of MTV's microphones. Addie is not upset about it at all; in fact she's positively gleeful, telling the producer, "I kind of ruined one of your mics!"
Producer Brendan comes over and kindly asks Addie to take her gnarled gum off of his expensive sound equipment but she refuses.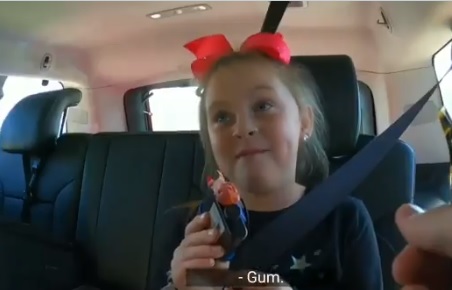 Leah finally looks up from her textseses (which we can assume are sweet nuthins' she was sending to Jeremy) and realizes what Addie has done. She's not concerned, though. She simply just tosses a trashbag at her kid to put the gum in.
Leah's got way more important things to worry about than some bubble chew, though. It's the day of her Naloxone training.
Afterward, Leah meets up with Victoria to show her what "she has went and done." She shows Victoria the kit she's been given.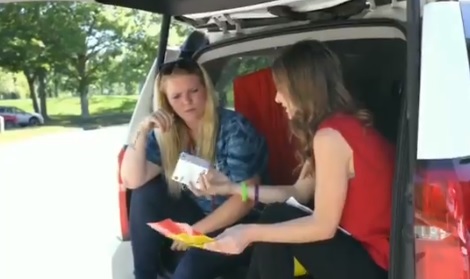 Leah explains the very detailed training she's received …which includes calling 911, squirting this stuff into someone's nostrils and then staying with them until help arrives.
I hope she wrote all those steps down.
Leah then launches into a lecture about the dangers of addiction. Victoria can barely muster enough interest to at least try to look like she cares. (We know she's really just waiting for the perfect moment to hit up Leah for some money to buy herself a ticket to Costa Rica.)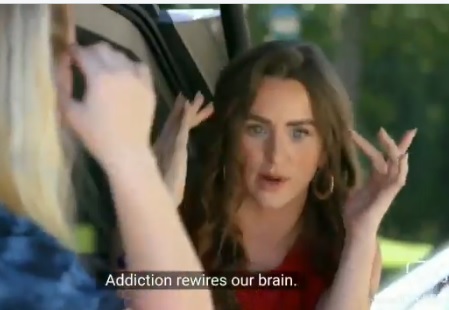 Leah then tells Victoria she was never able to confess her addiction to Corey Tyler, because she was battling him in court for the twinseseses. Leah begins to cry remembering how hard it was for her during that time.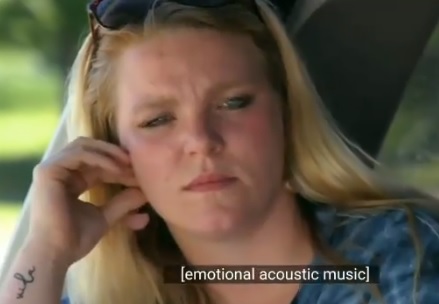 The next day, Leah is driving to the abandoned parking lot to do the drop off of the twinseses with Corey Tyler. She's decided that this is the moment she's been waiting for: she's going to "clear the air" about her addiction.
(So…what's the over/under Corey calls Leah out, Leah gets mad, screams "Monkey!" and throws Addie's gummy mic at Corey Tyler as she high-tails it out of there? Am I the only one who's secretly hoping this happens?)
She tells the twinseseses to stay in the car as she spies Corey Tyler getting out of his truck. They talk about how they haven't gotten into a fight in years, and Corey Tyler reminds her that things between them "used to not be good."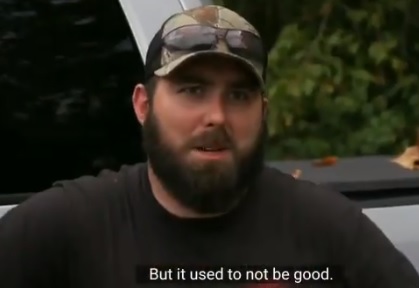 We are then treated to a flashback of clips from years ago, when Corey confronted Leah about her problem with the drugeses and Leah lied and denied it. In the present-day parking lot, Leah tells Corey Tyler that it's essentially his [ding-dang] fault that she had to lie, because he was trying to snatch the twinseses from her.
Corey clearly doesn't want to get into this conversation, or let Leah launch into a tirade about the addiction. He tells her, back then, he didn't know "all the details" but he's happy that she's not nodding off while holding babies or feeding his kids cold canned ravioli at midnight anymore.
"I look back at that moment and I wish each of us, all of us including your wife, could have communicated it a little different," Leah tells Corey.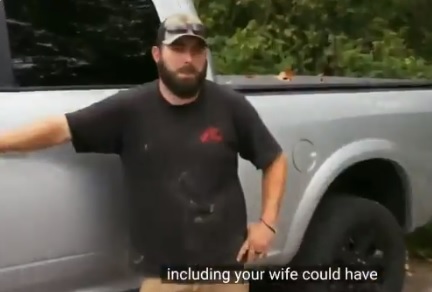 Leah then has the nerve to tell Corey Tyler that he should have provided "a safe space" for her as an addict.
UMMM….you were feeding your girlseses all of their meals from the gas station and driving around in a trashmobile. You should be down on the ground and kissing Corey's work boots right now for letting the twinseses be anywhere near you!
"We was very supportive but that turned to anger," Corey says. (BLESS.HIS.HEART.)
Corey still doesn't want to have the conversation, but he admits he dreaded dealing with Leah at the drop-offs for years but no longer does. They vow to keep their communication going as it has been.
That's all for this ding-dang episode! To read The Ashley's recap of the previous episode of 'Teen Mom 2,' click here!
(Photos: MTV)