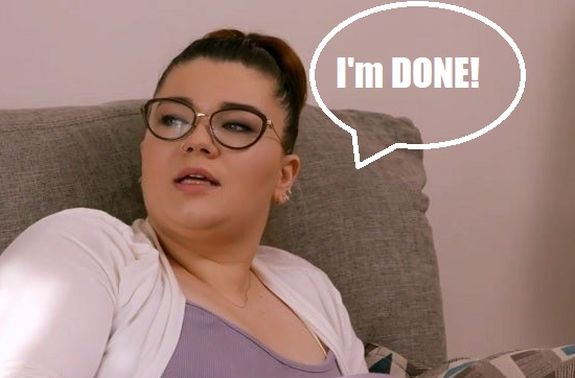 From changing their kids' last names to vowing to change themselves for the New Year, the stars of the 'Teen Mom' franchise (both past and present) have been keeping themselves busy lately!
In an effort to get you up-to-date on the latest Teen Mom OG, Teen Mom 2 and Teen Mom: Young & Pregnant news, The Ashley brings you the Teen Mom News Pile. Here are some of the major (and minor but interesting) 'Teen Mom'-related things that have happened over the last week or so…
Kail Lowry changes her five-month-old son's last name.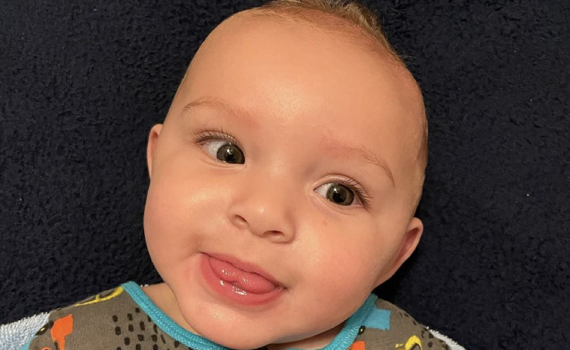 Nearly five months after Kail Lowry revealed that her youngest son Creed had been given the last name of his father, Chris Lopez, despite the exes having an historically tumultuous "relationship," Kail has made an update to the child's name.
Kail stated on Instagram over the weekend that her five-month-old son's full name is "Creed Romello Lowry-Lopez now."
As 'Teen Mom 2' fans know, Kail initially gave Creed's full-brother, Lux, Chris' last name as well, but later changed it to Lowry.
Kail's oldest son, Isaac, whom she shares with ex-boyfriend Jo Rivera, has the last name Rivera, though she previously expressed regret over not giving him the last name Lowry at birth. Kail's second oldest son, Lincoln, was given the last name of his father, Javi Marroquin; however, Kail said she does not regret this due to her and Javi being married at the time of Lincoln's birth.
During an episode of her Coffee Convos podcast, Kail stated that she originally gave Creed Chris' last name in an attempt to get Chris to step up as a dad. During that same episode, she talked about possibly hyphenating both kids' names.
"There have been periods of time where I felt like he doesn't deserve to have his last name passed down but…in a situation like this, I don't know what's right or wrong," she said. "Maybe I should have just hyphenated both [of our kids'] names and called it a f**king day? When they're old enough, they can decide which name they want."
Farrah Abraham kicks off 2021 with an offensive, Farrah Speak-filled Instagram post.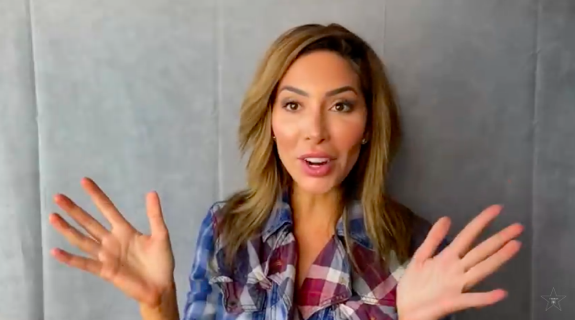 For anyone hoping that Farrah Abraham's New Year's resolutions would include becoming a decent human being and/or learning to respect the English language, we have bad news for you…
The former 'Teen Mom OG' posted a tone deaf/confusing/contradictory/we could go on… wrap-up of 2020, in which she failed to read the room, declaring "Happy Covid New Year" before going on to thank her "hundreds of millions of social media followers" – despite having just over 2 million Instagram followers – for showing love and "giving more meaning to our world."
Um…?
As per usual, Farrah's post was packed with not-so-humble brags, run-on sentences, clichés and large chunks of words that make no sense when put together.
" … One of my biggest years & last in my twenties, I hope by showing this you know your value is not how many followers your profile shows on social media for your reach or income to be validated as that's false," she continued, completely overlooking the fact that she humble bragged about her own social media following in the previous sentence.
She went on to give a shout out to someone – most likely herself – for helping " … hundreds of thousands, millions, billions, trillions of people get through a hard year, grow & increase their personal lives, with out paying for ads, corrupting or harming others."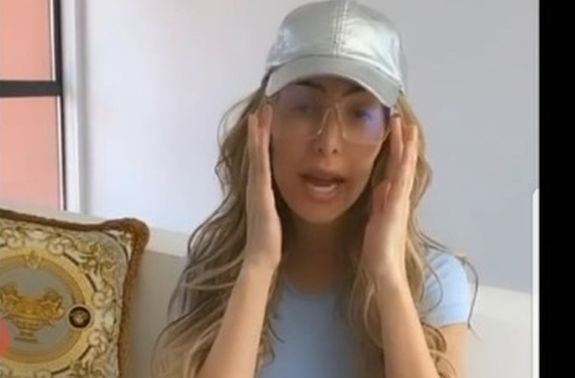 Farrah's nonsensical rundown of her year of accomplishments only continued from there…
"As I've sold millions of products, have reached millions in media & TV, I continue to grow, I look forward to writing my scripted tv & films with what really matters to us all 'Integrity,'" she added.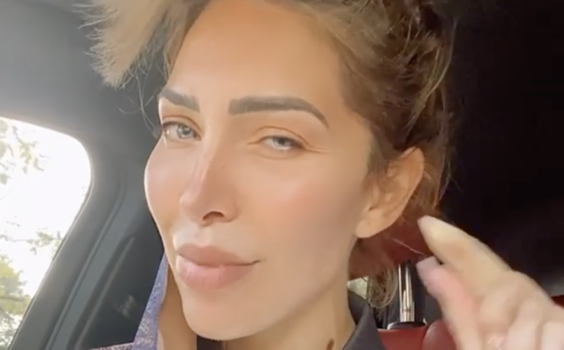 Farrah went on to thank everyone from first responders, essential workers, "churches, heroes! celebrities" and moms to "models, wives, daughters, kids, men, sons, dads, grandparents and more," for their decision to use the social media filters Farrah "created to help busy moms" to "make the world a easier and better place to show more self love and enhance our daily lives to be more positive."
Because nothing says "self love" and positivity like filters.
Farrah's mess of a New Year's post was quickly called out by people on social media – largely for her insensitive "Happy Covid New Year" remark.
"Sorry …but what's so Happy about it," one person commented. "Hundreds have died… ."
"Stop being negative & show love to those who have passed," Farrah replied.
Although Farrah claims 2020 was one of her "biggest years," she actually failed to appear on any TV shows last year.
Amber Portwood says she wants to be "more independent" in 2021.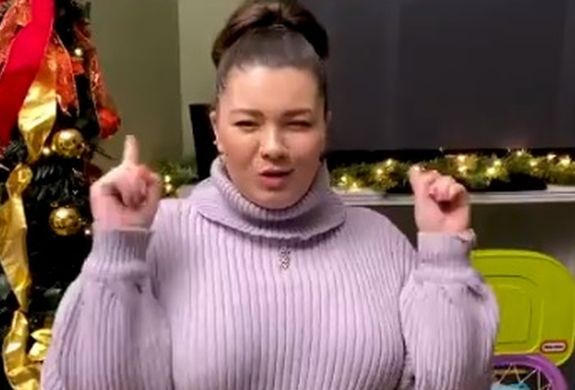 'Teen Mom OG' star Amber— who has been keeping a low profile on social media for the last few months— unburrowed herself from her couch blankets long enough to film a short segment for the 'Teen Mom' Twitter page in which she (and other 'Teen Mom' stars) revealed their resolutions for 2021.
Amber had some surprising New Year's resolutions, vowing to be a "more-positive person." She also said she hopes to be a "more-independent person" in 2021.
Amber is notorious for making sure she always has a man around, staying single only briefly before hoping into the next relationship. It appears that she is still seeing her mail-order man, Dimitri Garcia, despite COVID travel restrictions keeping them apart.
(In case you're wondering what the other 'Teen Mom' girls are striving to do in 2021, Jade Cline wants to be a "better mother and businesswoman." Mackenzie McKee robotically read her goal, which is, "to always put my mental health first and wake up striving to be the best version of me that I can be."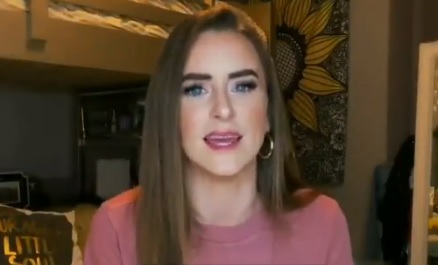 "Cheers to 2021!" Amber says at the end of the clip. "Let's hope for a good year."
You can watch the full clip below:
Cheyenne Floyd 'voids' Zach Davis' ex-girlfriend by making him cover up a tattoo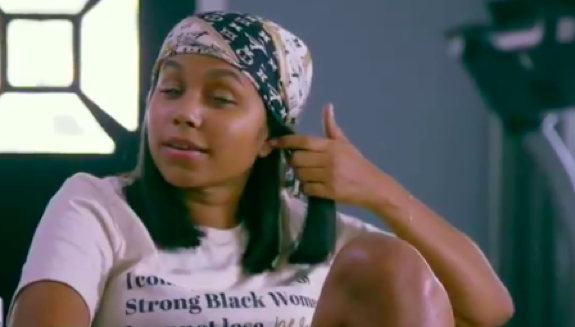 Cheyenne wants to make it very clear that the ex-girlfriend of her baby daddy Zach is no longer in the picture. How, you ask? A tattoo coverup process that began years ago in Cheyenne's stepdad's backyard.
In a "Get To Know My Boyfriend" video posted to her YouTube channel, Cheyenne asked Zach to show off his funniest tattoo and without hesitation, the 29-year-old held up the red "VOID" tattoo on his hand that hides the name of his ex-girlfriend.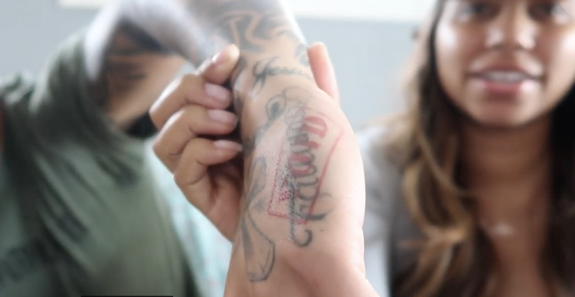 "There was one time when we were dating and I was like, 'Get that hand off of me with that name,'" Cheyenne recalled. "We ended up calling a tattoo artist to come to my stepdad's house to come and tattoo Zach's hand in the backyard."
Cheyenne and Zach explained that the tattoo coverup initially turned the name (which began with the letter T) into the word "faith." Zach said he then incorporated some rosary beads into the design and while the coverup "worked good at first," the tattoo eventually faded, as hand tattoos are known to do. The "VOID" coverup, he said, happened about four years later when he and Cheyenne began dating again.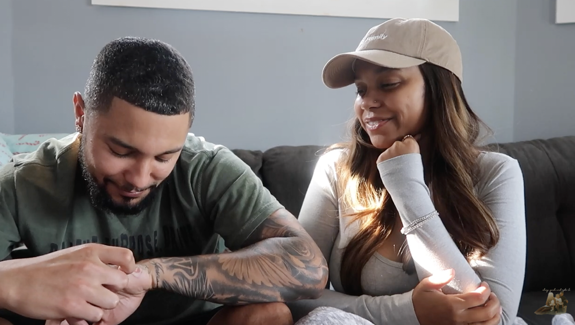 "I noticed that the 'faith' had worn off and that the name was back so anytime like … he's touching me, it's all I can see," Cheyenne said. "It's literally like laser beams right there so then we went and got a 'VOID' stamp over it."
Zach said he loves his VOID-stamp tattoo because it's the only funny tattoo he has.
He also said he has plans to get some more ink in the future.
"I'm looking to get one of something that resembles my son, probably something with the whole family," he said, assuring Cheyenne that it won't involve her face.
To catch up on more recent 'Teen Mom' news, click here!
(Photos: YouTube, MTV, Instagram)