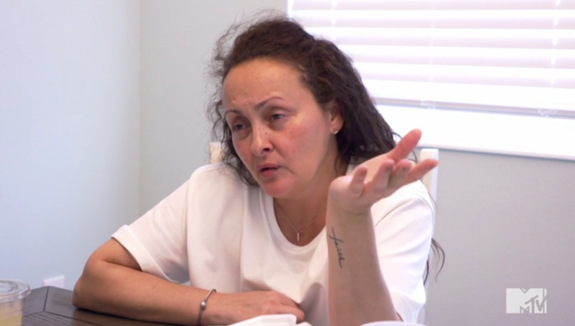 Roxanne DeJesus, mom of Teen Mom 2 star Briana DeJesus, has cleared her name after being accused by some of the show's fans of using a racial slur this season on the MTV series.
The incident, which aired during an episode of 'Teen Mom 2' earlier this month, took place while Roxanne was ranting about Briana's baby daddy Devoin Austin – the father of her oldest granddaughter, Nova – posting Briana's phone number on social media. Viewers were shocked when Roxanne appeared to called Devoin, who is Black, the N-word.
Fans soon called for MTV to address what Roxanne allegedly said, with some demanding the 'Teen Mom 2' grandma be fired from the show.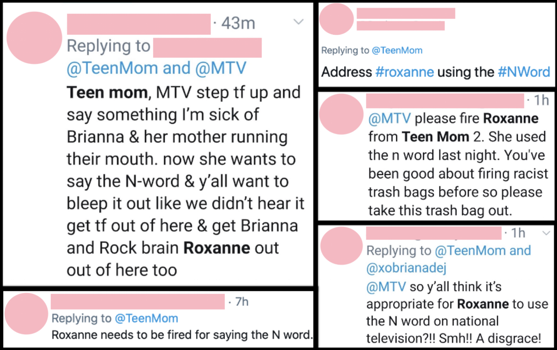 Briana quickly defended her mom and insisted if the "raw footage" of the scene were released (without MTV's censoring) "it will be to prove that we are not lying and trying to cover this up. We are completely taking charge of the situation and wanted to address it as we want people to know my Mom absolutely did not and would not ever say this word."
Weeks later, MTV did just that, allowing the footage to be released without the word being "beeped" out.
On Wednesday, People revealed the uncensored clip of the scene in which Roxanne clearly does not use a racial slur and instead calls Devoin a "d**k."
Roxanne told the magazine that the unwarranted backlash she received from fans was hurtful because she loves Devoin and "will always have his back."
"I've been really sad and really emotional about it, because we're talking about Devoin," she said. "I didn't say it, clearly it's there. It doesn't work out for anybody when you assume. I love Devoin and will always have his back. I will always want the best for him. And it just breaks my heart to think that this happened."
Roxanne said she's also disappointed by Devoin's reaction to the accusations against her, though Devoin has not publicly commented on the situation.
"We're on this journey together," she said. "Some way, somehow, we have to make it work for Nova. This doesn't affect me or Briana as much as it will affect Nova. I just need him to relax, calm down and it'll all work out in the end.
"I always work on a relationship with him – no matter how disappointed or angry or hurt I am, Devoin and Nova's relationship, to me, is priority number one," she continued. "It's not about us, it's about Nova, the biracial child. She knows about both races, she loves both sides of the family and we won't let anything change that."
After the "raw footage" of the controversial 'Teen Mom 2' clip was released, both Briana and her sister Brittany took to social media to set the record straight.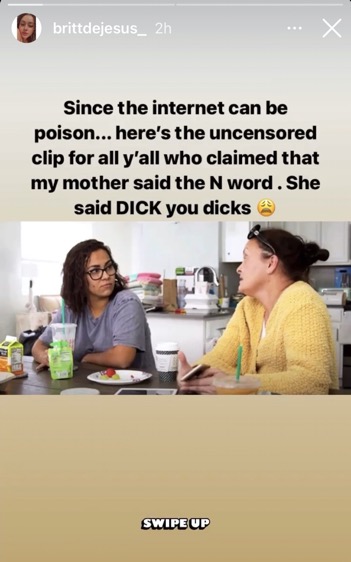 "Since the internet can be poison… here's the uncensored clip for all y'all who claimed my mother said the N word," Brittany wrote on her Instagram Story. "She said D**K you d**ks."
Briana— who took to social media shortly after the episode aired— told People that seeing her mom accused of something she didn't do was upsetting.
"It's so frustrating for people to think that my mom would say that word or would be that type of person when she has been Devoin's biggest supporter," she said.
In a recent Instagram Q&A session, Devoin said he has no issues with Roxanne, dispute his many feuds with Briana.
"Roxy always been nice to me," Devoin wrote. "On and OFF camera. Once again. It's her daughter we dealing with. I expect her to go to war for her!"
RELATED STORY: Former 'Teen Mom 2' Star Jenelle Evans Talks About Being "Traumatized" By Her Past, Starting a Podcast From Her She-Shed & More
(Photos: MTV; Instagram; Twitter; YouTube)