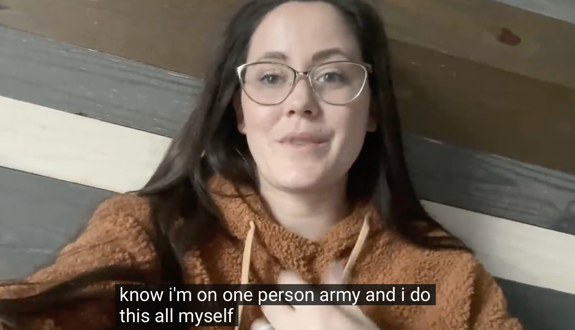 Former Teen Mom 2 star Jenelle Evans took fans inside her She-Shed recently to discuss podcasts, her upcoming docu-series, Netflix, breaking out of her "bubble" and more.
She also let us peek in while she and husband David Eason laid flooring in her shed. (What's next? Allowing us to watch as David picks the dirt and meat slivers out from underneath his fingernails?)
The "Shed Vlog," posted to Jenelle's YouTube channel, also includes an appearance by David Eason who, along with Jenelle, may be vying for some sort of HGTV special. (DIY She-Shed Solutions: The Land Edition?)
To save you some time (which can be spent working on your own she-shed upgrades) The Ashley has broken down some of the Shed Vlog highlights below.
On being traumatized by her past:
Jenelle says watching old 'Teen Mom 2' episodes on Netflix have upset her.
"I really try not to bring it up but I am still trying to get over being traumatized and not knowing I was traumatized over these years," she said. "Now, my mind is starting to realize a lot from my past. And it's been making me really upset lately. I've been trying to deal with these inner demons inside of me that keep being brought up."
On 'Teen Mom 2' being on Netflix: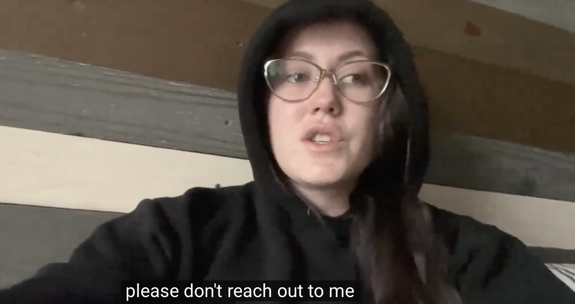 With the first two season of 'Teen Mom 2' now streaming on Netflix, Jenelle said she has received both good and bad feedback about her behavior and parenting (or lack thereof) during the show's early seasons.
"… [People are] reaching out to me saying, 'Oh, I'm so glad I can relate to you, you've changed so much, I've seen how hard in the seasons – Season 1 and 2 – I saw how hard you were trying to be a mom and your mom wouldn't let you,'" she said. "Or, I get the total opposite: 'You're a piece of s**t mom, I saw how you raised your son.' They're basically still trying to tell me that's how I am today, which I'm not at all. I'm a completely changed different person."
Jenelle implored viewers watching Seasons 1 and 2 on Netflix not to reach out to her "and hate."
"Just know that if I make you upset in those episodes, just know that I am a changed person now. I'm trying to continue sharing it all with you guys."
On opening up and starting a podcast:
Despite the negative experience she had being a guest on a podcast recently, Jenelle said she's starting to share with fans what's she's up to again, though she's "still kind of halfway in [her] bubble."
"Let me tell you. I get enough publicity, and I don't need any more if I don't want it. You think I need your publicity for your podcast? No. With that being said, it made me really upset [that the podcast owners deleted my episode] because I have been in a bubble since I left the show."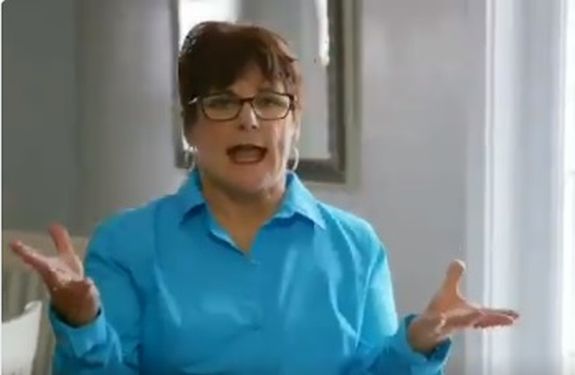 On how "open and honest" she is:
Jenelle stated that she didn't hold back while answering questions on The Family Tree podcast recently.
"So if you ask me a question I'm going to be open and totally honest with you. That's just the type of person I am," she said.
"Now I just feel completely shut out again and I don't know who to trust anymore."
On starting her own podcast…from her She-Shed…named after her She-Shed:
While thinking of how to "turn this around" and make something positive out of a negative situation, she ultimately decided starting a podcast is the way to go.
" … I know I've been explaining this for a while or trying to touch on it here and there," she explained, admitting that she has "no plan."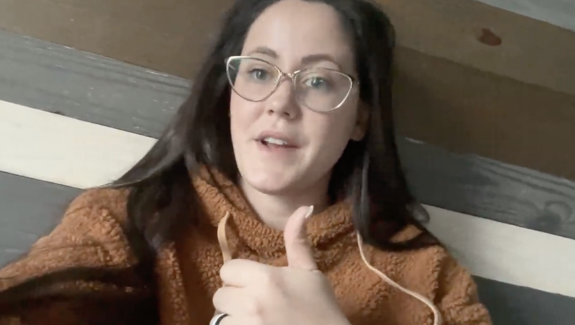 " … I am my own person and I gotta schedule this all by myself so this is what we're gonna do," she said. "We're gonna take a YouTube video of me cleaning out my shed and getting it prepared and ready to start my podcast.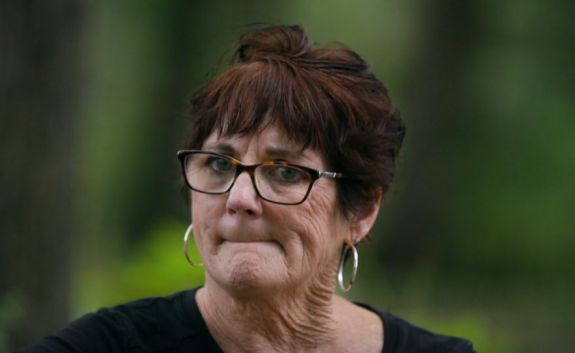 "Maybe we'll name it In the She-Shed or The Tea in the Shed or I don't know, you guys leave some comments below of what we can name this podcast, we'll see where this gets us."
Jenelle said she's going to try to do weekly podcasts – sometimes with a guest, sometimes without – and she may or may not have a co-host.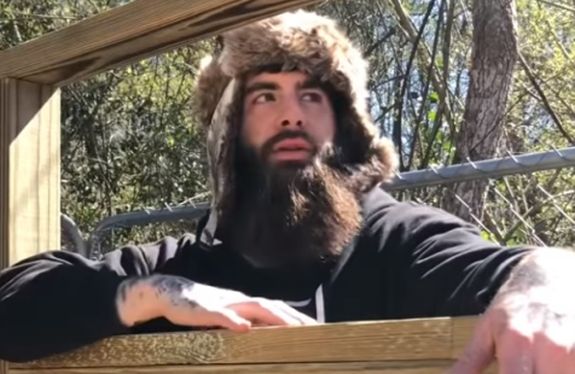 She also asked fans to submit ideas on what topics they would like her to talk about on her (mostly) "unfiltered" show.
"Everything's gonna be unfiltered – as unfiltered as I can make it without being shut down, just put it that way and without pissing everyone off – but we will do touchy subjects or whatever," she said.
Jenelle reveals later in the vlog that she has someone currently working on her podcasting logo.
On her next docu-series: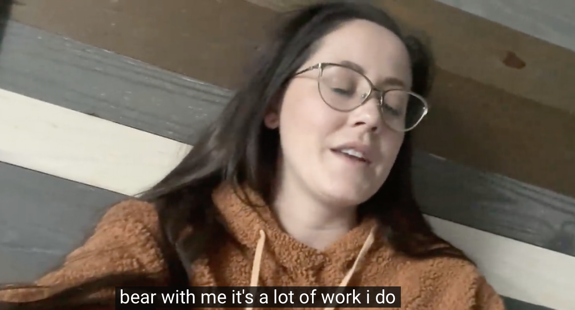 " … I have a docu-series that's going to be coming out," Jenelle says towards the end of her vlog. "I actually yesterday, I filmed for like five hours so stay tuned for that because that's going to be coming out very soon and that will be 10 episodes.
"But you know, I'm a one-person army and I do this all myself so bear with me," she continued. "It's a lot of work I do and I tend to open up a lot of projects and do a lot of things at once and then I get all stacked up."
On her She-Shed renovation: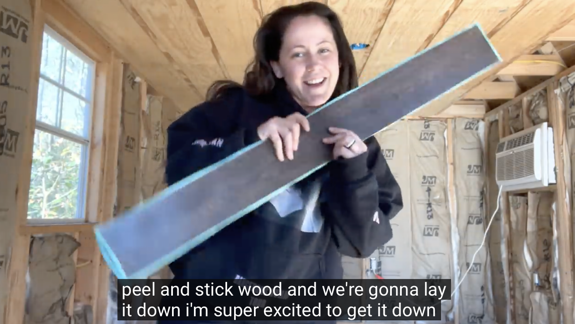 During her video, Jenelle went on to give viewers an update on her shed renovation. After hauling out all of the she-shed s**t contents, she revealed the peel-and-stick flooring she and David – armed with a tape measure and handgun (?) at his waist – will be slapping down on the floor, all while the couple's assorted children can be heard screaming and (hopefully) playing outside.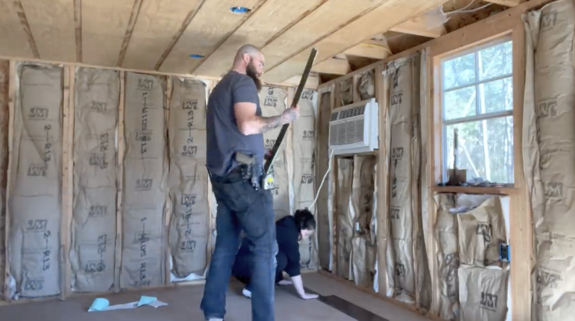 As the tile-sticking continues, Jenelle and David interact with the kids off-camera for a moment, David complains about being cold/the media not thinking he's very nice. He eventually cracks open a beer, as well.
It's really riveting stuff, folks.
(More) On she-shed renovations: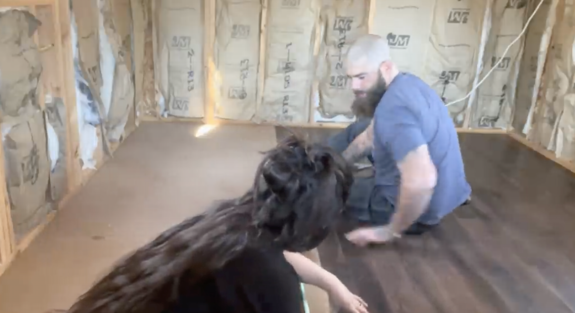 Around the 13:00 minute mark, Jenelle throws viewers a bone and finally figures out how to speed up the footage of her floor renovation; unfortunately, she only does it for a few seconds. During the couple's random conversing, they say the word "sheetrock" about 104 times and reveal plans to complete Jace's rooms, which Jenelle says is about "75 percent done."
"I can't wait because he'll love it," she says.
Jenelle also shares her plan to "do some TikTok dancing" on the new floors to help the glue stick on her peel-and-stick tile.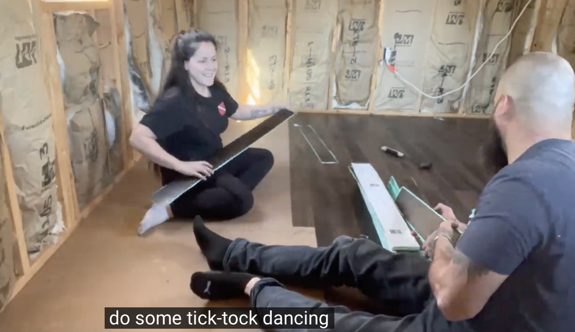 Around the 16:30 mark, she pops back onto the screen to paint her ceiling; she and David alternate doing this until it's finished.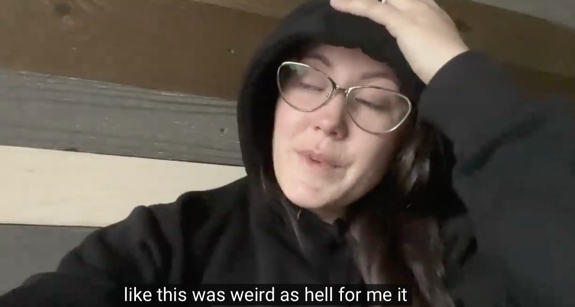 Click here to check out Jenelle's "Shed Vlog."
RELATED STORY: Kail Lowry Responds to People Who Think She & Her Co-Stars Are Now Too Old to Be On a Show Called 'Teen Mom'
(Photos: YouTube; Instagram)