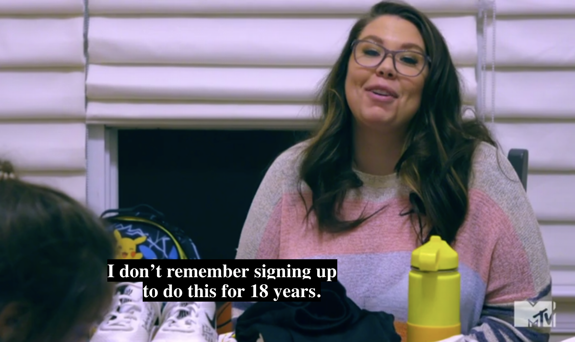 The Teen Mom shows are still going (sort of) strong, more than 10 years after they first premiered. While some viewers enjoy following the lives of the girls they originally met as pregnant teenagers, others feel that the girls— now in their late 20s and early 30s— are too old to be on shows called 'Teen Mom.'
During the most-recent episode of her Coffee Convos podcast, Teen Mom 2 star Kail Lowry discussed this topic at length. Kail told her co-host Lindsie Chrisley that she often sees viewers expressing on social media that her show's title makes no sense, since none of its stars are actually teens anymore.
Kail stated that, while she is sometimes "annoyed" being on a show called 'Teen Mom' when she's a woman in her late 20s, she feels the show's title is still relevant.
"There was a comment yesterday on somebody's Instagram and it was like, 'These girls are almost 30, get them off TV' or whatever," Kail said. "I actually commented back and said, 'Teen motherhood doesn't just stop when you turn 20. There's an aftermath. There's so much more of a story that goes on after you become a teen parent…"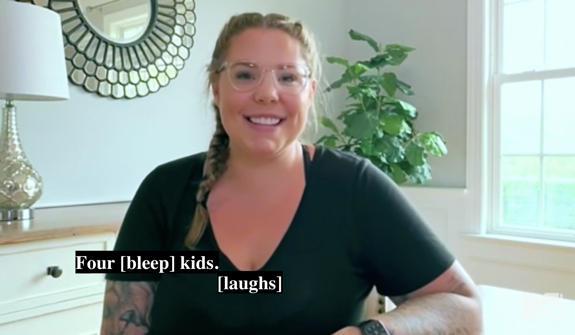 Kail and the other girls on Teen Mom OG and 'Teen Mom 2' (with the exception of Cheyenne Floyd) became mothers for the first time when they were in their teens. She stated that being teen mom has influenced their lives as adult mothers as well.
"It doesn't define you, but there's so much more that goes into it after that fact," Kail said. "Things are harder later on. The statistics are against you still. Even beyond those teen years, there's so much more.…there's so much more to be said; there's still so much story to be told."
"…the aftermath and the decisions we make now, they all stem from having been teen parents," Kail continued. "A lot of things we go through now—- no, it doesn't define us—- but they're decisions that we still have to make because we were teen parents. I think in that way the title of the show still makes sense. I hope that other people see it."
Kail gave birth to her youngest son, Creed, last July. She is also the mother of almost-11-year-old Isaac (whom she gave birth to on "16 and Pregnant" in 2010); seven-year-old Lincoln, and three-year-old Lux. Having such a large gap between the ages of the oldest and youngest children is something a lot of teen parents have to deal with, Kail said.
View this post on Instagram
"If I was older [when I started having kids] and I was able to have my kids closer together I probably would have," she said. "Because, now, there's a huge gap between [the ages of] Isaac and Creed."
"By the time you get done parenting, you would have basically parented for your whole life, because you started so young," Lindsie said.
Kail's co-star, Chelsea Houska, recently left 'Teen Mom 2,' and Kail talked about the prospect of leaving the show as well.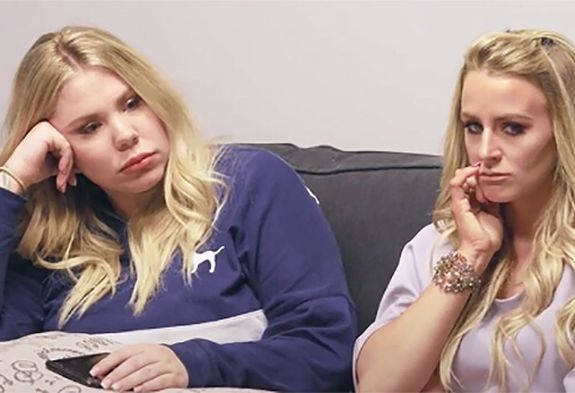 "In some ways I do wish to carry on with the show and in some ways I'm like, 'OK maybe it would be OK to do something else.' I'm rolling with the punches," she said. "I told one of my childrens' father the other day, 'I'm gonna ride the wave until they tell me they're not going to do the show anymore.' Mainly because there's still so much story to be told and I want to be able to show people that you can come out on top even if you are a teen parent or a young parent."
Listen to the full Coffee Convos podcast episode below!
RELATED STORY: Kail Lowry Gives Her Thoughts on Old Episodes of 'Teen Mom 2' Being on Netflix; Reveals the Amount of Money the Show's Stars Make From the Jump to Netflix
(Photos: MTV; Instagram)