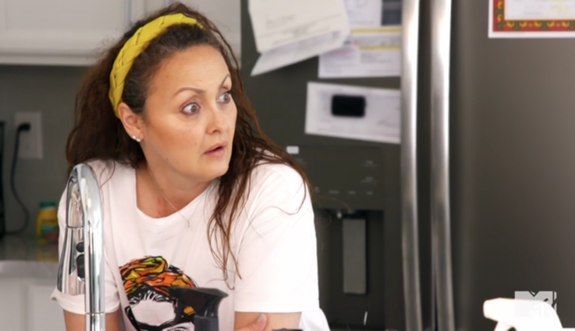 Roxanne DeJesus, mom of Teen Mom 2 star Briana DeJesus, is known for throwing a high heel now and then but this week, she seemingly threw out a word that set social media on fire!
While ranting about an incident involving Briana's phone number, Roxanne allegedly threw a racial slur in the direction of Devoin Austin – the father of her oldest granddaughter, Nova. Viewers were shocked when Roxanne appeared to call Devoin— who is Black— the "N" word during a scene in which she talked about how mad she was about something Devoin had done to Briana.
During the episode, viewers saw the aftermath from one of Briana and Devoin's recent feuds, during which Devoin had posted multiple screenshots on Instagram showing text conversations between himself and his baby mama – with Briana's phone number conveniently displayed for the public to see.
Tuesday's episode showed Briana being interrupted by a surge of random text messages and phone calls while at the circus (more on that later) and almost immediately figuring out that Devoin was to blame.
On tomorrow night's #TeenMom2 season finale, @xobrianadej's night out with her family takes a turn when Devoin posts her number online. 🤭 pic.twitter.com/TvFVxCZd9F

— Teen Mom (@TeenMom) December 28, 2020
Later on in the episode, while expressing her anger over Devoin's actions, Roxanne appeared to call him the n-word.
"Let me tell you something," Roxanne says to Briana in the clip. "What he did today, exposing your number to the public: shady. He did that to be spiteful, but that's illegal what he did. Next they'll be knocking on our f**king door cause this n***er went out and gave out your information."
While the word was censored by MTV, 'Teen Mom 2' fans on social media were largely convinced that Roxanne did in fact drop the racial slur, with some demanding that the network address the incident.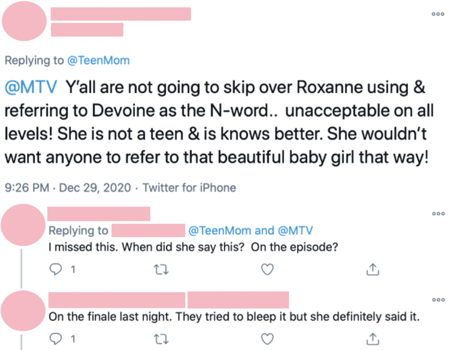 "@MTV Y'all are not going to skip over Roxanne using & referring to [Devoin] as the N-word.. unacceptable on all levels," one viewer tweeted. "She is not a teen mom & is knows better. She wouldn't want anyone to refer to that beautiful baby girl that way!"
Other comments called for Roxanne's firing from the MTV series, noting that the network has taken similar action in the past.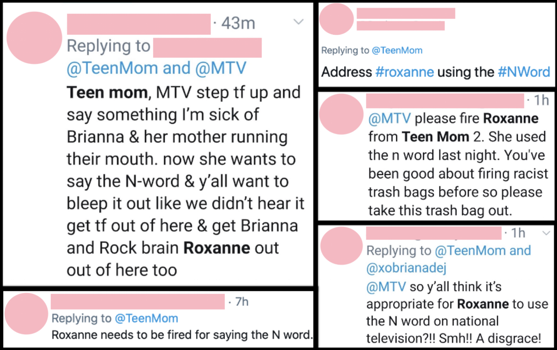 "@MTV please fire Roxanne from 'Teen Mom 2,'" one individual wrote. "She used the n word last night. You've been good about firing racist trash bags before so please take this trash bag out."
"Teen [Mom], MTV step tf up and say something I'm sick of Briana and her mother running their mouth," another comment read. "Now she wants to say the N-word & y'all want to bleep it out like we didn't hear it get tf out of here & get Briana and Rock brain Roxanne out of here too."
While Devoin has yet to address the scene in question, some fans took to the comment section on his most recent Instagram post to make sure he was aware of what was allegedly said.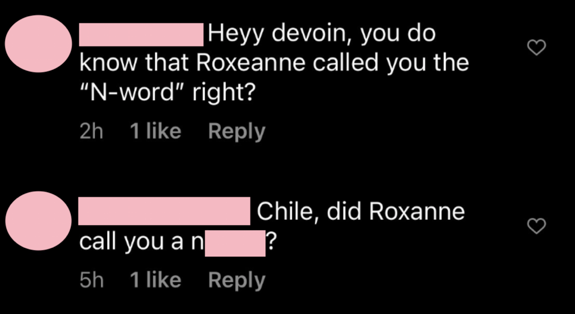 Also staying silent on the matter (at least for the moment) are Briana, Roxanne and Briana's sister, Brittany.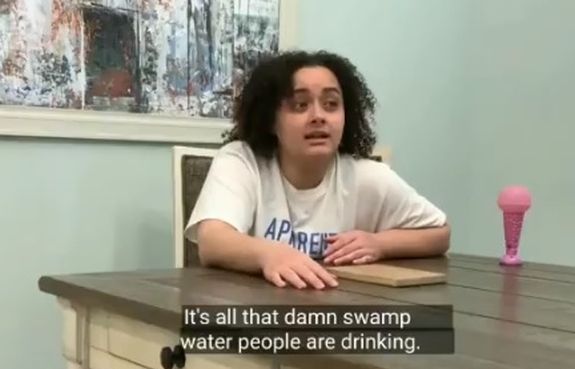 While Roxanne received much of the heat following Tuesday's episode, Briana was also hit with some social media hate due to the "private circus" she treated her family and friends to during the episode.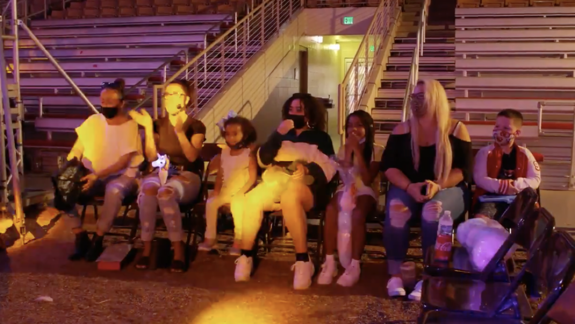 A number of viewers slammed the mom-of-two for claiming to be financially strapped through much of Season 10, yet somehow having the means to fund an entire private circus for less than a dozen people. However, in response to those questioning the seemingly extravagant outing, Briana revealed that MTV had arranged the event.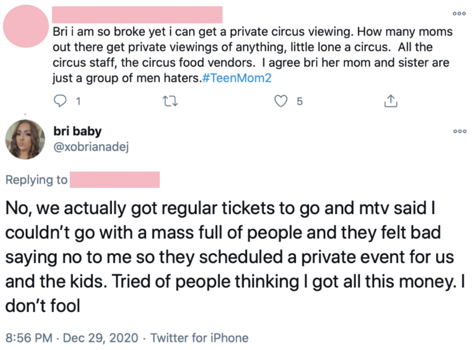 " … we actually got regular tickets to go and MTV said I couldn't go with a mass full of people and they felt bad saying no to me so they scheduled a private event for us and the kids," she claimed. "[Tired] of people thinking I got all this money. I don't fool."
UPDATE! Briana addressed the situation in an interview with Champion Daily on Thursday. She denied that Roxy used the N-word in the scene.
"[My mom would] never, ever use that word in relation to Devoin or anyone else," Briana told the site, adding that Roxanne "is the farthest thing from racist that there is in the world."
"Calling for her to be fired from the show because of using a word she did not use is downright ridiculous. If she did use the word— which, again, she 100% did not— I could understand people being offended."
Briana insisted that if the "raw footage" of the scene was released (without the bleeps), "it will be to prove that we are not lying and trying to cover this up. We are completely taking charge of the situation and wanted to address it as we want people to know my Mom absolutely did not and would not ever say this word."
Briana did not, however, state what word Roxanne did say if it wasn't the N-word.
RELATED STORY: Taylor Halbur Talks About the Relationship Between Her Daughter Paislee & Chelsea Houska's Daughter Aubree in the Years Since Adam Lind Signed Away His Paternal Rights to Paislee
(Photos: MTV; Instagram; Twitter)