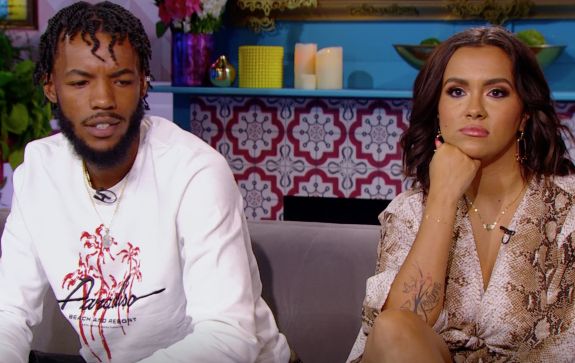 Devoin Austin is firing back at Briana DeJesus, a week after the Teen Mom 2 star accused him of not stepping up financially for their nine-year-old daughter, Nova.
Unlike Briana's social media rant – which occurred shortly after fans saw her sit Devoin and Luis Hernandez down on 'Teen Mom 2' in an effort to work out child support agreements for their respective daughters – Devoin provided receipts along with some accusations, insults and Briana's phone number.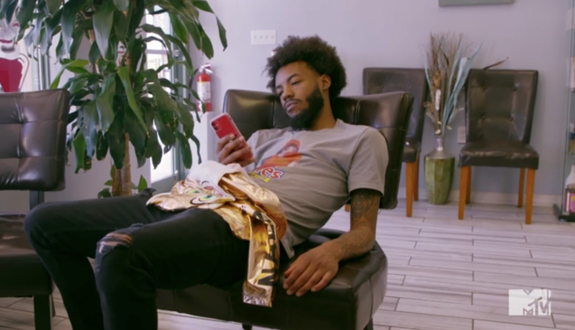 In his Instagram Story, Devoin told followers he was going to tell them "a little story about why you won't see me on this season's 'Teen Mom 2,'" pointing out that the text messages he would be posting were between himself and "the 6 figure receiving mom" (aka Briana). Devoin began with one exchange in which he claimed he has Nova "3-4 times a week," but now that MTV is quarantined in Orlando for 14 weeks to shoot the new season, "[Briana] doesn't need me."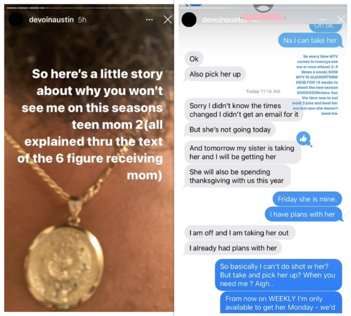 In the next images shared by Devoin, the exes continued to go back and forth about their respective time with Nova, during which Devoin called Briana "scum," advised her to "start using condoms" and even informed her that he would be sharing "this conversation with the fans of the show." Briana argued that just because she doesn't want Devoin around to film for 'Teen Mom 2,' doesn't mean he can't be involved in their daughter's life.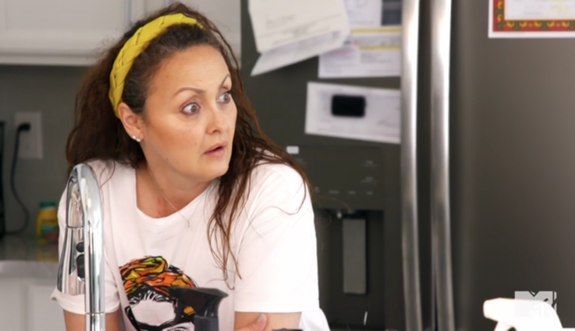 Devoin added his own text to the screenshot, accusing Briana of "tainting [his] SET schedule" with Nova for the sake of the show.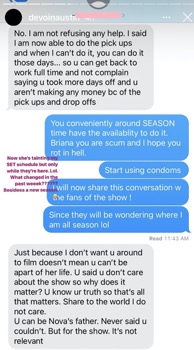 As the conversation progressed, Briana told Devoin she didn't want to film with him and if he wanted to do something with Nova on-camera, he needed to talk to her ahead of time so she could make sure it worked with her schedule. She also told him that the same rules applied for anything he may want to do with Nova off-camera.
(The Ashley would like to mention here that, if Devoin does not film, he is not paid by MTV. He is only paid if he appears in an episode in some way, whether that be in-person or on Skype video call, etc. So, Briana refusing to let him film is hitting him right in the wallet.)
In the next series of posted text messages, Devoin added his own comments to the conversation, telling his followers that Briana heard he was getting payed "a respectable amount of money" and therefore, no longer planned to center her storyline around him.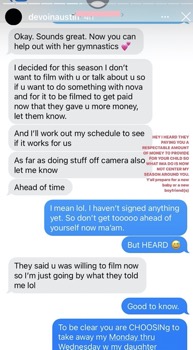 He then "joked" that Bri would need to come up with some other storyline that doesn't revolve around her baby daddy drama.
"Y'all prepare for a new baby or a new boyfriend(s)," Devoin told his followers.
Devoin then threw some shade at Briana for reportedly "leaving 3 jobs out of the blue" before announcing his next shift at Bonefish. "Let's see who else goes to work this season," he added. In the spirit of his restaurant gig, Devoin went on to serve a couple more piping hot insults to Briana, calling her out for restricting his ability to make 'Teen Mom 2' money, all while calling him a bum for not giving her money for Nova.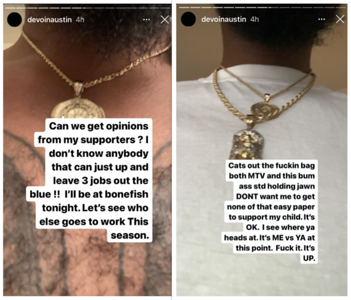 " … Both MTV and this bum-ass, STD-holding jawn DONT want me to get none of that easy paper to support my child," he wrote. "It's OK. I see where ya heads at. It's ME vs YA at this point. F**k it. It's UP."
But social media slams didn't stop there.
Devoin accused Briana and the DeJesus coven family of being "bitterass men haters," and then made a joke about Briana's Dr. Miami surgically-enhanced body.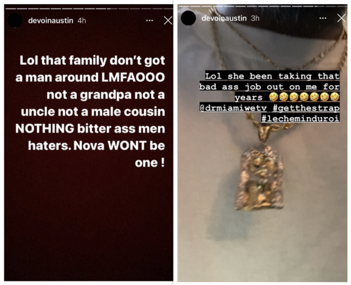 "Lol she's been taking that bad ass job out on me for years," he wrote.
Briana's ex asked her to make up her mind whether she wants her "kid to have a dad or not." (Briana recently posted her own rant about how badly she wants her children to have their fathers in their lives.)
He wrapped up his tirade by accusing Briana and her family of having adult conversations around Nova and making the nine year-old think that she has to film.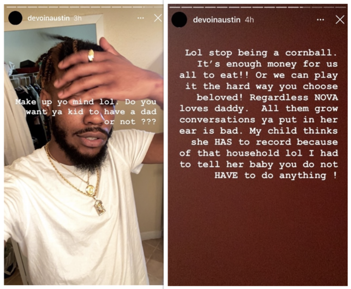 "My child thinks she HAS to record because of that household lol I had to tell her baby you do not HAVE to do anything," Devoin wrote.
As for Briana, she appeared unbothered by Devoin's Instagram Story spree, opting to instead post photos with a friend on social media while "dealing with unnecessary bulls**t."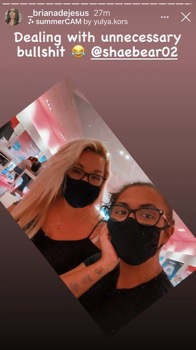 Briana did, however, let her followers know she planned to change her phone number after Devoin failed to crop her digits out of their text messages. (The Ashley blocked out Bri's number in the screenshots, but Devoin's originals had it on display.)
RELATED STORY: 'Teen Mom 2' Star Kail Lowry Lists Her Delaware Home For Sale, One Year After Moving In
(Photos: MTV; Instagram)