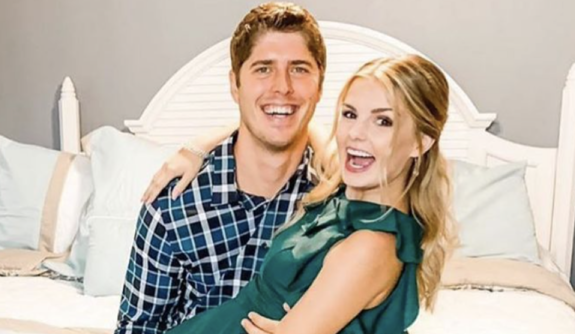 Another Bates grandbaby has arrived!
Alyssa Bates Webster and husband John Webster have welcomed a new baby girl to their family, People reports, and the Bringing Up Bates couple "couldn't be happier."
Baby Maci Jo arrived Tuesday, February 9 at 6 a.m., weighing 6 lbs. 3 oz. and measuring 18 inches. Maci Jo is Alyssa and John's fourth daughter, as the couple are already parents to five-year-old Allie Jane, four-year-old Lexi Mae and two-year-old Zoey Joy.
"We couldn't be happier or more thankful to add a fourth little girl to our family," the couple told People. "Maci Jo is perfect in every way and we can't wait to see the girls' reactions to meeting her for the first time.
"We praise God for a healthy labor and delivery and are very grateful Mommy and Baby are both doing well," they added. "We are enjoying these precious moments together!"
Based on photos posted to Instagram, Alyssa chose to have the baby in a hospital. (This is not surprising, though, as the Bates girls aren't as gung-ho on home births as their pals the Duggars are.)
Maci Jo's arrival puts Gil and Kelly Bates' grandkid count at a whopping 18, though that number will soon increase. Their daughter Josie and her husband Kelton Balka are expecting their second child. Also due for a turn in the birthing stirrups is daughter Tori (who is pregnant with baby number three) and Whitney, the wife of Zach Bates, who is expecting their fourth child. All three Bates babies are due in June.
The Bates Family official Twitter sent out a message to Alyssa and John, congratulating the couple on their new addition. The kind words were retweeted by many Bates siblings and siblings-in-law.
We're SO happy for you, Alyssa and John 🤩 We CAN'T WAIT to love on little Maci Jo ☺️ https://t.co/8MHQ8JVglO

— Bates Family (@bates_fam) February 9, 2021
"We're SO happy for you Alyssa and John. We CAN'T WAIT to love on little Maci Jo!"
RELATED STORY: 'Bringing Up Bates' Star Tori & Bobby Smith Expecting Third Child, Less Than a Year After Welcoming Second Son
(Photos: Instagram; TLC; Twitter)