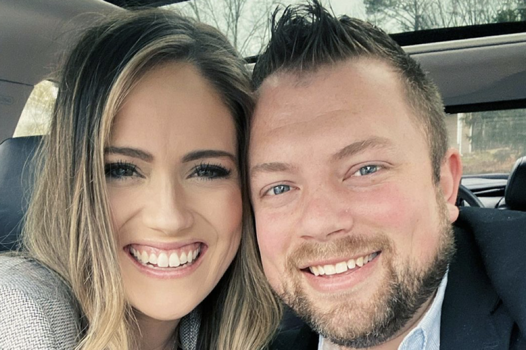 The Bates Family just keeps growing!
Bringing Up Bates stars Zach and Whitney Bates welcomed their fourth baby on Monday, June 7, a baby boy they named Jadon Carl Bates.
Baby Bates weighed 7 pounds and 6 ounces. He joins big sisters Khloé, 19 months, and Kaci, 4, and big brother Bradley, 6.
The proud parents announced their son's birth on social media writing, "Thank you, God for our sweet boy."
"After months of waiting on this special day to arrive, we are rejoicing to finally meet our sweet Jadon face-to-face," the couple told Us Weekly. "There's no way to describe the feeling and emotions we felt when we held him in our arms. He is perfect in every way."
Although baby Jadon has to spend some time in the NICU, Zach and Whitney say he is doing great.
"Shortly after birth, his O2 levels dropped and he was transferred to NICU at East TN Children's Hospital," the couple shared on Instagram. "As of right now, he is stable and responding to treatment. They will continue treatment, running tests, and monitoring until he is strong enough to come home. We are so grateful to God for taking care of our little boy and thankful to the doctors and nurses working hard to get baby J healthy and ready to meet his big brothers and sisters.
"Life doesn't always go as planned, but we're thankful we can trust in the Lord with confidence that His plan is always perfect," the couple added.
Baby Jadon is the 16th grandchild for Zach's parents, Kelly Jo and Gil Bates. The couple has two more grandchildren due to be born this month. Their daughters Josie and Tori are each expecting baby girls with their husbands.
Kelly Jo announced Baby Jadon's birth on the family's official Facebook page, noting that the family wasn't able to be present for the baby's birth due to the hospital's rules.
"Our little grandson Jadon was born on Monday June 7th. We jumped for joy from our 'parking lot seating' (we couldn't be in the hospital due to regulations, but we were as close as we could get), and we rejoiced in our hearts over his arrival," the message reads. "Sadly, he had to go to Children's Hospital afterwards so they could administer oxygen and monitor him. We are praying for a speedy recovery for little J, and we GREATLY appreciate you lifting him up in prayer also!
"He's an absolutely beautiful baby, as you can tell from the pics, and this granny is dying to hold him and meet him in person! I know Zach and Whitney are anxious for him to get to go home, but until then, we are just so grateful for the NICU hospital staff and for the prayers of friends and family!"
RELATED STORY: 'Bringing Up Bates' Star Alyssa Bates & Husband John Webster Welcome Baby Number Four
(Photos: Instagram)